5 of the Best Knife Sets Every Home Chef Needs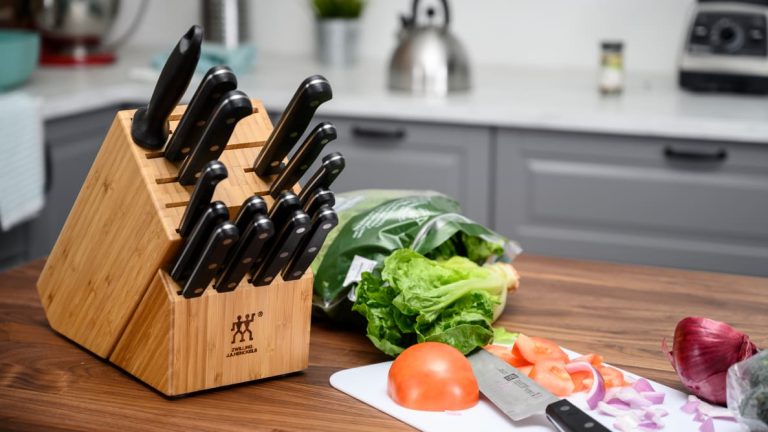 A knife is involved throughout your cooking process. Right from cutting vegetables or meat at the beginning of the recipe to the final touch of garnishing, knives are a very integral part of the process. Having a complete knife set with a specific knife for each purpose like cutting meat, bread, vegetables, boning knives, and utility knives can make your kitchen complete. Even though researching and buying each knife separately can be a great idea, it takes up a lot of time, and that much effort certainly isn't necessary for a home kitchen. In this article, we recommend some of the best knife sets that you can use for multiple purposes in the kitchen.
Finding the Right Knife Set
The knife set that you require is completely based on your cooking style and needs. If you buy meat or unfilleted fish every week, you need a specialized butcher's knife to take care of the proceedings. So, understand your requirements and buy a knife set based on that. A basic knife set requires the essentials, and that includes, a chef's knife, a serrated knife, and the paring knife. These are the very common kinds of knives that people tend to use on a daily basis in their kitchen. The other types of knives like santoku knife, carving knife, and kitchen shear, can be bought based on your requirements.
Apart from the type of knives you prefer to use in your kitchen, there are other factors that you need to consider before choosing to buy a knife set. Few people prefer hefty knives while others like to go with lighter alloys. Similarly, the balance of the knife should also be taken into account. Each blade material has its own strengths and weaknesses. While carbon knives hold on to their sharpness for a long time but can rust easily, stainless steel works exactly the opposite. So, you need to consider all these aspects while buying the best knife set. We have listed a few of the best knife sets that can be compatible with any kitchen.
1. Victorinox – 3 Piece Knife Set
The three-piece knife set is one of the top-rated knife sets on Amazon. It consists of three paring knives of different dimensions and levels of sharpness. This kitchen set can be ideal for almost every normal kitchen. The stainless steel blades offer extra durability, enabling the knives to make precise cuts. The grips of these knives are also slip-resistant, making it easier for people to handle them. While two 8-inch paring knives have sharp tips, the 11-inch paring knife has a rounded tip and can come in hand to apply butter and other similar spreads on slices of bread. One 8-inch knife among the three has straight edges while the other two have wavy edges.
Victorinox, Swiss Classic – 3 Piece Knife Set – Rs. 949
2. Amazon Basics – 14 Piece Knife Set
A complete knife set that will most likely cover all your kitchen needs. This set has 14 knives and it includes,1 Pinewood block, 1 pair of scissors, 8-inch chef's knife, 8-inch slicing knife, 8-inch bread knife, 5.5-inch utility knife, 3.5-inch peeling knife, 4.5-inch steak knives, kitchen shears, sharpener, and woodblock. With high-carbon stainless steel blades and triple-rivet handles, these knives offer both precision and grip. This knife set can come in handy while cutting almost anything from meat to bread. Unlike the other knife sets, this one contains steak knives that can be useful if you grill a steak in your kitchen regularly.
AmazonBasics, Stainless Steel – 14 Piece Knife Set – Rs. 1899
3. Agaro – 9 Piece Knife Set
This is a great kitchen set that will have you covered from your daily usage to occasional use with knives of different sizes and edges. This 9-piece set contains, chef knife, bread knife, slicing knife, utility knife, steak knife, santoku knife, paring knife, sharpener, and wooden block. All the knives have sharpened blades that are made of stainless steel material. The single high-end bolster handle comes with a triple rivet, enabling you to handle the knives much more easily. This is a typical knife set with all the essential knives that everyone would wish to have in their kitchen.
Agaro, Stainless Steel- 9 Piece Knife Set – Rs. 2197
4. Cartini Godrej – 4 Piece Knife Set
The Cartini Godrej is a simpler knife set compared to others but is more than enough in a normal kitchen. All the four knives that come in this set are efficient and can help you with anything including cutting, chopping, dicing, and trimming, fruits and vegetables, cutting, slicing, and boning meat and fish. These are the most common form of requirement for knives in a kitchen, and this four-piece set will be very useful in almost every kitchen.
Cartini Godrej, Soft Grip – 4 Piece Knife Set – Rs. 1605
5. Touaretails – 6 Piece Knife Set
This 6-piece knife set includes paring, utility, carving, bread, meat, and vegetable knives. This set can make cooking and cutting essentials easier and enjoyable. This is because of the well-balanced top-grade knife that would suit everyone. The ultra-sharp stainless steel blades are extra-durable and you can forget about the blades getting rusty over time. This is a very quality knife set and cuts through harder chunks of meat or bread with ease. Almost all your cooking needs will most likely be covered with this six-piece knife set.
Touaretails – Non-Slip Handle – 6 Piece Knife Set – Rs. 1699
These are the five of the best knife sets available on Amazon and can be suitable for every kitchen. Check out these knife sets and choose the right one for yourself based on your needs and requirements.