5 Reasons Why Your Kitchen Needs The Innopac Home Line
Setting up a fully functional, practical, good to look at, neat, and clean kitchen is not a cakewalk. Quite a lot of thought and work goes into picking the gadgets, interiors, lighting, and last but not the least, kitchenware. While it is essential to pick the right utensils, dinnerware, and China, it is also vital that your food storage containers and dishes are of top quality. Why? Because no one like to eat soggy chips, infested cereals, and the likes.
Innopac Home Line seeks to put all your storage requirements at ease with its all-new 'Deco-Steel' range. Established in the year 2013 by the promoters of Hindustan Tin works Ltd, Innopac Home Line aims at bringing in new innovative and highly decorated storage jars to beautify your kitchen and home.

We've tried the stylish and absolutely gorgeous containers, and here are 5 solid reasons why you should consider dotting your kitchen cabinets with the Innopac range as well!
Food Freshness
The virtually air tight containers retain the freshness of all your stored food by keeping it away from oxygen, moisture, pests, and rodents. Moreover, the products also provide 100% protection against sunlight and UV rays.
Safety
More importantly, keeping in mind the toxicity of the materials used in its production, Innopac uses tin plate, which complies with FDA regulations for food contact. Also, the containers are internally with food lacquer that also complies with FDA regulations for food contact.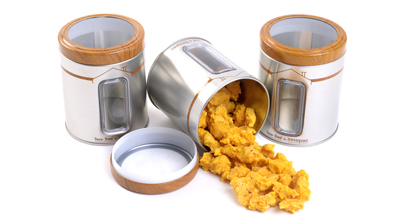 Practical
Innopac has deigned its product range keeping in mind a lot of practical aspects. The boxes are extremely light weighted and the transparent lid and a transparent column on the side are a great way of knowing what the box holds, without even opening it! Further, you can be as clumsy as you want because the containers are unbreakable as well.
Design
"Deco-steel" by Innopac is a high-end premium jar that has a steel look and a wood finish lid. The products are available in blue, red and black check patterns and in light and dark wood finish to step up the style ante of your storage cabinets.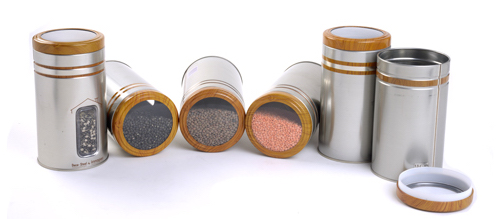 Environment Friendly
In addition to being supremely durable, safe, practical, and attractive, the jars are also 100% recyclable and environment friendly. What more do you need?
The Innopac dark wood range comprises of 6 pieces per set and is available across pack sizes of 500ml, 900ml, 1200ml and 1500ml from the price range of Rs. 750 – Rs. 2000. Innopac check pattern range comprises of 2 pieces per set and is available across pack sizes of 900ml and 1200 ml from the price range of Rs. 400 – Rs. 550. You can grab the products on Snapdeal and Amazon!