Add Some Zing To Your Plate With The New Spicy Pasta Sauce By Habanero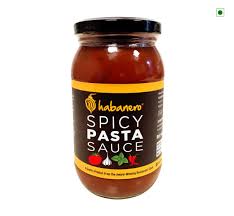 Habanero Foods International introduces new Spicy Pasta Sauce
The company now has a whole new range of products – sauces, dips and wraps
India: Habanero Foods International, a leading manufacturer of packaged food products, today introduced its new Spicy Italian Pasta Sauce. This Spicy Pasta Sauce caters to the growing popularity of Italian cuisine among Indians, and the number of consumers wanting to prepare food professionally at home.
"Today, Indian consumers are well-travelled and have a discerning taste for global cuisine. They are open to experimenting with global cuisines, and eating Italian food is no longer confined to dining out. Cooking exotic but easy-to-prepare dishes at home is now widely prevalent in India. It is our endeavour to help this consumer cook like a chef at home,", said Griffith David, Founder and MD, Habanero Foods International.
Habanero's Spicy Pasta sauce is slowly simmered to give you an authentic Italian taste. Easy to cook, it is available across 400 plus traditional and modern retail stores across Bangalore, Chennai and Hyderabad. The Spicy Pasta Sauce is also available online on www.habanero.in, on Amazon and Big Basket.
Price: Rs. 190 per bottle
The full range of Habanero's products include:
• Sauces: Peri-Peri, Barbecue Sauce, Hot Sauce
• Dips: Spicy Salsa, Tomato Salsa
• Wraps: Tortilla Wraps
Habanero will soon be launching a range of Asian sauces and condiments.
Habanero
Buy Gourmet Hot Sauces, Salsa and more at Habanero
Habanero brings the most flavorful hot sauces, salsa and dips you can buy online, from mild to superhot. Packaged in convenient bottles to keep that hotness intact, they are perfect for everything else.