Afraa – A revelation awaits your senses!
Kolkata, December 2018: Black is the new white! The meaning of Afraa is white and it signifies purity however the higher truth is that in the beginning there was a great void or the nothingness from which emerged creation giving birth to the higher form of white which is truly black! With this belief, renowned city-based hospitality group AmbujaNeotia Group is all set to create an influence in the food industry with the grand re-launch of their flagship restaurant Afraa in City Center, Salt Lake. The new Afraa takes you to a bigger reality of re-defining lounging and authenticity of cuisine in its new avatar.
Talking about the launch, Nitin Kohli, Whole Time Director – AmbujaNeotia Hospitality, says, "Afraa when it opened in 2008 became a name that defined how one could classically compliment the experience of a lounge and a restaurant within one space yet create distinct separate identities for both. Within few months of its opening Afraa became a massive name to recon with in the hospitality space in Kolkata. Ten years down the line we at AmbujaNeotia are ready not by reinventing the wheel but by increasing its horse-power and bringing you a brand new Afraa this December of 2018!"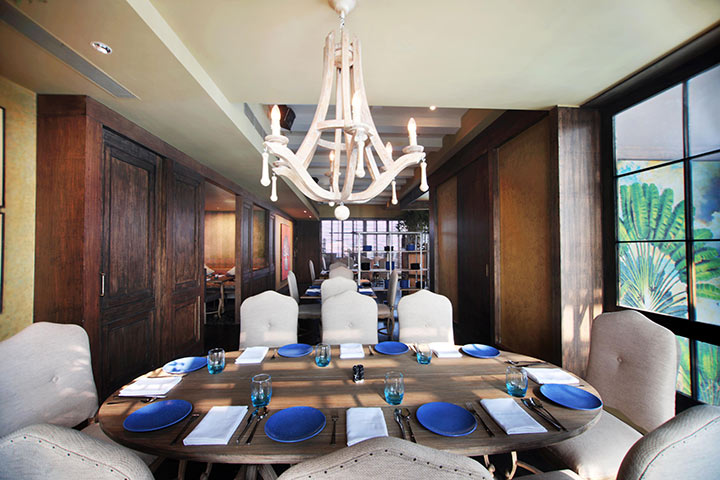 Spread across two floors, this 250 seater chick neo-classical Mediterranean diner is designed to transport you to a quintessential Mediterranean town where life is all about celebrating special moments. The 6th Floor at Afraa introduces you to the glass box, a sunshine air conditioned deck that brings the outdoor inside and takes the night Life in Kolkata outwards! The 7th floor, with regal wood work, classy wall painting, ornate mellow chandeliers comfortable couches and exclusive party corners within the bigger space defines Afraa as the next destination for private gatherings, lounging and dining.
A great amount of effort has gone in to carefully curating a menu that will ensure an explosion of flavors and transport you to a higher level of truth that Afraa stands for! A brain child of celebrity chef Abhijit Saha, the food menu at Afraa represents authentic flavours of the Mediterranean cuisine ranging from West Africa to Spain, Italy and France and Greece to Morocco. The spread comprises of a perfect balance of options and flavours comprising of soups, salads, small plates, big plates, pizzas, platters, deserts and much more! Some of the star attractions of the menu are Smoked Yellow Bell Pepper Espuma, Plated Smoked Salmon Labneh, Millet and Black Rice Risotto, Lamb Tagine, Prawn Ravioli, Pistachio and Walnut Crusted Bhetki with Vichyssoise, and Tiramisu. The cocktail menu at Afraa is a unique line-up of artisanal beverages hand-crafted to perfection such as, the Watermelon & celery Mojito, Rose Mary Whiskey Sour, Crimson Kiss, Brunt Pineapple & Ginger Beer and Mint Memories, to name a few.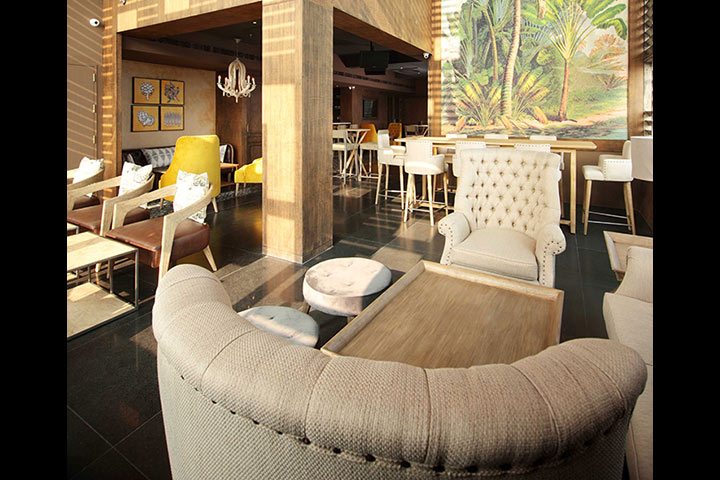 Opening its doors on Monday, December 3rd 2018, Afraa will be serving easy-on-the-pocket Mediterranean cuisine, coupled with artisan cocktails, giving you reason to wrap up your work a little early. With interiors reflecting old Calcutta charm in look and a neo-classical Mediterranean bazaar in essence the newly renovated Afraa is the perfect place to dine and unwind.
Afraa, 6th & 7th Fl. City Center, DC Sector I, Salt Lake Kolkata 700064
Afraa Lounge 6th Floor: 4pm to 2:00am
Afraa Restaurant 7th Floor: 12 noon to 3:00 pm & 7:00 pm to midnight
Pocket Pinch: Rs. 1600++