Attend A Compelling Seasonal Eating And Ayurvedic Food Basics Workshop In Mumbai
The significance of eating right and seasonal eating is not new in India. However, due to our lifestyle which lacks a breather, it's hard to not rely on instant options. What we don't realise is that this binge eating is doing us more harm than good. So how do we go back to our treasure chest of recipes that are beneficial to our health and suitable to the climate? Take the first step by attending this intriguing workshop on Seasonal Eating and Ayurvedic Food Basics for the winters by Anushruti.
The Chef Speaks
"Although Ayurveda has been around for thousands of years, people are getting aware of it now thanks to the wisdom in it that is applicable to everyone, irrespective of caste, creed or religion," says Anushruti of the Divine Taste who is also an expert in nutritional and Ayurvedic cooking. "This workshop will give a sneak preview into the basic tenets of Ayurvedic cooking and explore the science behind eating seasonally in tune with nature. The general guidelines given in Ayurveda for winter season (Shishir Ritu) help in restoring balance and bringing harmony into our lives."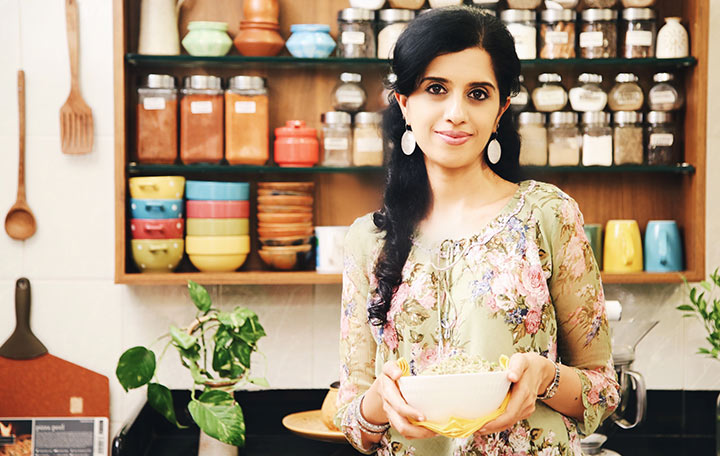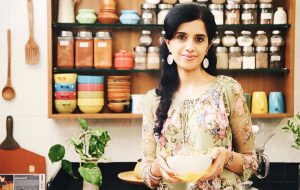 Stressing on the importance of seasonal eating she says, "Ayurveda states that Sattvic Food increases Prana or positive energy and brings about a harmony between the food we eat and our thoughts and actions. The principles of Ayurveda play a key role in this lifestyle choice. Through this workshop, my intention is to help people discover a nourishing relationship with food based on the age old principles of Ayurveda. I believe that when we establish a deeper connect with the food we eat, we rediscover our innate wellbeing that empowers us to lead a life filled with happiness and joy."
What To Expect
Now that you know how important it is to eat right and what amazing benefits Ayurveda style cooking brings to our life, let us tell you what you'll be learning at this workshop. The class would be conducted in a demonstration format and each participant will be given notes on the concepts and recipes. Anushruti would be making a Calming Soothing And Rejuvenating Herbal Drink Kashaya, Turmeric Hummus, Sumac Roasted Vegetables, Black Pepper Red Rice With Basil And Cashew, Vegetarian Burritos, Creamy Emmer Wheat Pudding with Medjool Dates, Rose Petals and Pistachios.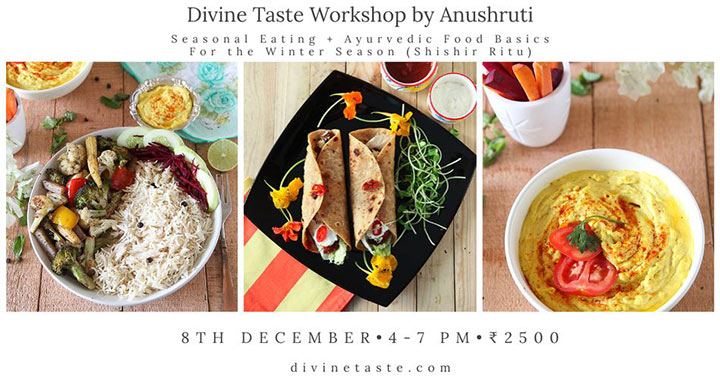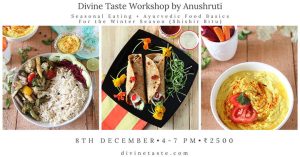 As tempting as these dishes sounds, they are all based on sattvic principles of Ayurvedic cooking. Anushruti will be speaking about how each dish is beneficial during the winters as well as teaching the participants all about basics of ayurvedic food. So get ready for a nutrition filled day.
Details:-
Date & Timing: 8th December | 4 PM to 7 PM
Location: Malad West, Mumbai
Ticket: https://www.instamojo.com/DivineTastebyAnushruti/divine-taste-workshop-by-anushruti-seasonal-/
In-article Images: Divine Taste & InstaMojo