Cafe Duco Has Teamed Up with Hundo Pizza for a Limited Edition Pizza Menu inspired by Latin American Flavors
Mumbai, 2023: Renowned Latin American eatery Cafe Duco and celebrated gourmet pizzeria Hundo Pizza have teamed up for an extraordinary collaboration. A decade ago, Chef Urvika, Chef Kabir, and Ronak, bonded by their love for food, organized an incredible pop-up event. Now, they've reunited, and their kitchens are buzzing with excitement to bring you a fun and exceptional collaboration! This collab aims to captivate a broader audience and invite everyone to indulge in their exceptional pizzas.
Birria Lamb Pizza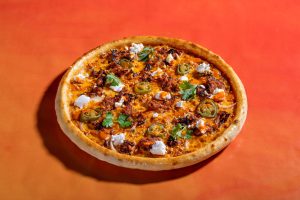 Introducing the menu, an irresistible selection of pizzas that seamlessly blend Hundo Pizza's expertise with Cafe Duco's creative touch. The "Birria Lamb" pizza is a standout creation, featuring Cafe Duco's signature braised lamb, jalapenos, and onions. The rich base of San Marzano Tomato Sauce harmonizes flawlessly with the Hundo Cheddar Mix, fresh coriander, and feta cheese. Accompanied by a delectable Birria Broth, guests can dip or drizzle the flavorful broth over the pizza for an enhanced culinary experience.
Picante Fajitas Veggie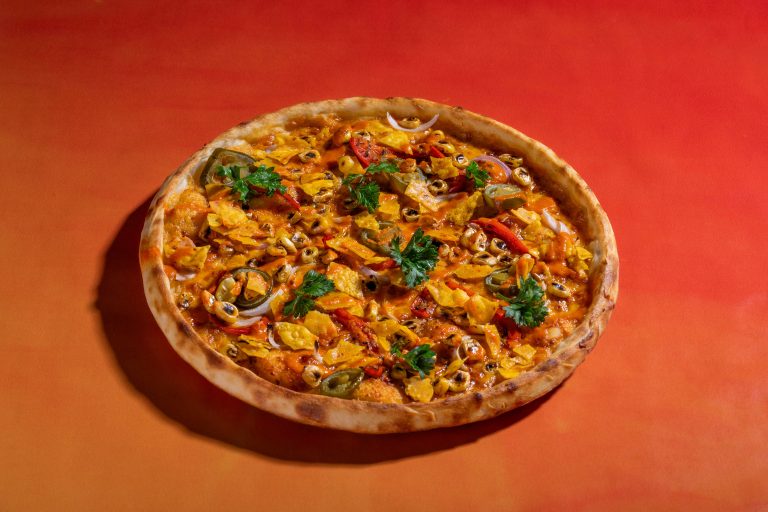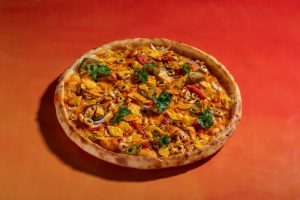 Chilli Cheese Pizza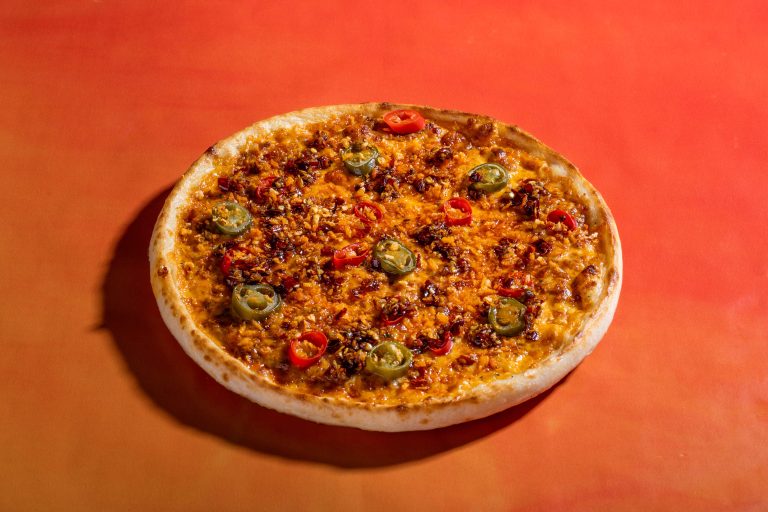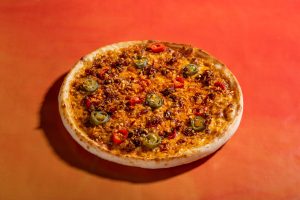 Chipotle Chicken Pizza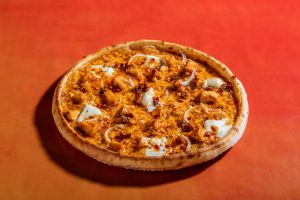 Another exceptional creation is the "Picante Fajitas Veggie" pizza, which consists of roasted corn, peppers, onions, jalapenos, and Cheddar Mix on a San Marzano Tomato Sauce base. Topped with a hot sauce drizzle and crispy tortilla chips, it promises a delightful fusion of textures and tastes. For those seeking a fiery kick, the "Chilli Cheese" pizza, infused with smoky Chipotle, jalapenos, and Pepperoncino chilies and crowned with the Cheddar Mix, offers an explosion of flavors. Chicken lovers will be enchanted by the "Chipotle Chicken" pizza, featuring Chipotle Chicken, onions, Cheddar Mix, and Mozzarella Di Bufala, topped with Chilli Crisp Drizzle and Peri Peri Crumbs for smoky, tangy, and cheesy goodness.
"We're super excited to bring these new Latin American pizzas to the Hundo fam!" says Ronak Rajani, Co-Founder of Hundo Pizza. Chef Kabir Moorjani, Co-founder of Hundo Pizza, adds, "This collaboration is a special one, coming together with Chef Urvika to collaborate after almost a decade. It's a fun take on Latin American flavors, and the lamb Birria one is to watch out for. Looking forward to you guys trying these amazing pizzas."
Chef and Owner Urvika Kanoi of Cafe Duco, aka the "Taco master" who is on a mission to bring a slice of Mexican flavors to Mumbai shares the enthusiasm, stating, "Super excited to work with the boys after so long! It feels like a full circle, from our first pop-up nine years ago to this! Latin American ingredients are very versatile and beautifully blended in with Hundo pizzas. Hopefully, our customers will feel it's a flavor fiesta just like us."
With Chef Urvika's expertise in Latin American flavors and culinary artistry, Cafe Duco brings a fresh perspective to the world of pizza.
Together, Hundo Pizza and Cafe Duco have curated 4 new pizzas that bring together the best of both worlds! It's going to be a fiesta!
Mark your calendars for a fiesta, where Hundo Pizza will be popping up at Cafe Duco on July 28th and 29th, 2023, from 12 pm to 11.00 pm with their new collab menu.
Discover the uber-fun & delicious burst of flavors as we present our bomb Latin-American-inspired pizzas. Don't miss this exclusive opportunity to savour our fresh and hot, handcrafted pizzas infused with the vibrant tastes of Mexico.
Details:
Date: Starting July 21, 2023, available for one month
Outlet Timings: Monday 5:30 p.m.–2 a.m., Tuesday–Sunday 11:30 a.m.–4 a.m.
Ordering portal: www.hundopizza.com (for Delivery & Drive-Through)
Partner apps: Zomato, Swiggy, Thrive
Address: Available at Hundo Pizza's stores in Bandra, Andheri, Powai & Churchgate
Contact: 18008333121
Café Duco is a renowned eatery specializing in exquisite Latin American cuisine. Cafe Duco focuses on authenticity and flavor and offers a unique dining experience combining traditional recipes and innovative culinary techniques.
Hundo Pizza is celebrated for its gourmet and unique pizzas, meticulously prepared to perfection. With a commitment to quality ingredients and flavors that delight the senses, Hundo Pizza has established itself as a must-visit pizza destination.