Chef Cristian Borchi at Sorrentina, Foodhall@Linking Road
Coming from Borgo San Lorenzo, near Florence, Chef Cristian Borchi, the Consulting Chef to Sorrentina by Foodhall, Linking Road of Italian origin is visiting this week and is bringing with him an exclusive menu being served at Sorrentina.
During his visit here, he will represent his ideology of food with the use of local and seasonal ingredients while staying true to the restaurant's philosophy of honouring Italian heritage. Chef Cristian has curated a delectable limited edition menu comprising of tantalizing Stuzzichini, the southern Italian equivalent of antipasti, Pirmi's that is a lot of pasta & mouthwatering pizzas.
Date: 6th February –10th February 2019
Time: All day – 12 noon – 11.30 pm
Venue: Level 2, Foodhall@Linking Road, Plot No.106, Linking Road, Santacruz (W), Mumbai – 400054
Contact: 098191 89987

Instagram: https://www.instagram.com/sorrentinabyfoodhall/
About Sorrentina by Foodhall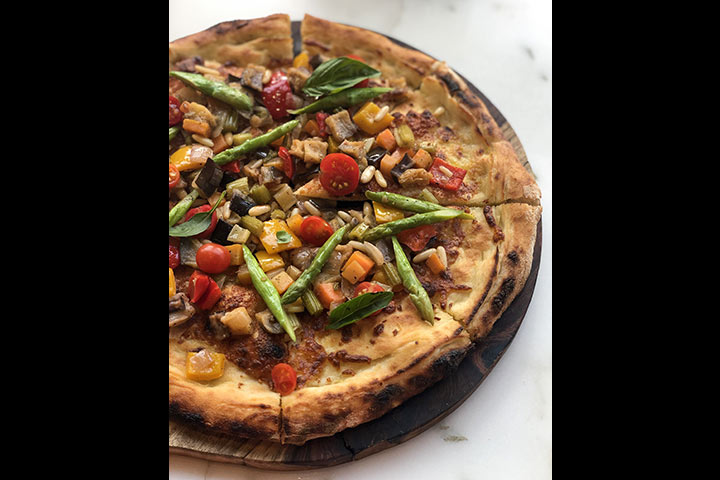 SORRENTINA was launched by Future Group's premium lifestyle and food superstore, FOODHALL. Situated in Foodhall's largest store at Linking Road Sorrentina is its first restaurant at the venue. Foodhall, Linking Road has been designed to offer exclusive concepts and an unmatched experience through its four levels each offering novelty from across the globe and Sorrentina is an integral part of that vision. 'Sorrentina by Foodhall', stands true to its name that is derived from the Sorrento region, which is a picturesque coastal town in the South West of Italy and is known for their conventional Italian dishes. The menu at Sorrentina is inspired by classic Italian cooking and is extremely ingredient centric taking inspiration from the different regions with each dish relaying a story behind its origin while the plating is decidedly contemporary. The idea behind the restaurant was the need to create a space where Foodhall's patrons could be served authentic and delicious Italian food focusing on the ingredients and freshness by using the best quality of ingredients available at Foodhall itself. The restaurant is designed by Malherbe Paris, an international creative agency which boasts of being a leader in retail design and comes with 24 years of experience in the industry and has worked with renowned names globally like ODDO Paris, DFS Macao, Manor (Switzerland), Celio and more.
The menu has been conceptualized by globally renowned Chef Cristian Borchi, who has brought the heritage and authenticity of the Italian food to Foodhall. He believes in replicating what he has been creating in Italy for the last 18 years, delight guests with food and his 'Nonna's' recipes. Chef Cristian, always had a passion for food and started his professional career at the age of 14. He is the head chef and owner at the popular 'Locanda Antica Porta di Levante' which is located in the heart of Mugello, Vicchio in Italy. Bringing to the table a modern Italian albeit rooted in tradition, Sorrentina lets you indulge in all that is delicious about Italy including Antipasti, Neapolitan Pizzas, Handmade Pasta, Risotto, Gnocchi, Lasagna, and innovative flavors of Gelato along with the traditional Tiramisu and Panna Cotta.
Chef Aabhas Mehrotra on the other hand, brings in the modern aspects and trends along with the understanding of both Indian and Italian cultures and the urban guests. Chef Aabhas has gained hands on experience in various cuisines and cultures, from Patisserie to Thai to Italian Dining and Gourmet Global Dining, where he actually found his own niche of comfort food, "food for all moods". Drawing on his knowledge and passion for Italian cuisine as well as years working alongside highly accomplished chefs, Aabhas is a natural fit for kitchens across, with a focus on extensive culinary creativity, experience in creating recipes as well as handling and preparation of elaborate meals using the finest and freshest produce.
Over the years, Italian food has grown to be an all-time favourite cuisine across age groups. Devour the freshness and authentic fragrance of your meal while watching it being prepared by the live glass door kitchen of Sorrentina. The restaurant also has a full bar menu that focuses on Italian wines offering a large, approachable & affordable range. The interiors of Sorrentina are reminiscent of the elegance that Italy is synonymous with. Sorrentina by Foodhall's decor combines a contemporary demeanor with a classic set up and chic vibe. The colourful upholstery along with beautiful planters and an open live kitchen make Sorrentina a perfect cozy all day restaurant that will make you want to visit again.