Chef in Focus: Achal Aggarwal from The Hilton, Chennai
We've all spent a lot of time going to restaurants and enjoying some amazing food that the chefs prepare without giving much thought to the amount of labour involved in making them. After a few chef interviews, we realize that being a chef is anything but a cakewalk. (pun intended.) The long hours spent in the kitchen doing the most basic things can unnerve you to a point where you ask yourself if this is what you want to do in life. Only the truly passionate and hardworking people go on, and stick to it until the very end. We had the chance to catch up with the Executive Chef at the Hilton, Mr. Achal Aggarwal. It was humbling to talk to a chef of such calibre. Having worked around the world for several years, he had a lot of interesting stories to tell us.
Why did you decide to be a chef?
Cooking was a passion for me ever since I was young. I watched Masterchef Sanjeev Kapoor on TV and my favourite TV show at the time was Khaana Khazana. It started off as a fascination for all that he made on TV and I eventually chose this path because I liked it.
Tell us about the journey so far
It has been a wonderful ride and I'm glad to have gained experience from so many places. All of them have moulded me and brought me here. I worked with Sakura, Raj Villa, Trident and other Oberoi hotels. I was then asked to open the Wasabi restaurant in Delhi. I had training sessions in Tokyo and New York. I then mastered the art of the cuisine and that helped me a long way. I later worked at the Leela and Hyatt and finally came to the Hilton.
What is your favourite cuisine and why?
Thai. Definitely. The food is very flavoursome and has a unique taste.
Is there a particular cuisine that you're looking to learn about?
French. Definitely. I've always wanted to explore into European cuisine and French cuisine is something that I would love to learn.
I think we know the answer to this, but what cuisine are you an expert of?
Hahah yes, Japanese. Learning to cook from a book is one thing but mastering the art from the place that the food hails from, is a completely different experience. I had the good fortune to visit Tokyo and gain some hands-on experience with the food. So that will definitely be my strong point.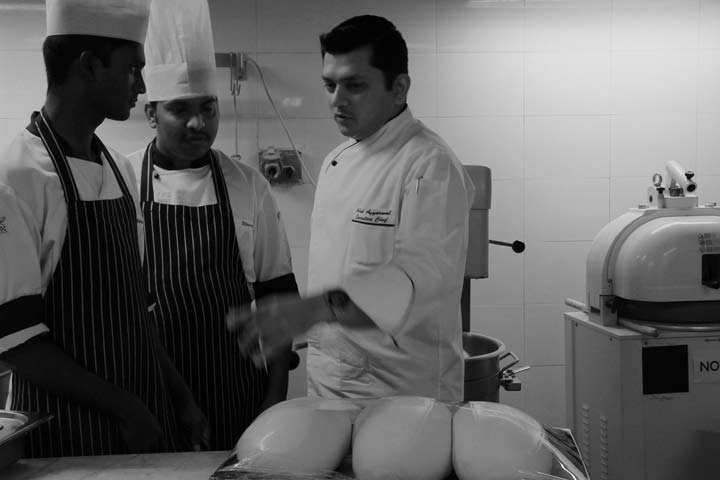 Can you name 3 of your most favourite dishes?
These are my favourite mostly because I'm nostalgic about them –
Paneer Makhni, Dal Makhni and the Japanese omelette. During my earliest days of cooking before I got any type of formal training, I made a paneer makhni and dal makhni that nobody liked. So even now, when I make those, I think about the days when I couldn't. It brings back fond memories and also reminds me of how far I've come.
Is there a chef who helped you get where you are?
While Masterchef Sanjeev Kapoor gave me the initial boost to get into the world of cooking, it was definitely my guide and mentor, Chef Amit Choudhry from Taj Mahal Hotel who stood by me. He has been a pillar of support and my go-to person every time I've had a crisis with regard to my career.
What is the weirdest food that you've ever had?
I was once asked to taste a live baby octopus by a chef in Tokyo. My palate wasn't used to it at all and I fell sick for a week after that. So it's not much of a favourite, as you can see.
What is the one thing that you love making at any point?
Well, I love making sandwiches. It delights me that there are so many ways to make it and I experiment a lot with them. You can even make them bread-less!
Is there a restaurant that is on your wishlist?
Yes there's one by Chef Gagan Anand in Bangkok that I'm really looking forward to trying.
What is your favourite restaurant?
This is a small street restaurant in Delhi, run by a lovely Thai couple who are very hospitable. It may not have the fancy interiors that all hotels have but the love with which they serve you food, is enough to make you feel like you're living in the lap of luxury.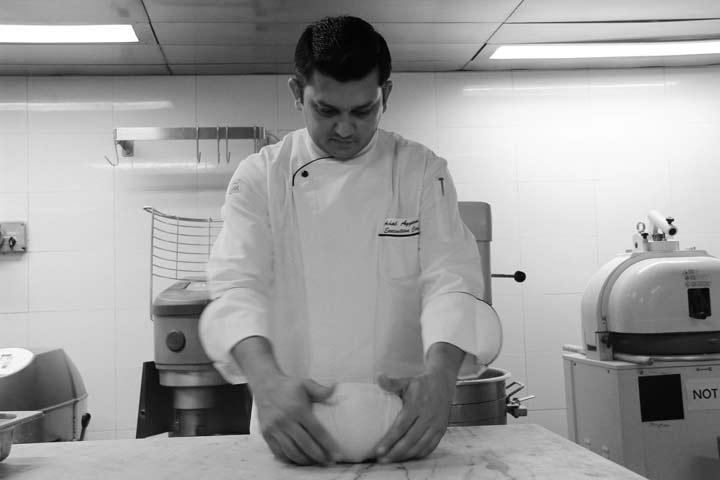 You've worked in a lot of cities. So which among these would you pick as a favourite?
Tokyo. The people are wonderful to chefs and the ingredients that you can source there are some of the freshest in the world. It's been a pleasure cooking there. I also learnt a lot about endurance there. In order to get the Japanese omelette right the chef once made me break 300 eggs and didn't let me do anything else until I got it right.
Did you get to meet Masterchef Sanjeev Kapoor?
Yes I did! I got a chance to work with him. The first thing I told him was that he's the reason I'm where I am.
Do you have a message for young chefs?
Be passionate. Don't blindly do what others do. Innovate. Experiment. Create your own food. Also, don't look at the long working hours. If this is your passion, then you should do it no matter what it takes.