Foods That Boost Immunity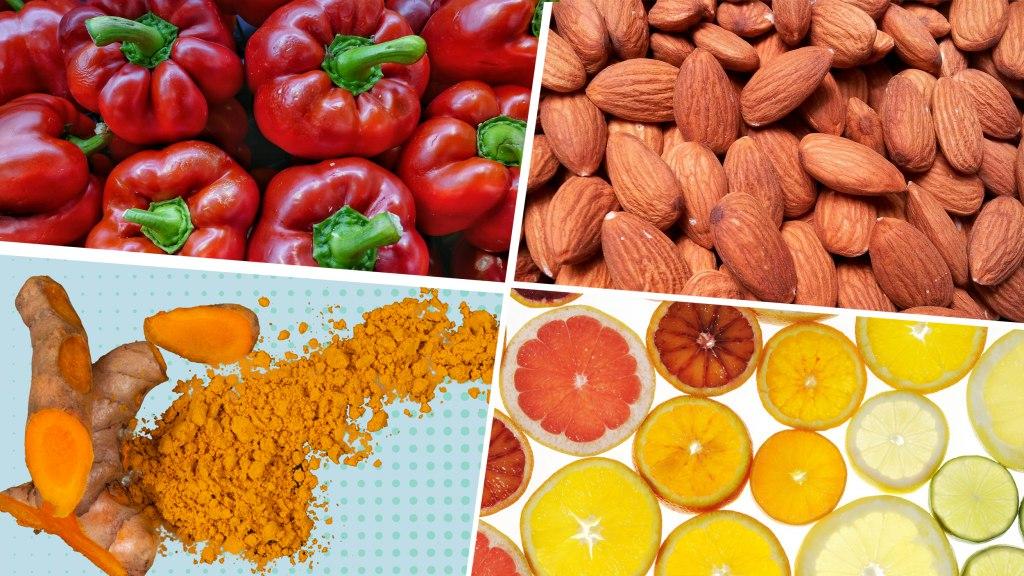 A imunidade é uma função muito importante e muito necessária do corpo. Especialmente agora na situação atual, onde precisamos aumentar nossa imunidade para cuidar de nós mesmos e ser saudáveis. A seguir estão os alimentos que nos ajudam a impulsionar o sistema imunológico.
1. BSD Organics Kabasura Kudineer Chooranam Chá de ervas Masala Chai 
A mistura Kabasura Kudineer é um chá de ervas / chá de masala. Tome 5 gramas de pó. Misture com 300 ml de água. Ferva e reduza para 50 ml. Adicione mel, açúcar mascavo ou açúcar (de acordo com o gosto) à mistura fervida. Tome duas vezes ao dia. Todos os masalas são feitos de ervas naturais. Também pode ser usado em caril, batata frita, sambar, rasam, sopas.
2. Chocolate preto intenso DAARZEL 70% – origem indiana vegano e sem glúten 
Este é um produto vegetariano. Composto de cacau fresco de alta qualidade e fermentado em um ambiente limpo antes do processamento. O chocolate escuro contém 70% de conteúdo de chocolate escuro, o que o torna mais especial e muito mais saudável do que as outras barras de chocolate por aí. Nosso chocolate é 100% vegetariano. Os ingredientes incluem chocolate escuro intenso e derivados de cacau. O glúten é uma proteína do tipo cola encontrada no trigo, centeio e cevada, que proporciona uma sensação pegajosa. A inclusão de chocolates escuros torna nosso chocolate muito mais saudável do que os disponíveis nas lojas locais.
3. Os Alimentos Divinos | Açafrão em pó | Orgânico Curcumina alta
Açafrão é um tempero amarelo que é usado na culinária. Também está presente em alguns medicamentos alternativos. A inclusão diária de tumeric na comida de alguém melhorará a imunidade de uma pessoa. É principalmente devido às qualidades da curcumina, um composto em açafrão que tem efeito antioxidante e anti-inflamatório.
4. Chá verde Tetley – puro e original, 100 saquinhos de chá
Contém cinco vezes mais antioxidantes do que frutas e legumes, uma xícara de chá verde natural Tetley ajuda a limpar de dentro todos os poluentes e toxinas aos quais nosso corpo é exposto diariamente. Rejuvenesça todos os dias com uma xícara de chá verde natural Tetley.
Preparação: Traga água fresca para ferver. O chá verde é melhor feito com água a 85 graus. Despeje a água no copo. Coloque um saquinho de chá e deixe cozinhar por cerca de 2 minutos. Retire o saquinho de chá. Adoce com mel ou açúcar, conforme desejado. É melhor ter chá verde sem leite
5.  Devbhoomi Naturals Alho puro e natural / Lehsun inteiro, colhidos em Uttarakhand. 100% pesticidas
O alho tem propriedades antibacterianas, antivirais, imunológicas, antifúngicas. O produto é 100% puro e natural. Colhido em Uttarakhand. É processado sem nenhum produto químico e pesticida.
6.  Dryfruit Mart Orgânico Premium Ginger Powder
Strong Ginger Powder Bottle. You can add this deliciousness to your tea brews and to your foods. Storage instructions: Store in a cool and dry place. Store in cool and dry place, avoid using wet spoon to handle this product. Comes in a jar, easy to handle convenient to store.
7. Organic India Wheat Grass – 100 g
Helps maintaining healthy body weight. Helps detoxification of the body. Helps in cleansing the liver. Helps support healthy breathing and supports proper blood flow. Helps in maintaining healthy cholesterol levels
8. Wonderland Foods Whole Black Pepper (Kali Mirch) 250 Grams (Whole Spices)
It is Natural, No Preservatives and No added Colors. Handpicked and Manually Sorted Black Pepper is one of the most commonly used seasoning ingredients, and good for your health in many ways. Black Pepper has antibacterial, antioxidant and anti-inflammatory properties, which make it an amazing medicinal spice. Black pepper is one of the most versatile spices used in virtually in all kinds of savoury cooking. In order to keep their fragrance and flavor intact, they are generally ground just before preparing dishes and added at the last minutes in the recipes. Since, ground pepper only stays fresh for about three months, but peppercorns will last indefinitely. They are used to marinate chicken, fish, and meat. Can be used in the preparation of soups etc.
9. Minimal Whole Organic Cumin Seed / Jeera,  500 g
O cominho é uma rica fonte de ferro que ajuda a aumentar os níveis de hemoglobina. Este jeera tem um poderoso aroma picante e doce que certamente agrega sabor à sua comida e proporciona uma felicidade culinária. Sua preparação em doces, bebidas, aperitivos e padarias é deliciosamente irresistível. Vem em malotes stand-up com zíper.
10.  Mel Cru Orgânico Merlion Naturals, Floresta Selvagem / Mel Multiflora (300 g)
O mel é prebiótico. Promove a saúde digestiva. O mel cru contém todos os 22 aminoácidos. Ele suporta a saúde imunológica. Fonte rápida e vital de energia