Kebab Festival at India Bistro
Kebab and biryani lovers this is the time to head to the ongoing Kebab Festival with Unlimited kebabs and biryani at all India Bistro outlets across the country, till 31st August!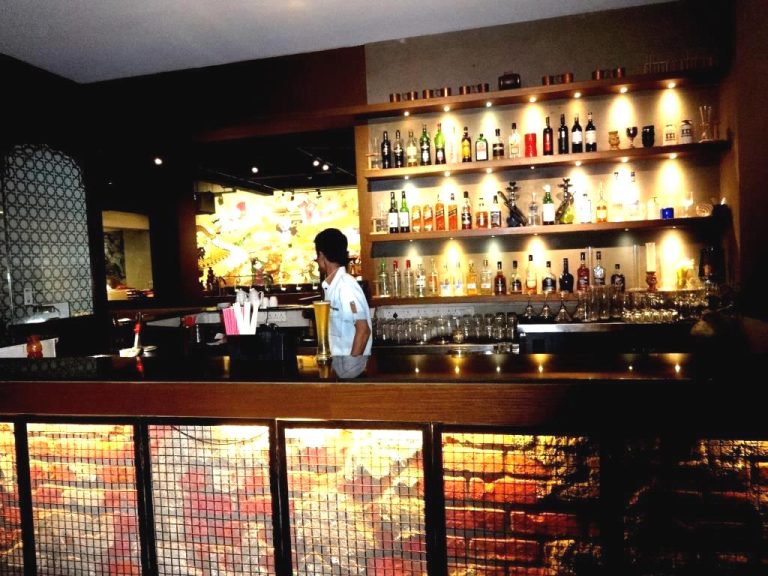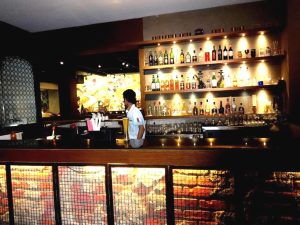 India Bistro in Chembur is where we visited on a laid back weekend and I was glad we didn't miss it. Whole-hearted welcome by Manager Bhagirathi Panda was evident right from the moment we stepped in.  Exposed and enmeshed bricks on the bar counter and walls lend a rustic, simple and earthy touch of Northern India to India Bistro. Expansive with plenty of elbow space, we beheld a lot of families with elderly members and kids enjoy a weekend lunch here.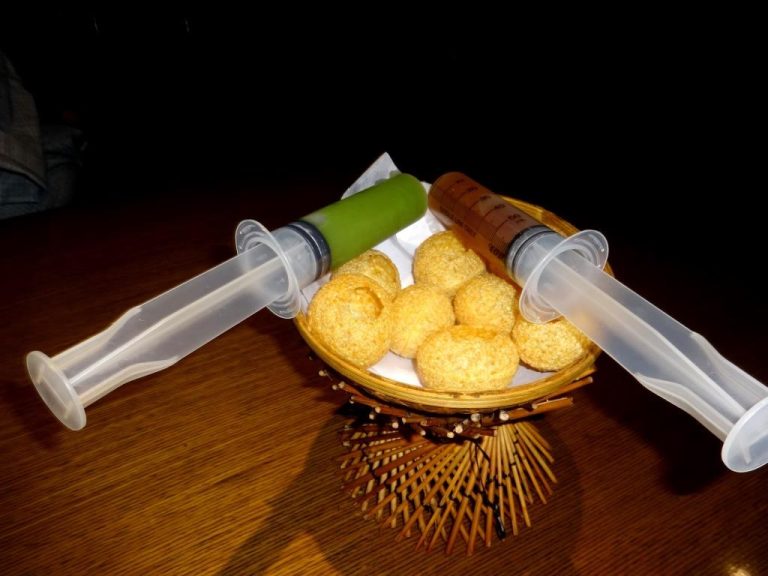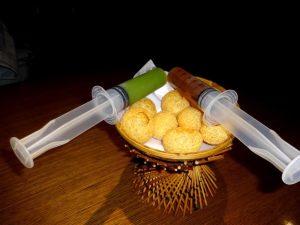 We were taken aback when a criss-cross cane basket with fresh, crisp boondi-filled puris and two big syringes one filled with green tikka paani and the other with meetha paani appeared without our placing the order. It comes complimentary informed the affable Manager Panda.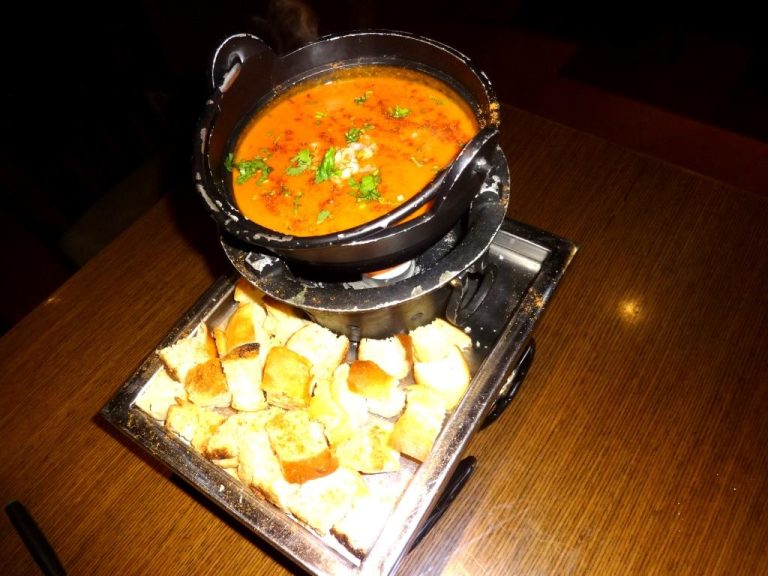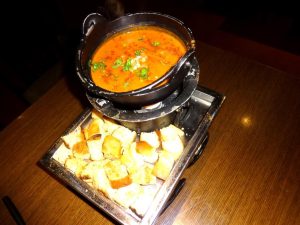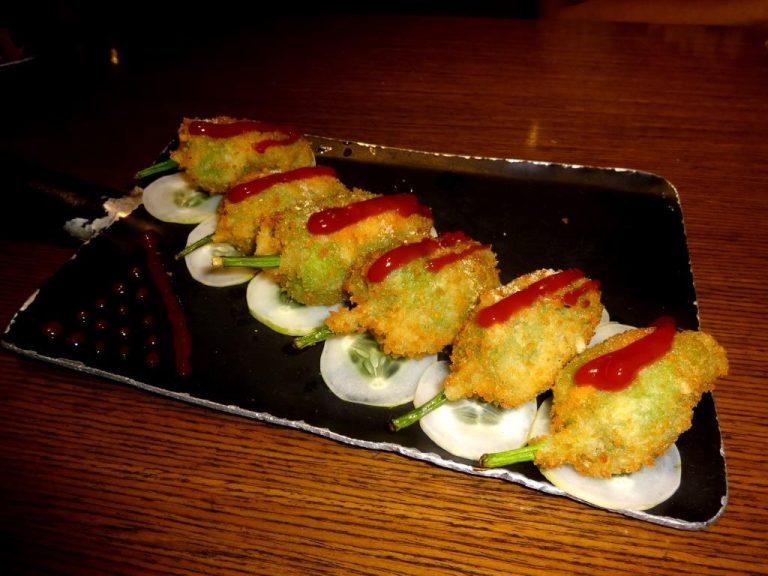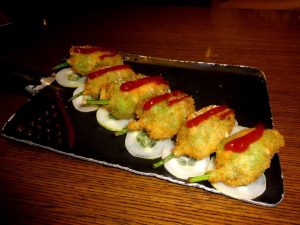 For starters, he suggested we try Pav Bhaji Fondue (pav morsels dipped in piping hot bhaji served on iron cart) and cheesy Panco Crusted Jodhpuri Mirchi – both scored high on our palate and full points to melt-in-the-mouth Methi Malai Seekh. Rassam Kaffirlime, full of flavor, was my drink du jour.
Rassam Kaffirlime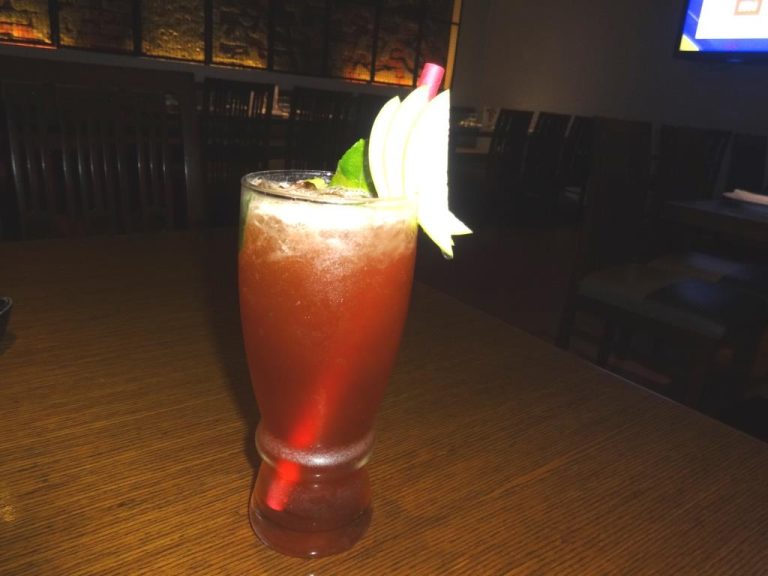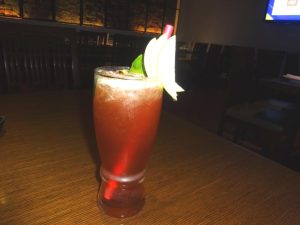 Chuski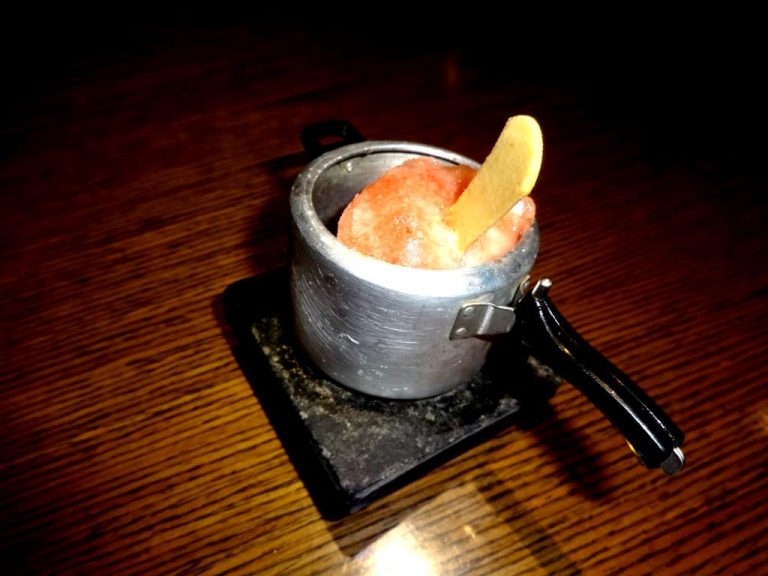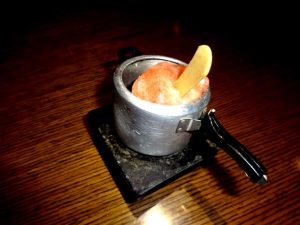 As we waited for our mains, the waiter brought us mini pressure cookers with small chuskis (golas) in them. They were palate cleansers before we embarked upon our next course of meal.
Apricot Kofta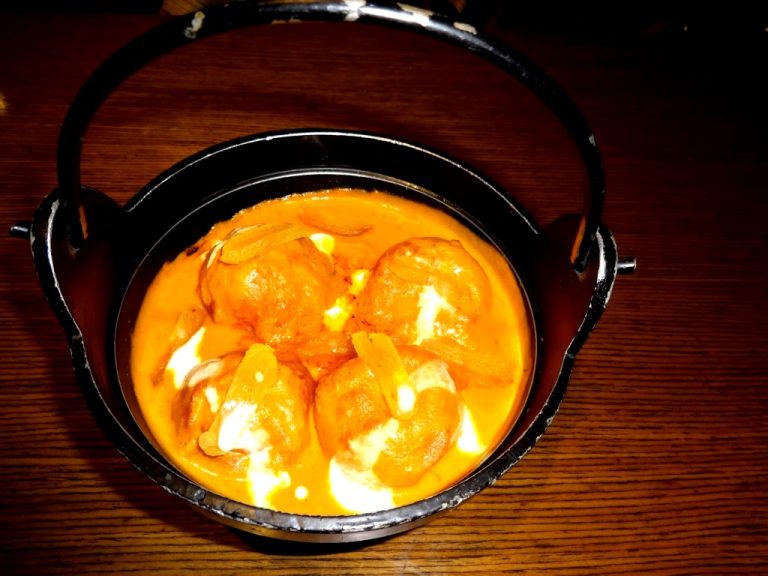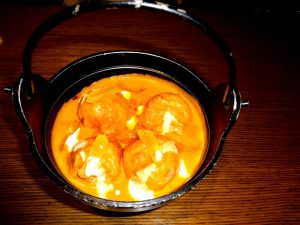 A North Indian restaurant is the place where one must have Amritsari Chole Kulcha as it validates its authenticity. We savoured rotis, again served in a wrought iron basket, with Apricot Kofta curry and Royal Paneer.
Royal Paneer Curry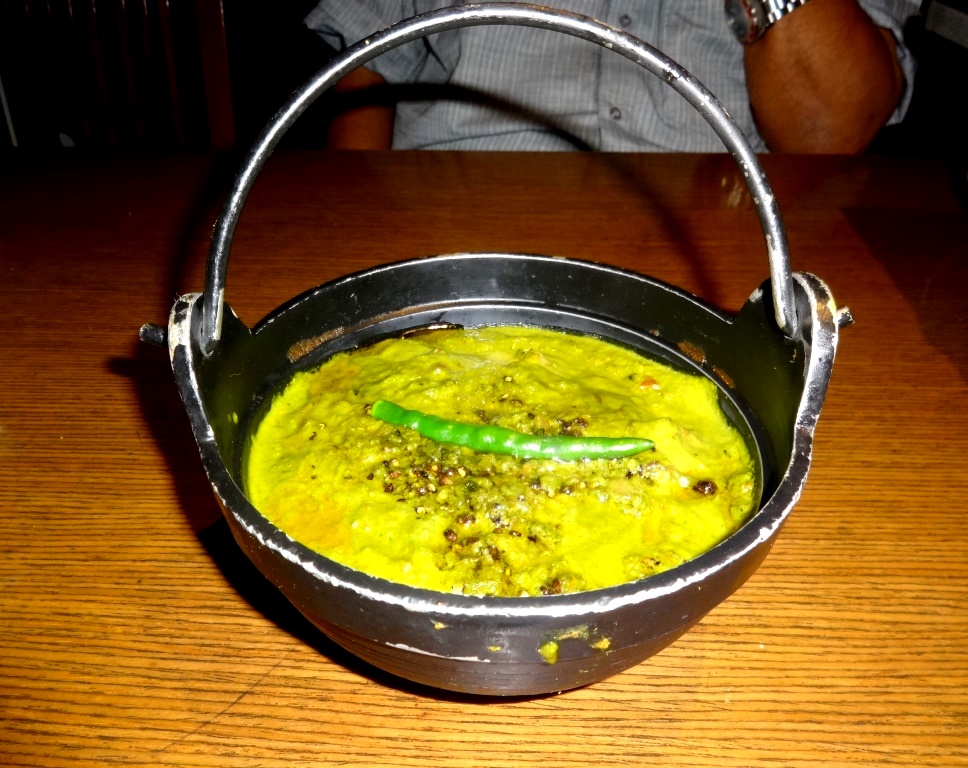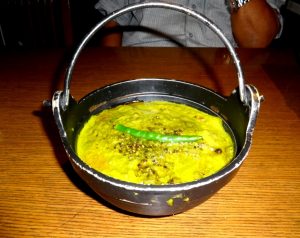 Spicing is used to complement spinach gravy-based Royal Paneer. Masalas do not overwhelm the natural flavor of Apricot Kofta Curry with fresh apricot pieces stuffed in the koftas and slices in the gravy.
Dal Double Fry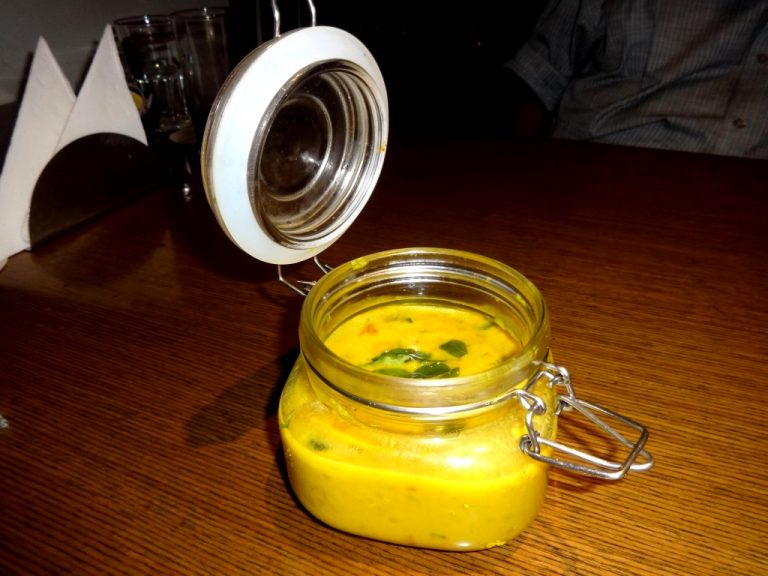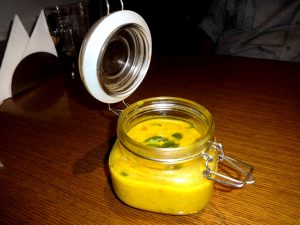 Dal Double Fry was delightful with veg pulao. Here again, the golden hue of dal looked most appealing in a mason jar.  
Gulab Jamun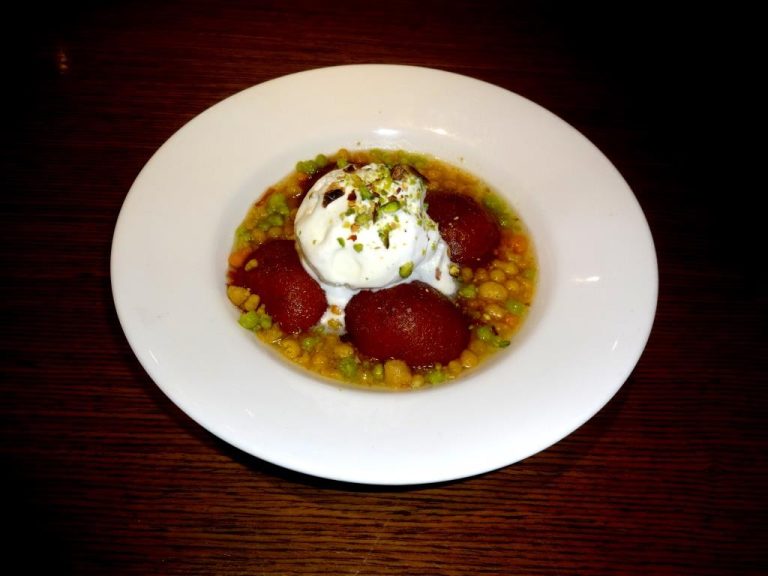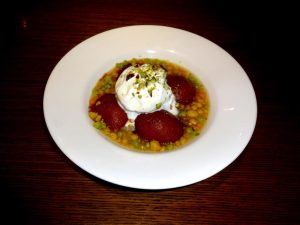 Colourful boondis encircled luscious Gulab Jamuns with pistachio-garnished ice cream in the centre.
Chikki Kulfi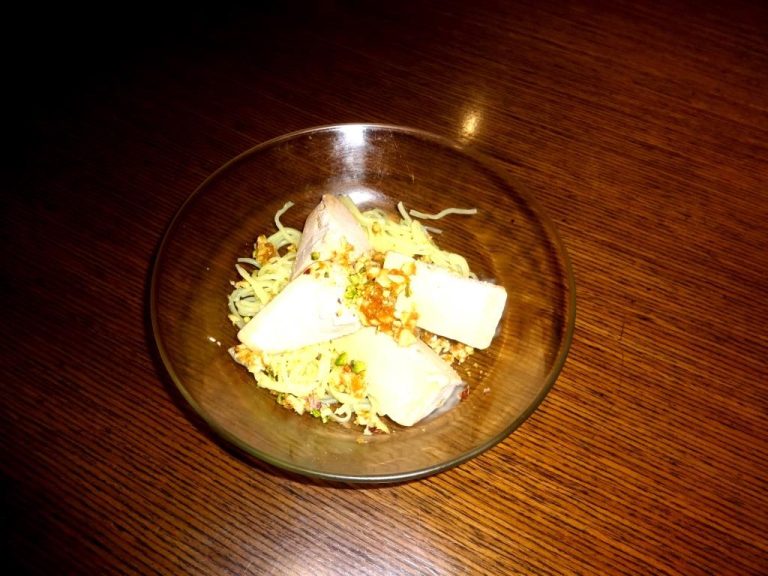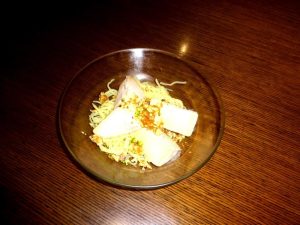 Although we were up to our gills with yummy food, desserts were something we did not wish to give a miss. We also tried Chikki Kulfi garnished with slivers of badam and chikki.  
Yes, India Bistro restaurant believes in spectacle on the table – right from Paani-puri shots to the after-meal served in an iron press, we enjoyed the display.
Chef Roop Singh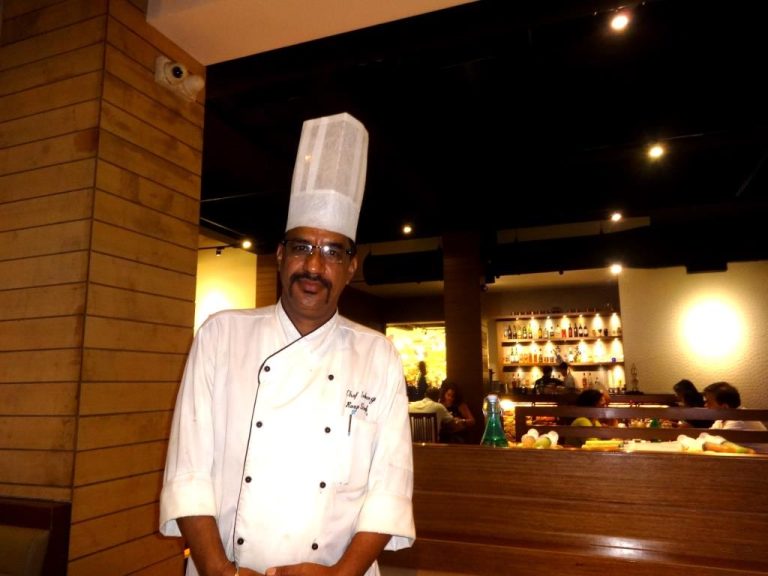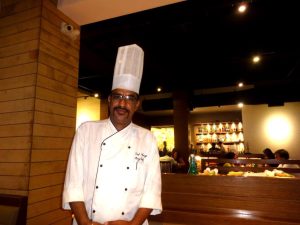 Kudos to Chef Roop Singh for the remarkable culinary flair and the team for prompt, attentive service and above everything, the visually appealing presentation!