Mop Up The Scrumptious South Indian Thali At Toit Mumbai
For one month, Toit Mumbai had hosted a pop-up serving up delicious thalis from The Permit Room, a popular restaurant in Bangalore. The response was quite overwhelming and these scrumptious thalis are back for good for you to relish on their menu. Yes, we're talking flavours of the South coming to Mumbai in a modern way served on a traditional thali. So what are you waiting for? Plan a trip to Toit soon and binge away!

Bring On The Thali

Toit is now offering The Veg Thali, The Chicken Thali, The Seafood Thali and The All Meat Thali in its pop-up menu. Don't be scared of the word 'pop-up', these thalis are not going away this time. For those who opt for a veg thali shall be served Chilli Cheese Bhajji, Okra Podi Chips, Cheesy Onion Samosas and Bellary Badneki for starters. You can pick one main out of Potato & Green Mango Curry, Karaikudi Vada Curry, Ennai Kathirikai or Mysuru Egg Saaru Curry. The All Meat Thali on the other hand has Mysuru Lamb Saaru Curry or the Rayalseema Nalli Curry to pick from.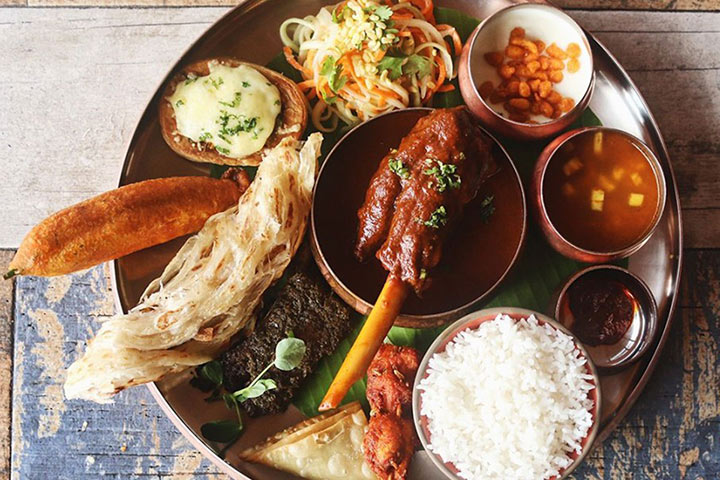 What we're keen on trying is the seafood thali which has a dish called Kane West, Ghee Roast Prawns, Calamari '65 and the bhajji like in the veg thali for starters. There's also the Goan Prawn Curry and the Goan Fish Curry for the mains. The starters for the All Meat Thali are also quite exciting and include Haleem Samosa, Kay Eff Cee Skewers, the bhajji and a choice between Pandi Spare Ribs and the Kerala Beef Fry.

Our mouth is watering just by talking about all the food! So head down to Toit soon and tell us your experience in trying out these thalis!