Nestlé Munch Ties Up With Bahubali 2 And Will Be Releasing Special Edition Packs
Nestlé Munch, a popular chocolate by Nestle has partnered with Bahubali 2 – The Conclusion. Bahubuli is a Indian historical fiction epic; Bahubali 2 will be in a similar vein.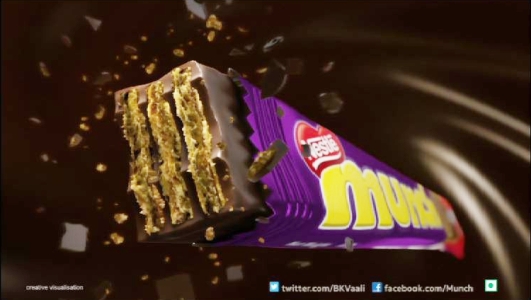 The Partnership
The partnership between the film and the brand will include the launch of five exclusive limited edition Munch packs, social media content as well as videos.
Commenting on the partnership Nikhil Chand, General Manager, Chocolates and Confectionery, Nestlé India, said "India is a growing chocolate and confectionery market, and there is a need for excitement and innovation in this category. Importantly, MUNCH enjoys a clear leadership in the coated wafer segment and it is a conscious effort always to partner with popular and yet unique platforms. We are very pleased to be associated with Bahubali 2 as this will help us engage with our consumers in a more exciting way. Bahubali has been a multilingual blockbuster and has won the hearts of millions, and the current partnership brings alive a similar proposition of Nestlé MUNCH as one of the most popular and loved brands in the country."

The special Munch packs will be available at stores across India in April. They will include Munch's different variants including Munch Nuts and Munch Trio.