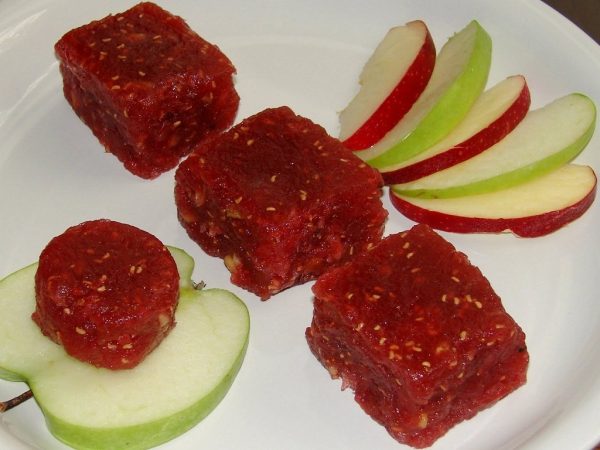 | | |
| --- | --- |
| | |
Melt the ghee or butter in a kadai or saucepan.

Add the apples and fry them for 4-5 minutes.

When they get soft and browned, add 1 tbsp water.

Lower the heat and cook the apples uncovered for 15 minutes till they merge and thicken.

Mash the apples with your spoon and stir frequently to avoid the mixture from getting burnt.

Continue to stir and cook till the whole mixture becomes one and starts to pull away from the bottom of the pot.

Raise the heat and keep on stirring.

Add cinnamon powder and vanilla powder or vanilla extract. Mix these and continue to stir.

When the mixture becomes translucent around the edges and its becomes difficult to remove the spoon, remove the kadai or saucepan from the fire.

Add chopped dryfruits or raisins and cook for a further 2 minutes.

Take the halwa on a plate and form into a layer of 1 inch thick square

Decorate the halwa with halved almonds and pistachois.

When cooled, cut into squares.

Serve apple halwa warm or cold.

Apple Halwa can be refrigerated and stays good for 3-4 days.