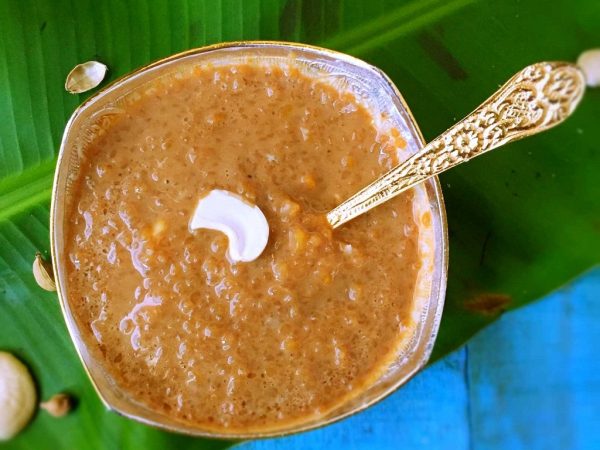 Put the milk to boil. While the milk is boiling, grate the jaggery and set aside.

Heat ghee in a heavy bottomed vessel and fry cashew nuts pieces till golden brown. Remove to a plate and add raisins to the vessel and saute till they swell and turn slightly dark. Remove them to the plate that you had transferred the roasted cashew nuts. Set aside them aside.

To the same ghee, add the broken wheat aka godhuma rava and fry on low to medium flame till the raw smell disappears and it changes to deep red color. This could take 7-8 mts.

Add 3 1/2 cups of water and place lid. Cook on medium flame, stirring once in a while. The rava will absorb the water and swell and cook till soft. This could take approx 18-20 mts.

Add grated jaggery and cardamom powder and mix. The jaggery will begin to melt and the payasam will become watery. Cook without lid on medium flame till the payasam thickens. This could take approx 15-20 mts.

Turn off flame, add cardamom powder and slowly add the milk and keep mixing till well combined. Remove to a serving bowl and garnish with roasted nuts and raisins.