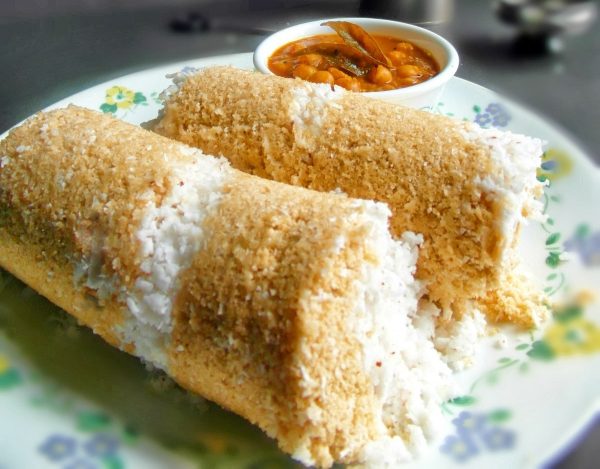 Dry roast wheat flour over medium or low flame, continue roasting for about 5 to 10 minutes or until you get nice aroma and raw smell goes. By the time wheat flour would have changed its color to a slightly brown color not too dark. Remove from the stove. Be attentive while roasting the wheat flour. Because flour will easily get burnt and might smell bad too. Also it will spoil the taste of puttu.

Transfer roasted wheat flour immediately to a mixing bowl, to avoid over frying of flour.

Mix salt in warm water. When the flour is completely cooled to room temperature, sprinkle water little by little to the flour and mix gently. The flour should look slightly crumbly texture as shown above.

Next comes the very important process that is, transfer the crumbly flour to a mixer grinder and give 1 or 2 pulse to get soft and lump free texture.

Meanwhile preheat idly cooker / puttu maker, spread the crumbly flour and steam it for 10 minutes or until well cooked. Allow them to cool.

Bring back the cooked puttu to the mixing bowl, add grated coconut, required sugar and ghee, mix everything well together and serve immediately.