Lamb Dolmas (Stuffed Grape Leaves) Recipe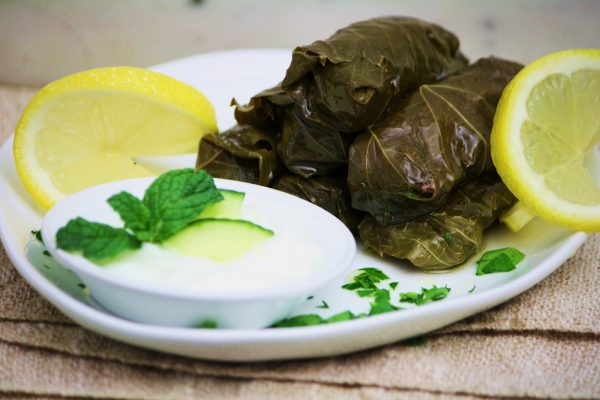 | | |
| --- | --- |
| | |
Melt the butter in a medium sauté pan or skillet over low heat.

Add the onions and cook, stirring occasionally, until translucent.

Add the garlic and spices and cook a few more minutes.

Let cool about 10 minutes.

Combine the onion mixture, rice, ground lamb, pine nuts, tomato, and parsley in a bowl.

Snip the stems off the grape leaves and place them smooth side down on a table.

Shape about 2 t of the lamb filling into a cylinder and place near the stem end of a leaf.

Repeat with the remaining filling.

Fold the sides of each leaf over the filling, then roll into a cylinder.

Arrange leaves seam side down and close together in a single layer in pans.

Pour the lemon juice over the Dolmas in each pan. Then add hot water to just cover.

Weight with another clean pan to keep them from unrolling.

Heat the liquid to boiling and cover the pans.

Reduce the heat and simmer the Dolmas to an internal temperature of 155 degree(68 degreeC).

Uncover the Dolmas so that they can cool some and serve warm.