Queenie's Apple Strudel From Fantastic Beasts & Where to Find Them
Make this yummy apple dessert that Queenie Goldstein impressed everyone with from the movie.
Apple Strudel is a classic European baked treat and is enjoyed at family gatherings and special occasions. Give this recipe a try and you will get a magical twist.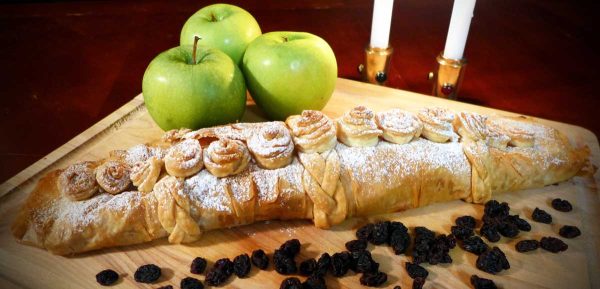 | | |
| --- | --- |
| | |
Preheat oven to 400 degrees F (200 degrees C). Line a baking sheet with parchment paper.

Mix together the apples, brown sugar, raisins, cinnamon powder and flaked almonds in a bowl. Set aside

Place the thawed puff pastry on the baking sheet. Roll lightly with a rolling pin to get a long rectangular shape.

Place apple filling down the middle of the pastry, lengthwise.

Fold the pastry lengthwise around the mixture and seal the edges with your fingers dipped in a little water, Cut away the excess pastry from the sides.

Cut the excess pastry into strips and roll them into flowers or braid them to create decorations on top of the strudel. Place the decorative pieces on top of the pastry roll

Whisk egg and milk together, and brush onto top of pastry.

Bake in preheated oven for 35 to 40 minutes, or until golden brown.