You Won't Want To Miss Out On The Pork and Wine Evening at Hyatt Centric Bangalore
Hyatt Centric MG Road Bangalore in association with Pork Lovers Club is hosting a Pork and Wine evening at the Bengaluru Brasserie on Saturday, 27th October. The menu curated by Chef Manish Uniyal will feature pork-based creations paired elegantly with wines under the expert guidance of wine sommelier Karishma. The evening will be spearheaded by Kalyan Gopalakrishna from Bangalore Pork Lovers Club.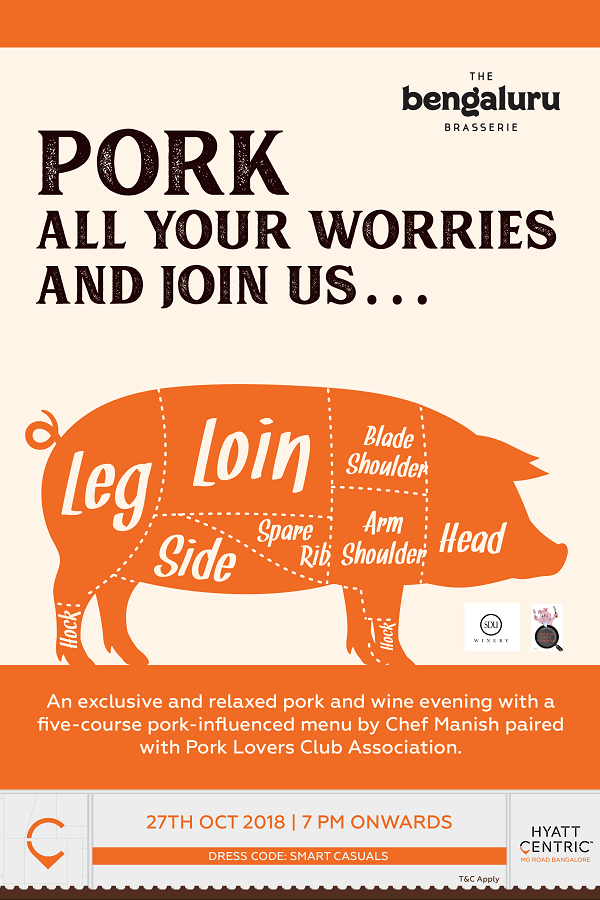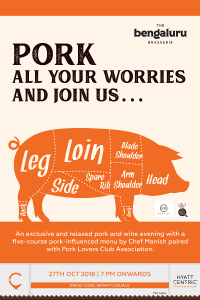 The course-wise menu will feature an array of pork specialties from across the globe like maple candied bacon, pork popcorn, home cured charcuterie paired with artesian breads, beer braised pork knuckles and lemon and pork pie. Every course will have influences of pork and will be served with the perfect wine accompaniment. The evening will be enhanced with a detailed explanation of the pairings by the three experts.
So, if you're looking for the perfect place to satisfy your porky cravings, and have a palate for wine, you won't want to miss out on this evening where you can wine and dine (on pork) to your heart's delight!
Date: 27th October 2018
Time: 7 pm onwards
Venue: The Bengaluru Brasserie, Hyatt Centric MG Road, Bangalore
For Reservations: Call – 080-40187200