25 Awesome Places To Celebrate Christmas Eve In Mumbai, Cheers To The Xmas Weekend
There's no doubt about the crazy parties that'll keep Mumbai up for wee hours in the night because it is Christmas! And this Christmas weekend in the city, there are 25 places which are all set to treat you traditional, sumptuous meals along with mulled wine and kickass music. Without further ado, here's where you can head to this weekend and a Merry Christmas to you all!
The Irish House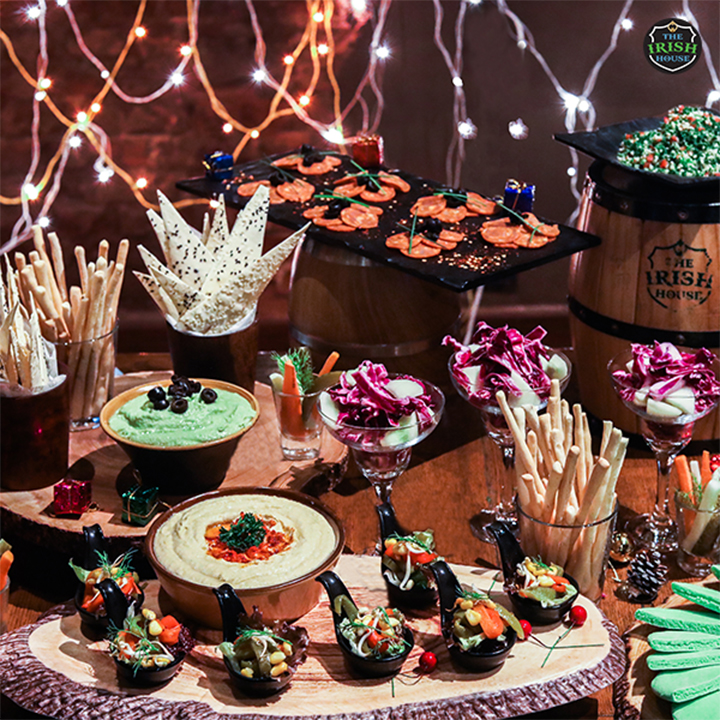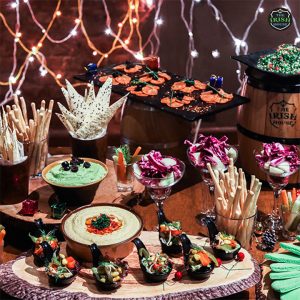 The Irish House is all set to make your Christmas an eventful one with scrumptious brunches where you can help yourself to unlimited food and alcohol and a special prize for kids too on 24th and 25th December, 11 AM to 4 PM. Enjoy Christmas delicacies like Honey Glazed Roasted Chicken or Turkey Ham, Grilled Fish with Wine Sage Butter Sauce, Lamb Goulash, Gingerbread Crinkle Cookies, Eggnog, Cranberry Almond Pound Cake and a whole lot more! Plus, get ready to party hard on New Year's Eve as they've got late night happy hours going on from 10 PM to 12 PM.
Location: Across Mumbai
Gateway Taproom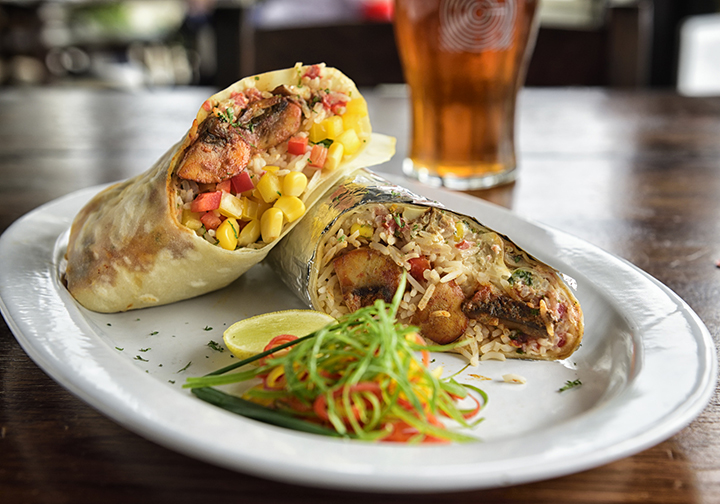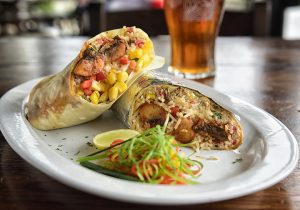 Be merry this weekend with the Gateway Taproom's Christmas special brew – Scotch Ale which is rich, malty and with a hint of sweetness from the caramel. Plus they have delectable burritos to go with which are packed with cilantro lime rice, corn, black beans, grilled peppers, cheese, sour cream and spicy salsa plus you get to pick from smoked paprika mushroom, chicken or chopped steak. Don't forget to try their Christmas desserts like the Cinnamon Roll served with Vanilla Ice cream and mouth-watering Cupcakes.
Location: Gateway Taproom, Godrej BKC, Building, Ground Floor, Unit no. 3, G Block, Bandra Kurla Complex (E), Mumbai
Mahek's Atelier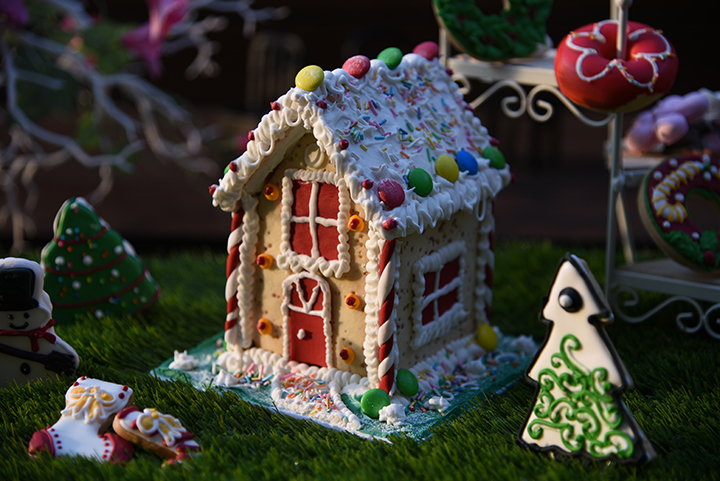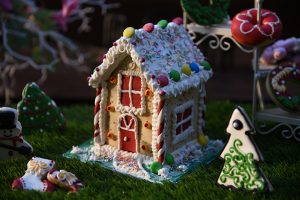 Grown-ups maybe looking to party on Christmas eve, so why shouldn't kids have a party of their own? That's why Mahek's Atelier is bringing a creative experience wherein kids can indulge in Gingerbread House decorating party and take back the houses they've made. Santa, games and music will ensure that the big wide smile doesn't leave your child's face. So bring them in on 23rd December, 4 PM onward!
Location: A/22, 2nd Floor Krystal Avenue, RNA Building, Above HDFC Bank, 4th Cross Lane, Lokhandwala Market, Andheri (West), Mumbai
Four Points By Sheraton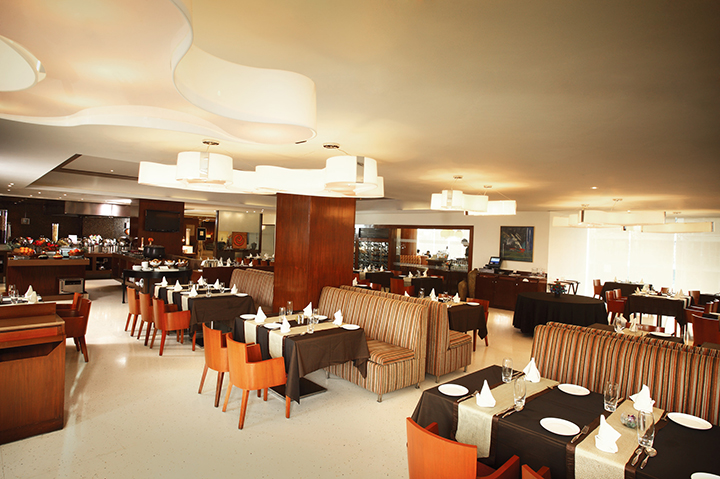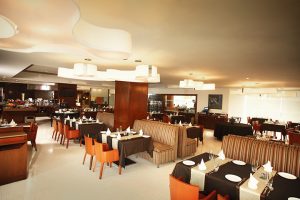 Spend the Christmas weekend with traditional delicacies at Four Points By Sheraton. Relish a Christmas Eve dinner buffet on 24th December at Asian Kitchen and relish dishes like Smoked Salmon Potato and Leeks Soup, Smoked Turkey Salad, Valancia Cottage Cheese, Rum Balls, Plum Cake, Oreo Truffles and Cranberry Jello! You can also savour delicious food like Chicken Ham Roulade, Chicken Tampura with Plum Sauce, Smoked Turkey Fried Rice as you listen to a live band and carols on a lovely Christmas Day brunch on 24th and 25th December.
Location: Plot 39/1, 6 To 15, Sector 30A, Vashi, Navi Mumbai, Mumbai
Taj Hotels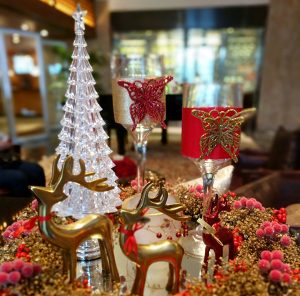 Christmas is being celebrated with great gusto at Taj Hotels all across Mumbai on 24th and 25th December. Be it an exquisite private dinner at Casablanca at The Taj Mahal Palace, or a four course meal with mulled wine at Mews Café, Taj Wellington Mews on Christmas Eve. Perhaps you may prefer a lively Christmas brunch on 25th December being hosted by Wink at Vivanta by Taj-President or maybe a lovely dinner buffet on Xmas eve at Vista, Taj Lands End. Tiqri at Taj Santacruz too is ready to serve you a delicious buffet on both days for brunch and dinner. So take your pick and revel in the vibes of merriment at Taj.
Asilo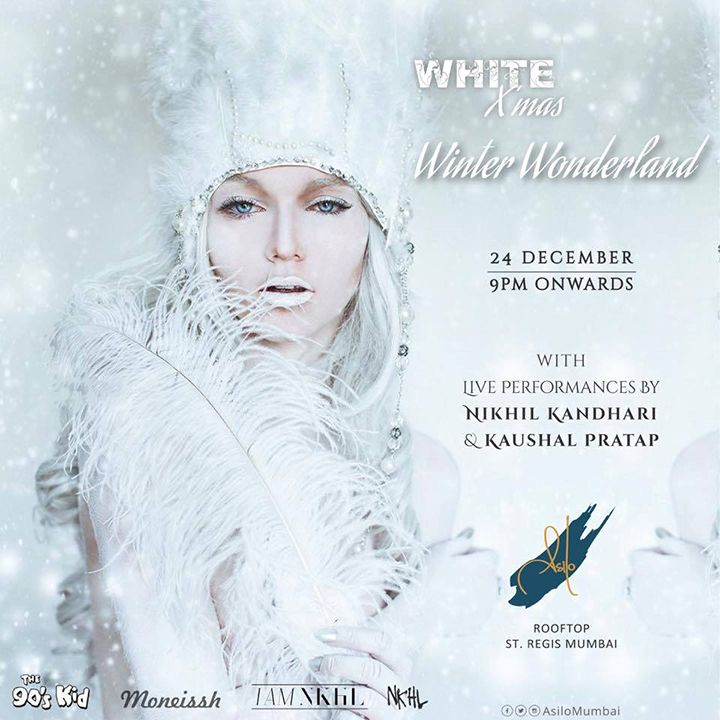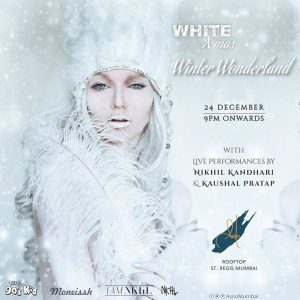 Enjoy a White Winter Wonderland and bring in a White Christmas at Asilo on 23rd and 24th December. On Saturday, Vishal Shetty will deck and on Sunday, you'll get to watch live performances by Nikhil Kandhari and Kauhal Pratap. Drink hard, party harder and relish a special menu!
Location: The St. Regis Mumbai, 462, Senapati Bapat Marg, Lower Parel, Mumbai
Talaiva

Party with DJ Aaryan Gala as he plays kick ass music on Christmas Eve at Talaiva. Binge on their delicious food and cocktails as you groove to the beats and bring in Christmas with your friends!
Location: 4, Trade View Bldg, Oasis Complex, Pandurang Budhakar Marg, Lower Parel, Mumbai
Drinkery 51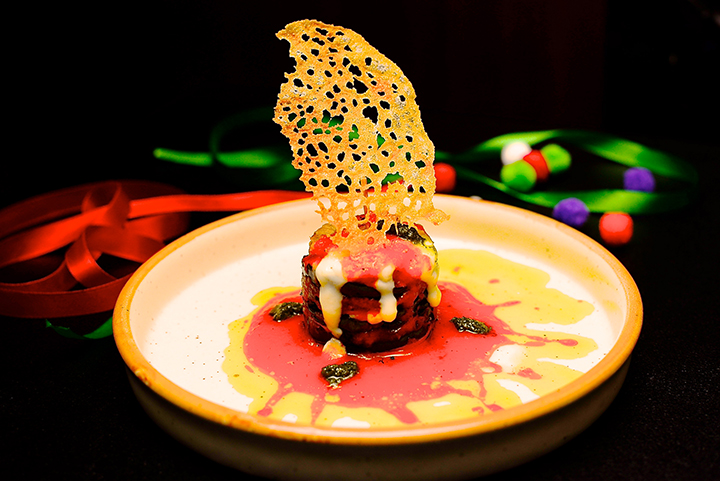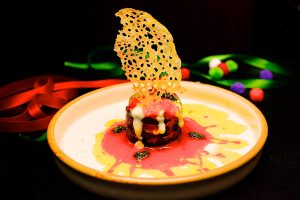 Relish delicious Christmas delicacies like Roast Turkey Loaded Potato skins, Pork Seekh Kebab with Sorpotel Sauce Dip, Lamb Calzone with  Red Pepper Coulis, Caramelised Onion & Blue Cheese Poppers W Creamy leeks and much more curated by Drinkery 51 and Chef Ajay Chopra. Plus, enjoy a lively 'White Christmas Eve Bash' with DJ Angel playing gyrating tunes at the venue!
Location: 1st Floor, Vibgyor Towers, opposite Trident Hotel, Bandra Kurla Complex, Bandra East
Shiro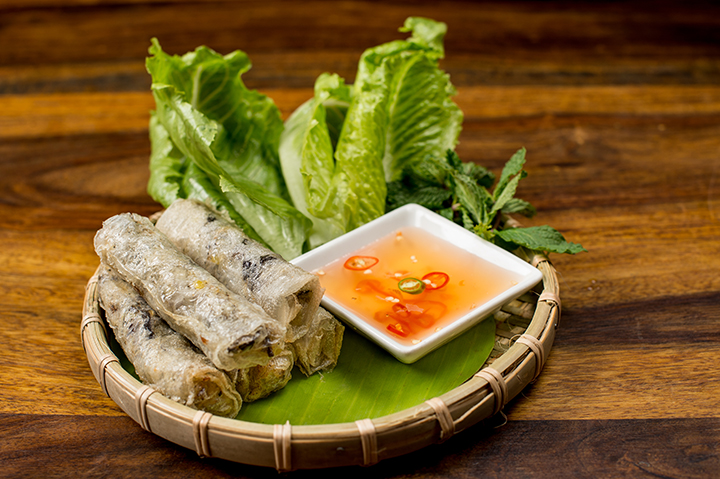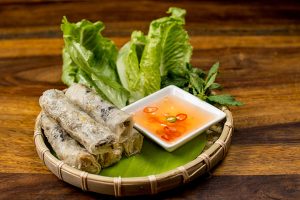 Shiro has cooked up delicious Pan Asian delights to bring in Christmas for those with elevated taste buds. So get ready to enjoy delicacies like Turkey Spring rolls, Rock shrimp tempura rolls, Korean bulgogi turkey roast. Their specialties in desserts in include Red velvet Christmas cake – a traditional Christmas cake with a twist of red velvet and cream cheese frosting sprinkled with white chocolate snow.
Location: Bombay Dyeing Mill Compound, Pandurang Budhkar Marg, Worli, Mumbai
Fish N Bait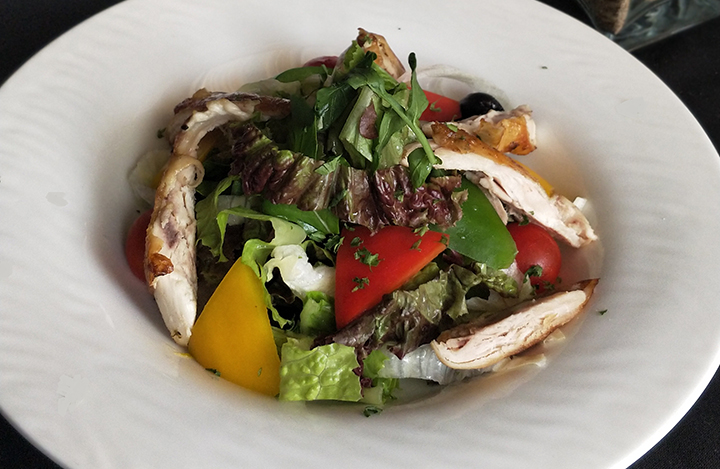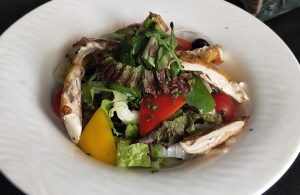 Relish a delectable five course menu at Fish N Bait and feast on delicious dishes like Turkey Mediterranean soup or the Turkey Roasted Butter Nut Corn Soup, Turkey mixata salad or a Turkey with Dijon salad, Bourbon Turkey, Indian Turkey meatball, Roast Turkey with cranberry and for desserts – Rum-Flavored Chocolate Balls with Nuts or Tender Coconut Cheesecake. Oh and don't forget to order the wine which is on the house!
Location: Fish N Bait, Unit 4, Ground Floor, Jet Airways Godrej BKC, G Block, Next to MCA, Bandra Kurla Complex, Mumbai
The Daily Bar & Kitchen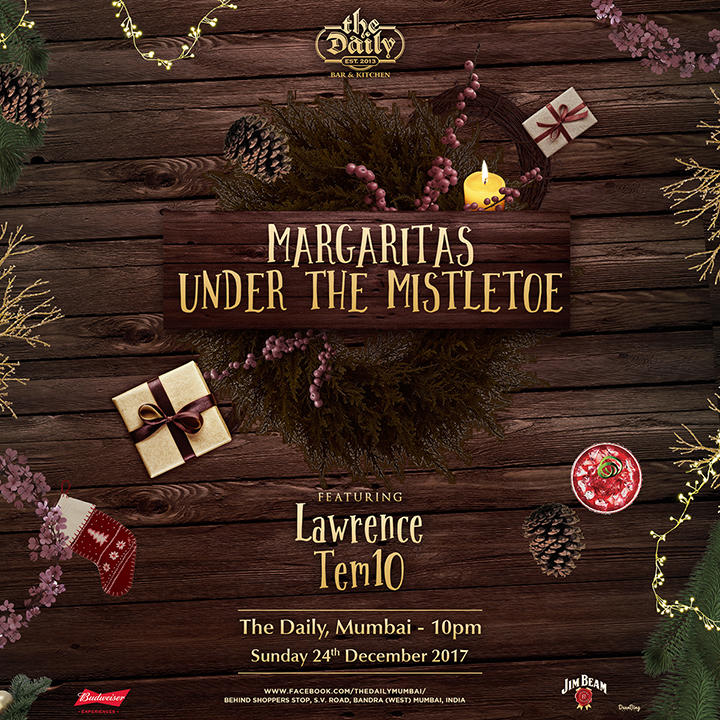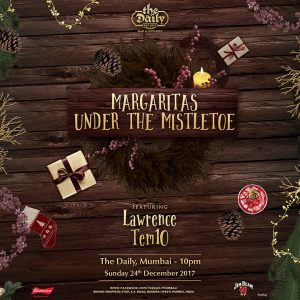 Experience a Christmas Eve like no other with a vintage-themed party at The Daily Bar & Kitchen. The resident DJ Trenton will be at the deck to keep you grooving while you enjoy the twig archways, snowflakes, glitter and the delectable food like eggnog, chocolates and a special menu!
Location: The Daily Bar & Kitchen, S.V. Road, Bandra (West)
Indigo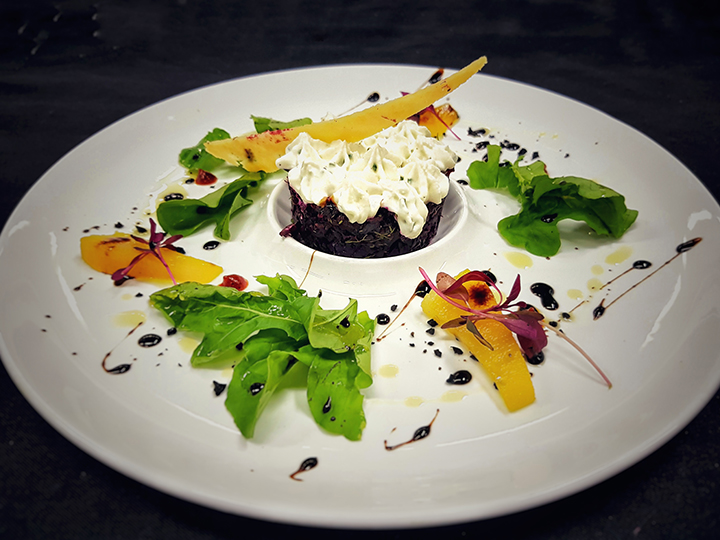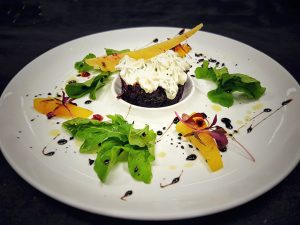 Enjoy traditional Christmas dinners at Indigo on 24th and 25th December with delicacies like The Friendly Farmer Roast Turkey, A Pan Roast Fillet Of Barramundi and the Pickled Beetroot Tartare with goat cheese espuma and buttermilk. Pair it with Mulled Wine and Eggnog, White Christmas Mojito and the Christmas Cosmo. End up your grand feast with wonderful desserts like Raspberry Soufflé and the Fresh Strawberry Baked Alaska with rhubarb coulis & passion fruit jelly.
Location: Indigo, Colaba
Old Wild West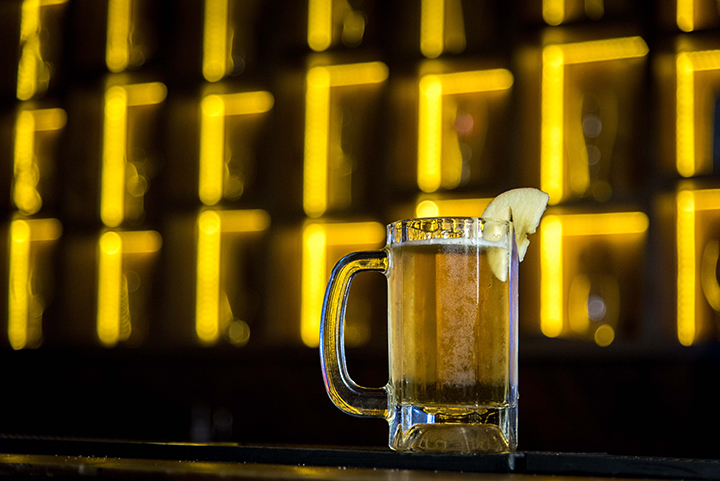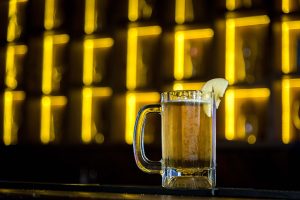 Groove to the amazing music all night on Christmas Eve at Old Wild West. Chug on beers, tighten your cowboy boots and get ready to party! Binge on their delicious nibblers to keep your energy levels high. Enjoy their Tex Mex Veg Tacos, Oriental Paneer Chilly, Texan Chicken Tenders, Mexican Chicken Wings, South Style Fish Crackers and much more. Don't forget their Mexican themed cocktails that include Mexican Wave, Cow Boy, Malta Whiskey, White Mexican, to name a few.
Location: First Floor, Trade View Building Oasis Complex, Kamala Mills Compound Pandurang Budhkar Marg Lower Parel, Mumbai.
Carouse – Contemporary Kitchen & Bar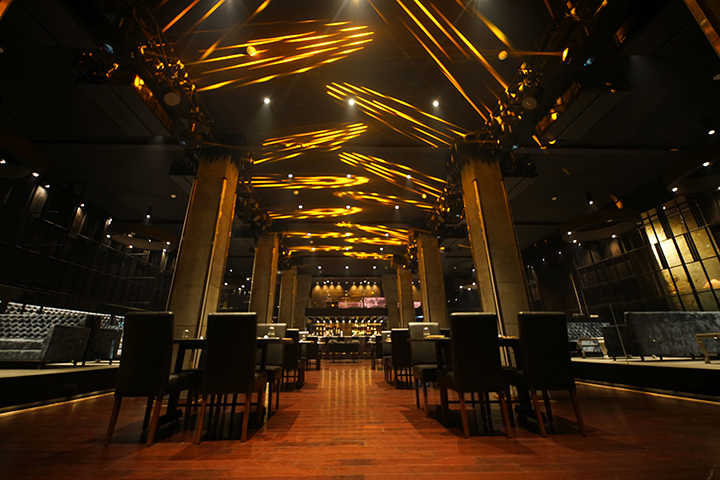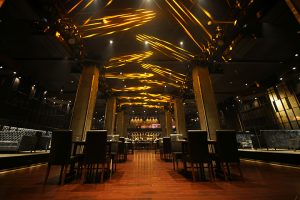 Get ready party hard on New Year's Eve with the newest lounge on the block, Carouse – Contemporary Kitchen & Bar. Expect seven different surprise acts and groovy music by Aditya Wanwari, Rahul Khurana, Ameya & Rahil Mehta on the deck! So wear your dancing shoes and carouse!
Location: Level 1 , P-2 building, Raghuvanshi mills Estate,Senapati Bapat Marg, Lower Parel West, Mumbai
Foodhall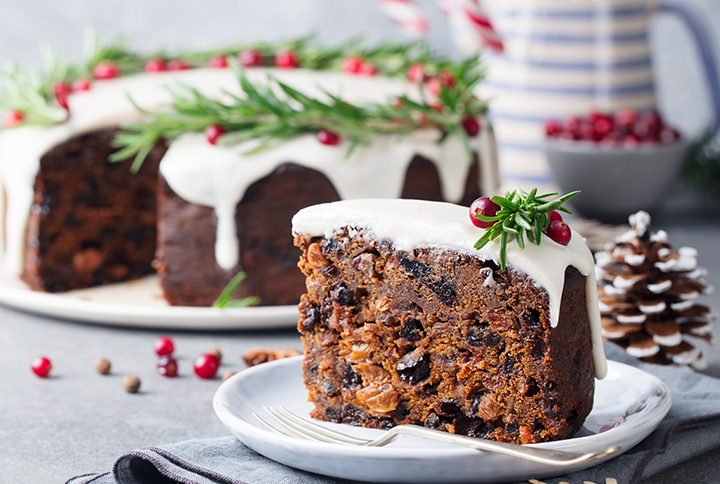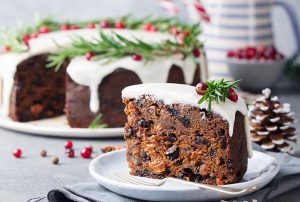 Get delicious traditional Christmas food as you get to pick from Foodhall's special menu! Enjoy dishes like Brussel sprouts with bacon, Chicken Pate, Christmas Pudding, Christmas Yule Log, Mince Pie, Plum Cake, Prawn Cocktail, Stollen, Roast Pork Gammon and Stuffed Turkey. Plus get your kids to meet Santa on 24th and 25th December between 10 AM TO 12 PM plus enjoy Christmas carol singing, a special photo booth, and treats from Santa from a loaded goodie bag.
Location: Foodhall, Lower Parel, Palladium
BKC Dive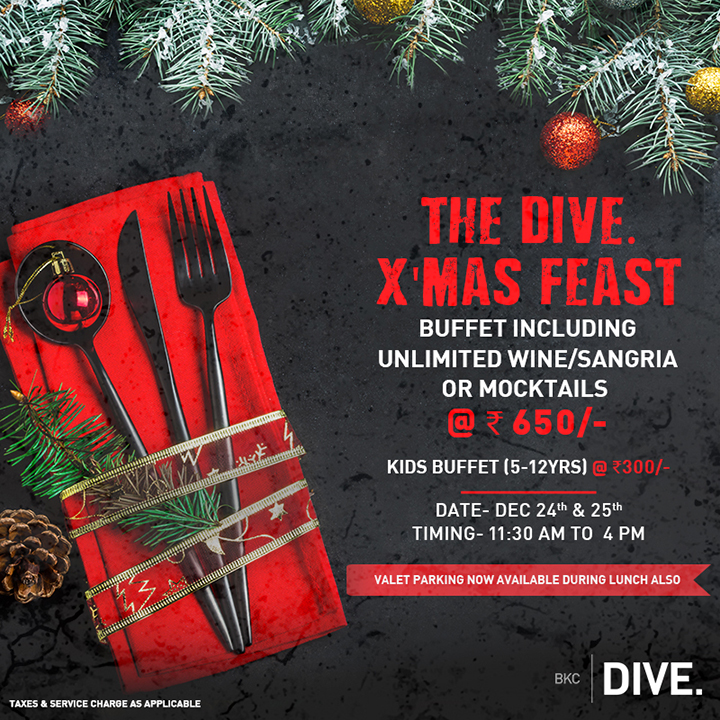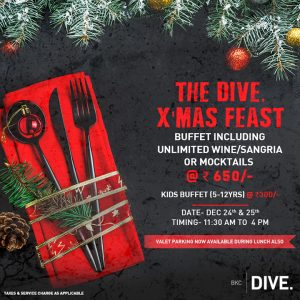 Savour an unlimited Christmas Buffet at BKC Dive inspired on 24th and 25th Dec. Experience an array of traditional as well as Maharashtrian, Koli and Portuguese cuisines. Also, do hang back for 'Red Nights At Dive' party with free Xmas shots and dance all night long on both the dates.
Location: BKC Dive, Ground floor, Pinnacle Corporate Park, Next to Trade Centre, Opposite MTNL Office, Bandra Kurla Complex, Mumbai
British Brewing Company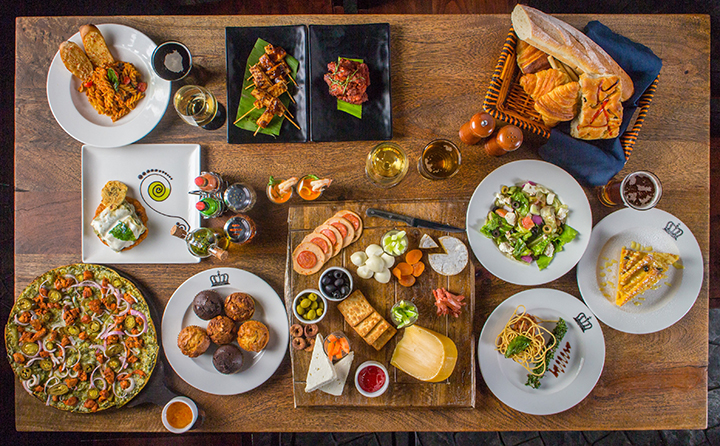 Enjoy a hearty Christmas brunch with free flowing draught beers and cocktails on 24th and 25th December at the British Brewing Company. Enjoy delicacies like Cottage Cheese Steak with mushroom sauce, Sliced Roast Turkey with cranberry jus and Yorkshire pudding, Classic English Roast Chicken with black pepper sauce, Shepherd's Pie, Beer Battered Fish and Chips and more. Sweeten your Christmas with a traditional Plum Cake, Chocolate Rum Balls or a classic Caramel Custard.
Location: British Brewing Company, Level 4 & Level 5, Palladium, High Street Phoenix, Lower Parel
Woodside Inn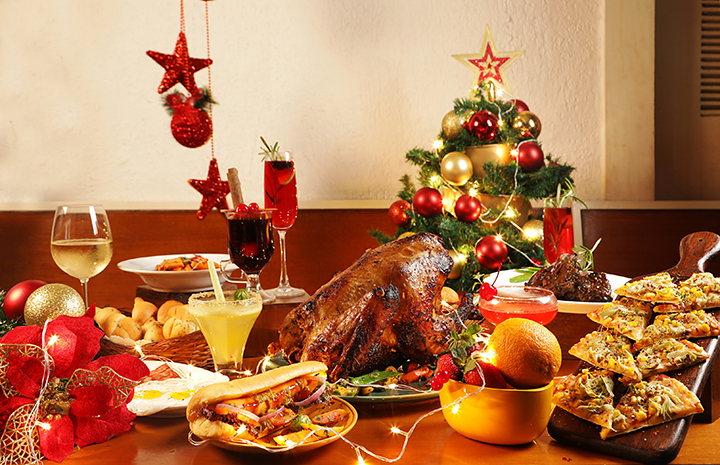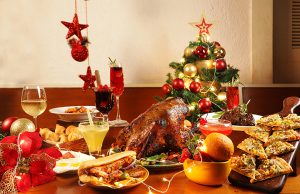 Enjoy a lovely Christmas brunch on 24th Dec at Woodside Inn and relish dishes like Celeriac butternut squash soup with herbed croutons, Cajun shrimp and sausage skewer with chimichurri sauce, Pork chops with apple sauerkraut and thin crust pizzas. Plus, do try their Mulled Wine, X-mas Carnival, Chrismopolitan and Sparkling Feast plus their sumptuous desserts like Christmas Egg Yule Log, Stollen bread, Christmas Themed cupcakes and Mini fruit mince pie.
Location: Woodside Inn, New Link Plaza, Next to Oshiwara Police Station, Oshiwara Link Road, Andheri West, Mumbai
Rikē-Terrace Bar & Grill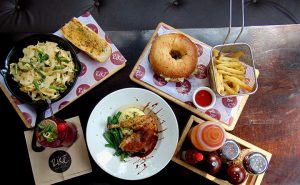 Relish delicious food and celebrate Christmas at the newly opened – Rikē-Terrace Bar & Grill. Enjoy Slowly roasted Christmas turkey, Asparagus & parmesan fettuccine with garlic bread, Smoked Turkey Bagel, Blueberry Cheesecake, Red Velvet Muffin and Apple Pie.
Location: Dream Works, C18, Dalia Estate, Off Andheri Link Road, Veera Desai Road, Above Doolally taproom, Andheri West
The Westin Garden Mumbai City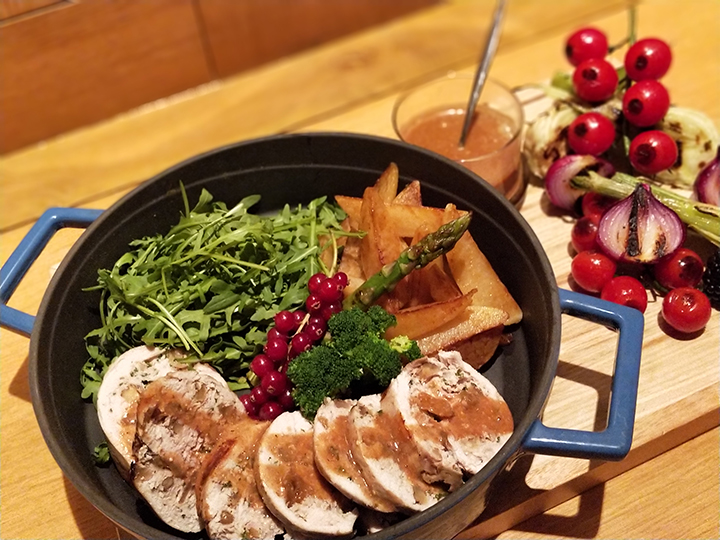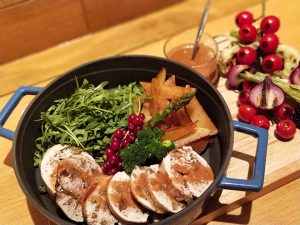 Enjoy a delicious Christmas Eve dinner at Seasonal Tastes at The Westin Mumbai Garden City where you can savour international cuisine or an authentic Italian meal at Prego. Likewise you can engage in a delicious brunch on 25th December at Seasonal Tastes or at the stylish and contemporary lounge – Level 18. Enjoy the Christmas spirit at Westin!
Location: Goregaon East, International Business Park, Oberoi Garden City, Mumbai
Kaitlyn's Beer Garden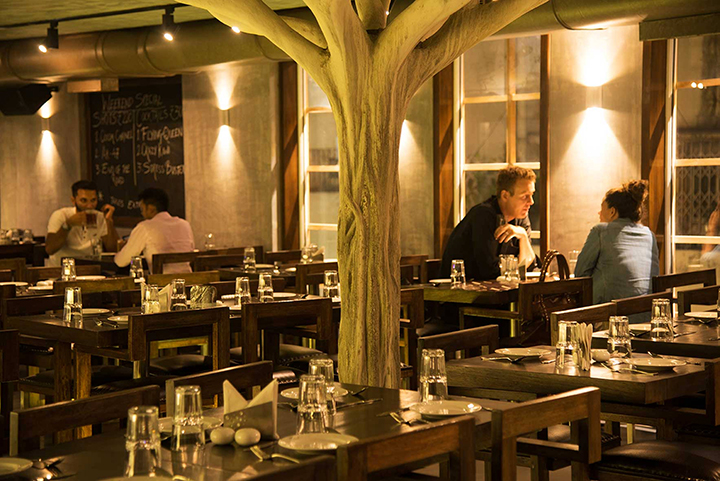 Bring in Christmas with an all day long drunch at Kaitlyn's Beer Garden on 24th December. Pick two starters, a salad, one main course and one dessert plus unlimited Kingfisher Tap Beer and their Christmas special, Raspberry Royale.
Location: No. 201, 202, Khan House, Hill Road, Above McDonald's, Bandra West, Mumbai
TGI Fridays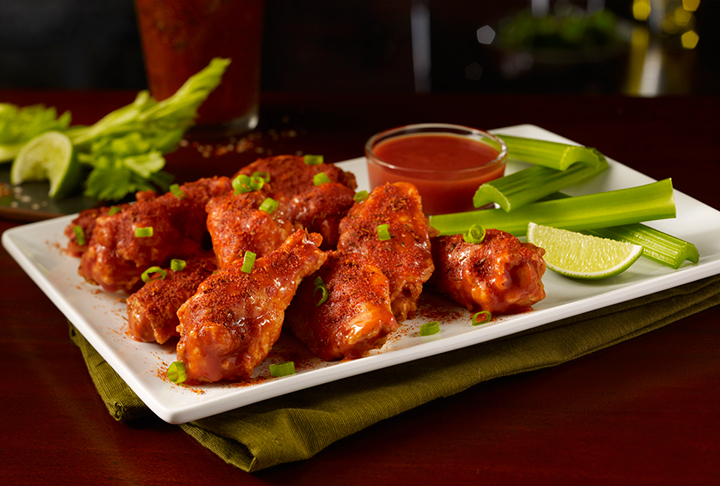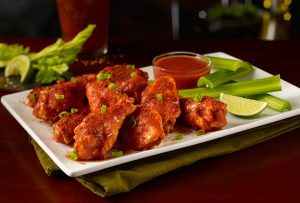 Enjoy a lip smacking Christmas Menu with Bloody Mary Boneless Wings, Bacon and Lamb stuffed Jalapenos, Strawberry Field Salad, Jack's Christmas Turkey Dinner, Creole Style Steak and Shrimp and much more at TGI Fridays till 29th December. Enjoy their Xmas special cocktails – Mistletoe Martini, Jingle Bell Sangria and the Christmas Long Beach Iced Tea.
Location: TGI Fridays – 201, Second Floor, Link Corner, Bandra, Khar West, Mumbai
Kode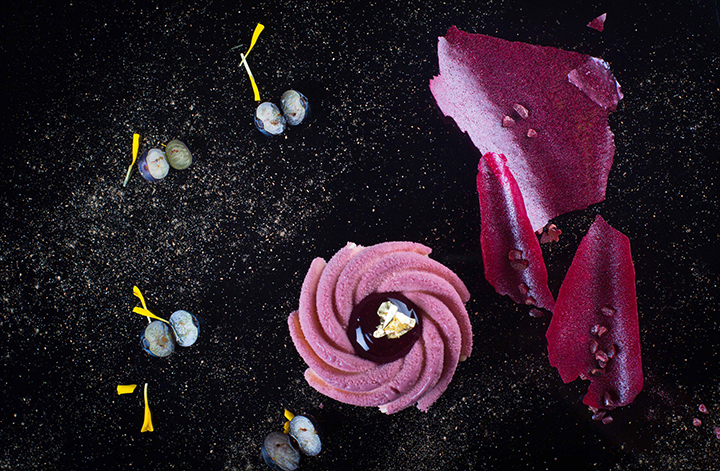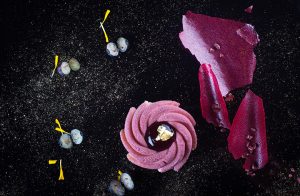 Kode has planned a scrumptious menu for a Christmas brunch on 24th December where you can enjoy their festive food and drinks. Sip on some mulled wine or their special offerings like Ti Amo Prosecco, Ketel One Vodka, Sangria, Aperol Spritz, Loius Roderer Champagne, The Ardmore, Bowmore 12 year old whiskey. Relish sushi, mezze, tapas, cheese platter, blueberry baked yogurt, tiramisu, panna cotta and much more!
Location: 2nd Floor, Kakad Mansion, Behind Dhan Pothohar Gurudwara, Talmiki Road, Saraswat Colony, Santacruz (West), Mumbai
Hitchki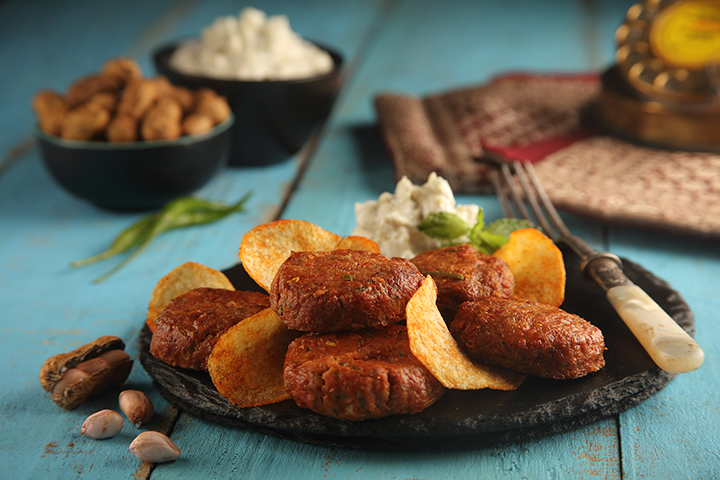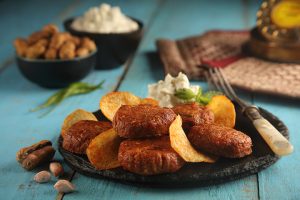 Relish the delicious food and quirky cocktails at Hitchki and celebrate Christmas Eve at one of the hip places in Powai and now, BKC as well. Groove to the crazy music at their 'Jingle Party' and get mellow with Bollywood-inspired cocktails like I hate tears, Bubbly LIT, Swadeeka, Geeta Babita, Imli Ka Boota, Tu Anaaaari and much more!
Locations:
Hitchki Powai, G5 Transocean, Hiranandani Business Park, Lake Boulevard Road, Powai, Mumbai
Hitchki BKC, Unit No.002, First International Financial Centre, G-Block. Bandra-Kurla Complex, BKC Road, Bandra (East), Mumbai
AKA Bistro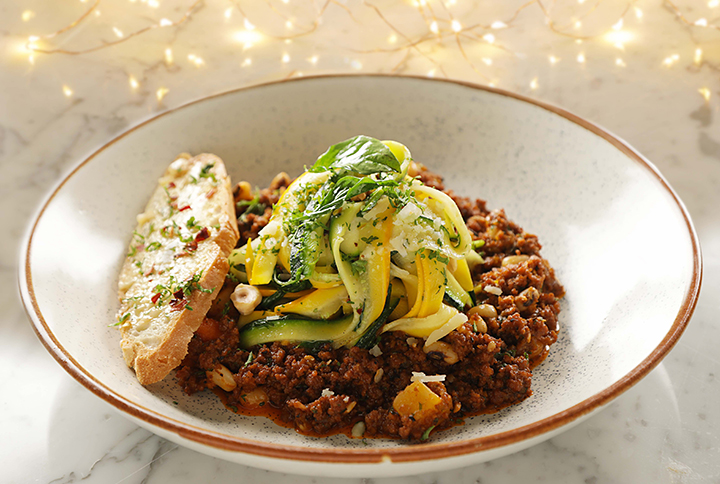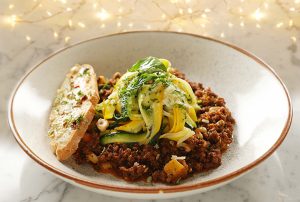 The special Christmas menu awaits you at AKA Bistro and the good part is, it's here all month! So gorge on delicious treats like Slow Roast Chicken, Lamb Bolognese, Baked Cottage Cheese, Barley and Edamame Risotto and much more. For desserts they have specialties like Filo Wrapped Berry and Pistachio Cheesecake!
Location: AKA Bistro, 123, Nagindas Master Rd, Kala Ghoda, Fort, Mumbai