Experience Gastronomic Indian Food Like Never Before At Masala Library
Ever had a dahi bhalla semifreddo? Or a jalebi caviar? When was the last time your chocolate truffle was levitating? If the answer to all of these is no with a sheer amazement on the face then you definitely haven't taken a bite of the new, zesty dishes at Masala Library by Jiggs Kalra. Known for styling Indian gastronomic food and taking it to new levels with culinary techniques and giving the foodies a little theatre, this restaurant will not fail to stupefy you. Here's one place where you can literally tell your server to surprise you, and rest assured they will!

Starring Indian Classics

We're calling the dining experience a show, a culinary drama put up with much effort by the chefs at the Masala Library. Who else puts a trivial thing as a mango and coconut water amuse bouche within a nest and an egg shell? So yes, we were wowed right from the start. The semifreddo dahi bhalla we mentioned above was a delight and was paired with a delicate beetroot wafer net. The deconstructed samosa might be tiny but played the tune of familiar flavours on our taste buds. But the biggest flavour credits must go to the exceptional Thalipeeth with Curry Leaf Yoghurt, absolutely phenomenal.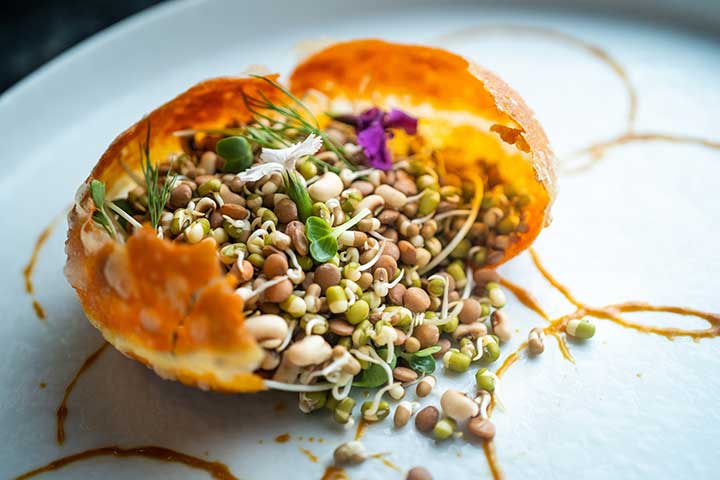 Refreshing our palate before more snacks came pouring in was the Mushroom Chai Soup which was served with truffles and the actual soup being a consomme of truffle being poured in a cup. It was a delightful tea indeed and cannot be missed while visiting this place. Next up was a delicate galouti kebab which had a noodle like appearance. Not only did it live up to its melt-in-the-mouth legacy but the sheermal on the inside too followed suit. We also thoroughly enjoyed the Pink Pepper Tiger Prawn and it was lip-smacking delicious.

Serious Eats

Another intermission in the delightful food was the classic Mishti Doi, standing as gorgeous white flowers in a sunflower plant. After this refreshing palate cleanser we moved on to Thakkali Thokku Chicken with Idiyappam and Mutton Keema topped with a sunny side up. Both mains were exquisite, packed with delicious flavours and a special mention to the super preparation of the keema.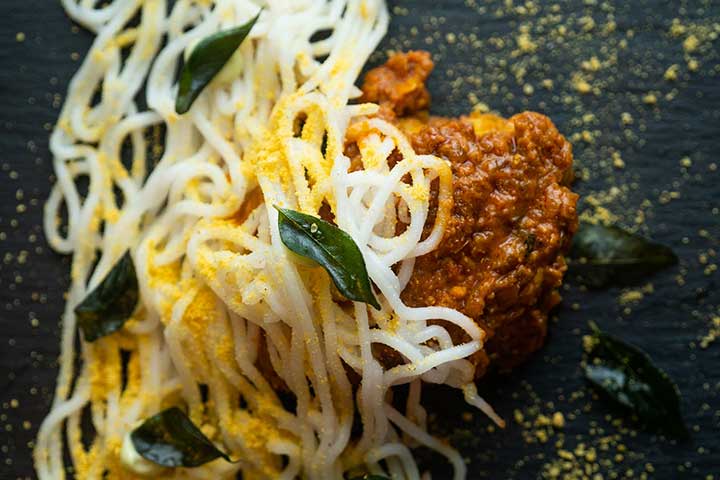 We ended our meal the popular Jalebi Caviar with Pistachio Rabri and Saffron Foam. Taking this Northern sweet preparation to a fine dine plate is absolutely mesmerising to see. We loved every bite and saved some space for the levitating Belgian Chocolate Truffle. It is amazing to see the combination of simple science and food coming together. The theatre at Masala Library isn't one to miss and we highly recommend that you book a table soon!