Hakkasan Celebrates its 8th Anniversary in Grandeur with Macartune 2.0 in Collaboration with Karan Johar and Shweta Bachchan-Nanda
Hakkasan Mumbai celebrates its 8th Anniversary in grandeur by bringing in the element of Yin and Yang. To mark this special occasion, the restaurant is all set to bring something exciting! It's going to be glamorous, dramatic and cinematic, as two vivacious personalities – Karan Johar and Shweta Bachchan-Nanda pen down a series of celebratory fortunes, for "Macartunes" – a sophisticated riff on the classic fortune cookie.
A hybrid between the traditional fortune cookie and French macaron, the chic Cantonese restaurant's anniversary special macartune adorned in gold, will be cracked open to reveal musings on glamour, ambition, love and celebration. The "macartunes" will be served complimentary at Hakkasan along with a glass of G. H. Mumm champagne, until 30th September 2019.
After a successful collaboration with Karan Johar last year, Hakkasan goes grander this year by serving up "macartunes," that will reveal not only Karan Johar, but also Shweta Bachchan Nanda's musings, injected with some humour into this luxe sweet. The popular duo known for their biting wit have compiled a list of phrases that are familiar with modern day life. Far from prophetic, expect fortunes as cool and sassy as these two!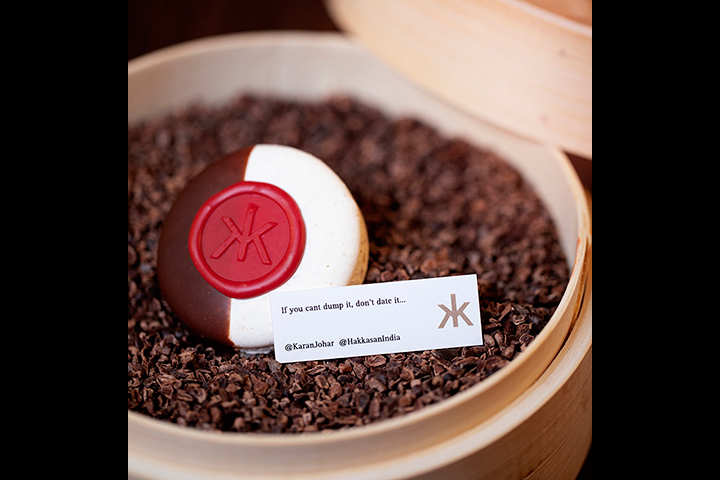 Writing as a genre is quite familiar to both these renowned personalities – one an eminent and celebrated film director, producer, author and screenwriter while the other, an author, journalist and designer. Karan Johar and Shweta Bachchan Nanda are synonymous with panache and quick wit, and are known for their candidness. Trust them to tickle your funny bone when they decide to pen down fortunes.
Number 8 has long been regarded as the luckiest number in Chinese culture. As number "8" represents prosperity, the eighth year anniversary celebrations at Hakkasan commence on 8th August 2019 (08/08). The fortunes will be hidden in the new luxe treat created by Hakkasan Mumbai's patisserie team. The vanilla-flavored macartune will be dusted with gold and then stamped with a red chocolate seal to symbolize good luck. Inside are bon mots that will be revealed on a specially designed fortune with unique aphorisms about life, glamour, ambition, love and celebration!
Restaurant Timings: 12 pm to 4 pm
For Reservations: +91 2261378005
Where: Hakkasan, Waterfield Road, Bandra West, Mumbai: 400 050