Hilton Honors Unveils Exclusive Offer for Dining 'Like a Member'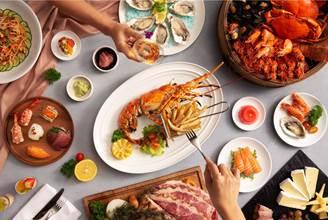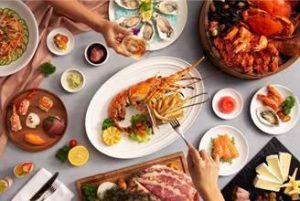 Members to receive exclusive access to attractive perks and privileges at Hilton dining establishments in India and across Asia Pacific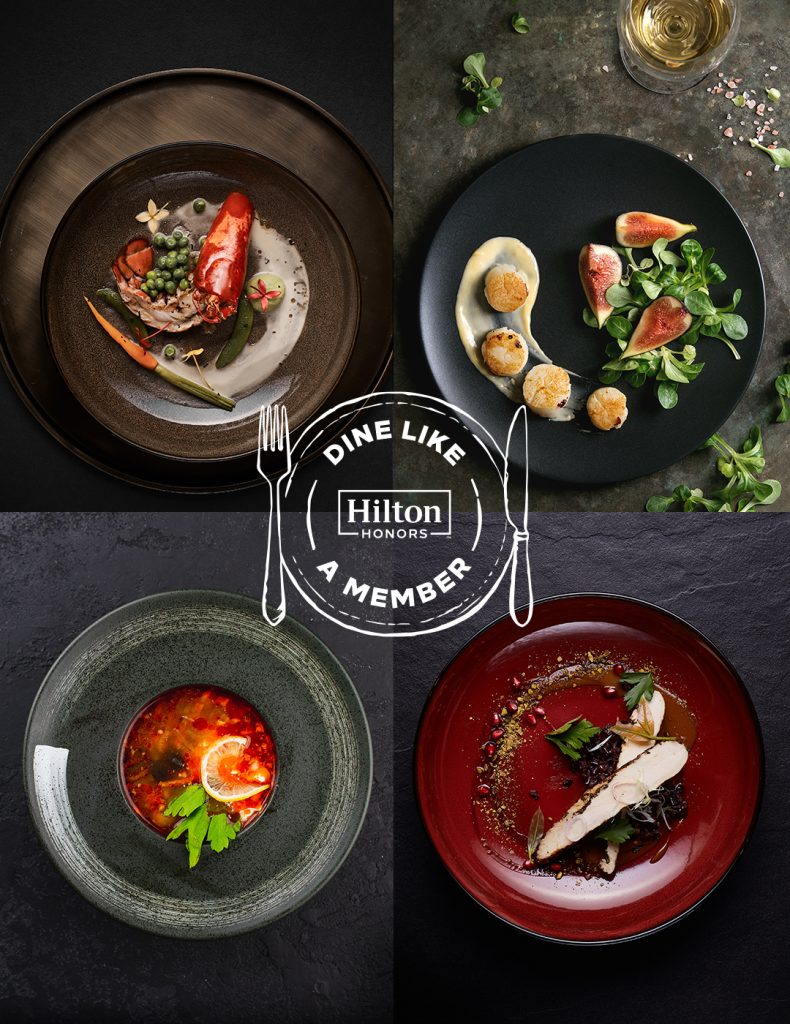 NEW DELHI, India, July 2021– Hilton Honors, the award-winning guest loyalty program for Hilton's 18 world-class brands, today announced its Asia Pacific new dining offer, 'Like a Member', giving guests an opportunity to join Hilton Honors and enjoy its privileges in their locales, even without staying on property. Inviting guests to dine like a member, the offer includes discounts of up to 25%, as well as opportunities to earn Bonus Points across an extensive range of dining outlets managed by Hilton in the region.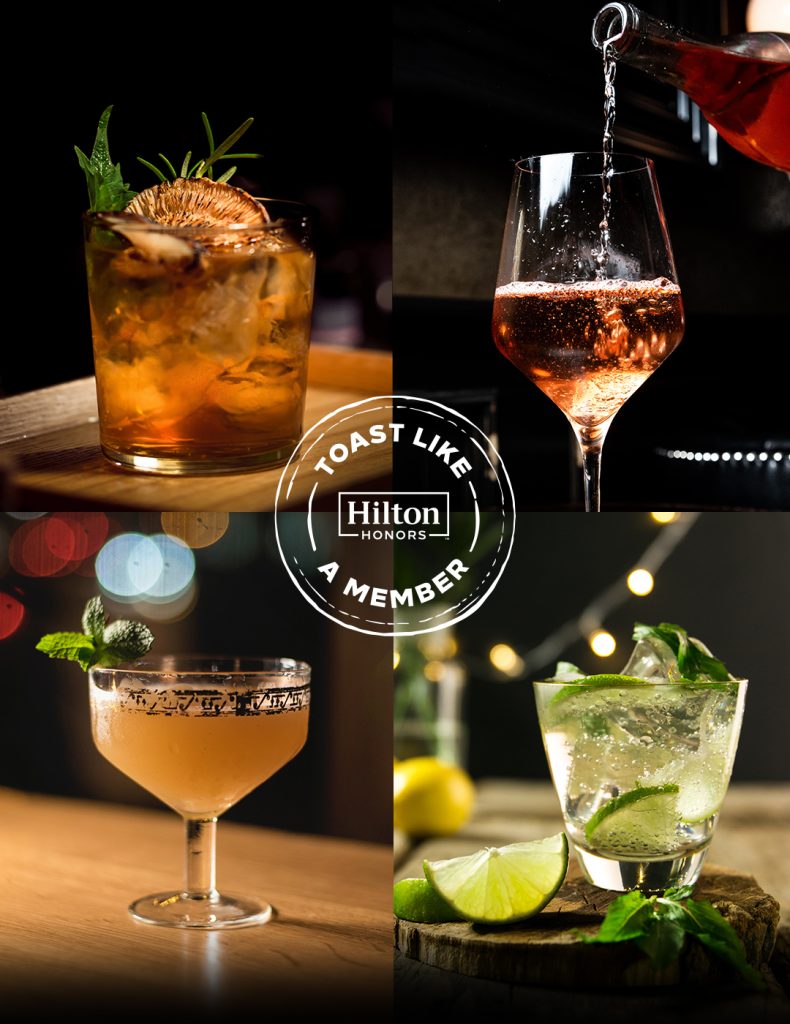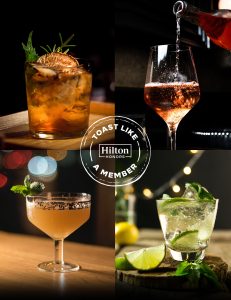 With more than 900 dining outlets across Asia Pacific, including India, all of which adhere to the highest standards of hygiene and safety, Hilton Honors aims to give members access to enjoy the best value while they dine, toast and celebrate in their home cities or within the region where it is safe to travel again.
Hilton Honors members can enjoy the following benefits* when they dine at eligible Hilton-managed dining outlets across India, including takeaways, deliveries and alcoholic beverages, where permissible by law:
25% discount off net prices for all Hilton Honors Gold and Diamond Members
10% discount off net prices for all Hilton Honors members
500 Bonus Points awarded for any transaction over INR 1900 for all walk-in Hilton Honors members
The 'Like a Member' offer will launch today across all participating dining outlets in India and will be valid until December 31, 2021. The program is also currently available in Greater China, South East Asia, Japan and Korea, Australian and New Zealand.
"Our Hilton Honors members are at the centre of what we do, so we are constantly looking for ways to give them seamless access to the experiences they desire and the recognition they deserve – an inside connection that elevates their every day," said Ben George, senior vice president and commercial director, Asia Pacific, Hilton. "By engaging with the culinary passions and interests shared across the diverse region, this dining offer unlocks great choice and value through member-only benefits across Asia Pacific. As we continue to bring the light and warmth of hospitality to our members wherever they may be, we also look forward to welcoming them back to our hotels when they are ready."
Manish Tolani, commercial director and vice president, Hilton, India said, "Dining out has undergone a massive shift, but what we know is that food remains an integral part of any experience. As markets start to reopen, we at Hilton remain committed to offering the best experiences to our guests in a safe environment. The 'Like a Member' dining offer aims to bring the finest cuisines to our members at the best value, along with other benefits so that our valued members can savour their favourite meals at our restaurants or their homes and get rewarded at the same time."
From feasting on the finest delicacies and sampling surprising new flavours and cocktails, to immersing in themed dining experiences, members can satisfy every craving through a wide array of dining options. Some of these restaurants in India include:
@Saipe, Hilton Goa Resort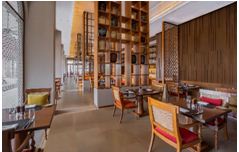 Inspired by Goa's diverse vibe, @Saipe is an all-day dining restaurant featuring live kitchens that transform into a culinary theatre. Enjoy local delicacies with a modern take or a range of global cuisines in a relaxed ambience that celebrates the best of Indo-European design sensibilities. Experience chef-curated events at the private dining area or admire sweeping views of Goa's stunning coastal landscape at the [email protected] or Al fresco.
Feliz, DoubleTree by Hilton Goa – Panaji
Resonating the essence of Goa, Feliz offers a relaxed ambience in nature with outdoor seating overlooking the pool and the picturesque Mandovi River. The restaurant serves an exquisite selection of Coastal, Goan and Mangalorean cuisine. The menu incorporates sustainable seafood, prime cuts and exotic vegetables expertly prepared with intense aroma and flavours. A bar by night, Feliz showcases a selection of unique cocktails and trendy lounge music.
Tiamo, Conrad Bengaluru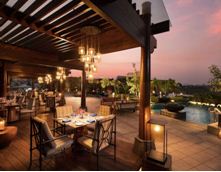 With balmy days and cool evenings, most days in Bengaluru equal al fresco. Tiamo is a  celebration of the favourite Mediterranean bistro classics relished under open skies, overlooking the hotel's iconic infinity pool with panoramic views of the breathtaking Ulsoor Lake. Savour robust flavours and the simple ingredients of Mediterranean cuisine in a stylish atmosphere.
Koji, Conrad Pune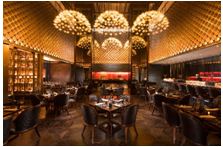 Inspired by decadence, the award-winning Pan Asian restaurant, Koji, serves the best of Japanese, Chinese and Thai cuisines. Weaving in Japanese design philosophy, the stunning restaurant features a dramatic live kitchen, extensive sushi bar and an exclusive private dining area with a dedicated teppan grill.
The Brasserie, Hilton Mumbai International Airport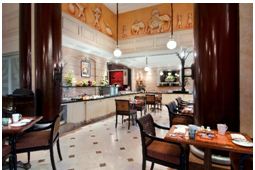 A French-inspired restaurant, The Brasserie is a charming eatery to grab a bite or pack a power lunch. The all-day dining restaurant offers an innovative menu and aromatic dishes from around the globe in an intimate and elegant setting. Featuring enormous bay windows and overlooking the shimmering pool, guests are spoiled for choice with both familiar and exotic selections of Indian, French, Italian, Oriental and Mediterranean specialities.
Vasco's, Hilton Chennai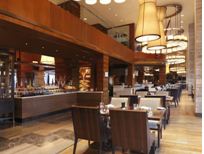 Enjoy fresh and innovative global cuisine from live kitchens at this stylish, all-day dining restaurant. The modern furnishings and relaxed ambience, together with superb views of the city, ensure the perfect dining experience. An elevated private dining room with a bird's eye view of the restaurant below is available for those seeking an exclusive setting.
The Amber Kitchen, DoubleTree by Hilton Jaipur, Amer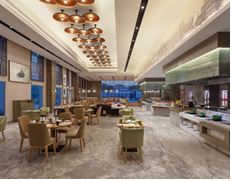 The Amber Kitchen is an ode to Jaipur's rich culinary heritage and serves a diversity of local specialties, North Indian dishes as well as international cuisine. The all-day dining restaurant boasts an extensive buffet and live kitchen that dishes up exquisite local Rajasthani delicacies. Overlooking the Aravalli range, the restaurant enjoys ample natural light seeping in through large alcoves. The adjacent Garden Bar extends breathtaking views to guests looking to relax amidst the serene landscape.
Spot 360, DoubleTree Suites by Hilton Bangalore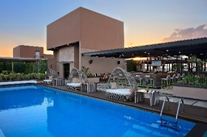 The combination of poolside cabanas, comfortable cocoon beds, luxe cocktails and exotic cuisine makes Spot 360 an ideal destination to bask in the ambience and views of Bengaluru when the sun goes down. With contemporary and retro music playing in the background, guests can indulge in a comforting progressive Indian menu paired with a wide range of premium liquor concoctions.
Hilton Honors offers members a wide range of benefits and perks across Hilton's world-class portfolio of 18 brands, including exclusive discounts, rewards and hundreds of ways to earn and redeem Points on free nights, premium merchandise, charitable contributions and unique experiences.
The industry-leading Hilton Honors mobile app provides guests a smooth, contactless experience even before stepping foot on property. Using a smartphone, guests can bypass the front desk, and check-in, select and access their room with a Digital Key at over 5,200 properties worldwide.
During this uncertain time for travelers, Hilton Honors remains committed to providing the flexibility to change or cancel bookings up to 24 hours before arrival, as well as status and Points extensions. For guests booking – or rebooking – a stay, Hilton Honors members are guaranteed the lowest price on all Hilton hotels when they book on Hilton.com or the Hilton Honors app, and have access to instant benefits, including a flexible payment slider that allows members to choose nearly any combination of Points and money to book a stay.
To take advantage of the 'Like a Member' offer and the full spectrum of member benefits, enrol for free at HiltonHonors.com.
High-resolution images can be accessed here.
*A full list of the terms and conditions for the 'Like a Member' offer can be accessed here.
About Hilton Honors
Hilton Honors is the award-winning guest loyalty program for Hilton's 18 world-class brands comprising more than 6,500 properties in 119 countries and territories. Hilton Honors members who book directly through preferred Hilton channels have access to instant benefits, including a flexible payment slider that allows members to choose nearly any combination of Points and money to book a stay, an exclusive member discount and free Standard WiFi. Members also have access to contactless technology exclusively through the industry-leading Hilton Honors mobile app, where members can check in, choose their room and access their room using Digital Key. Hilton Honors offers its more than 115 million members hundreds of ways to earn and redeem Points, including select co-branded credit cards. Members can redeem their Points for free nights, premium merchandise and items on Amazon, and make charitable contributions. The program is free to join and travelers can enroll online by visiting hiltonhonors.com. Learn more about Hilton Honors at  newsroom.hilton.com/hiltonhonors, and follow Hilton Honors on Facebook,Twitter and  Instagram.
About Hilton
Hilton (NYSE: HLT) is a leading global hospitality company with a portfolio of 18 world-class brands comprising more than 6,500 properties and more than one million rooms, in 119 countries and territories. Dedicated to fulfilling its founding vision to fill the earth with the light and warmth of hospitality, Hilton has welcomed more than 3 billion guests in its more than 100-year history, earned a top spot on the 2020 World's Best Workplaces list, and was named the 2020 Global Industry Leader on the Dow Jones Sustainability Indices. In 2020, Hilton CleanStay was introduced, bringing an industry-defining standard of cleanliness and disinfection to hotels worldwide. Through the award-winning guest loyalty program Hilton Honors, the more than 115 million members who book directly with Hilton can earn Points for hotel stays and experiences money can't buy. With the free Hilton Honors mobile app, guests can book their stay, select their room, check in, unlock their door with a Digital Key and check out, all from their smartphone. Visit newsroom.hilton.com for more information, and connect with Hilton on Facebook, Twitter, LinkedIn, Instagram and YouTube.