APRICOT AND FRANGIPANE TART RECIPE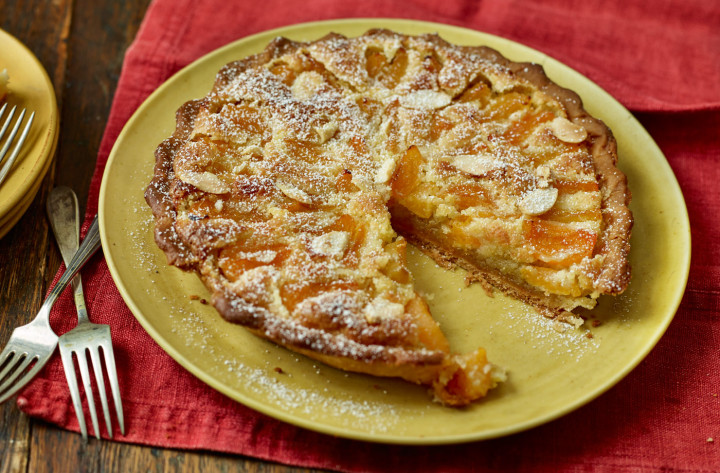 Lightly butter a 10-inch removable-bottomed tart pan.

Roll out the pastry on a lightly floured surface to ⅛-inch thickness. Use the pastry to line the pan, gently pressing it into the sides and leaving about ½ inch overhanging the top edge.

Use a fork to prick the base, then line with parchment paper and fill with ceramic baking beans or uncooked rice. Chill for 20 minutes.

Meanwhile, preheat the oven to 375°F.

When the tart case has chilled, place it on a baking sheet and blind-bake it in the preheated oven for 15 minutes. Remove the paper and beans, then return the pastry to the oven for 5 minutes to cook the base.

When cooked, use a sharp knife to trim the excess pastry level with the top of the pan and set aside to cool.

Reduce the oven setting to 300°F.

To make the frangipane, cream the butter, sugar, flour, and almond meal together, then slowly add the egg, mixing until fully incorporated. Allow the frangipane to rest for 5 minutes before smoothing it inside the pastry case.

Cut each apricot half into 3 or 4 wedges and arrange them on top of the frangipane, skin side up. Push the apricots gently into the mixture, then return the tart to the baking sheet and bake in the preheated oven for 30–35 minutes until the frangipane is puffed and golden and the apricots are soft and golden brown.

Heat the apricot jam gently in a small pan for about 2 minutes until warmed. Remove the tart from the oven and brush with the melted jam while still warm.

Leave the tart to cool slightly before removing from the pan and serving in slices.