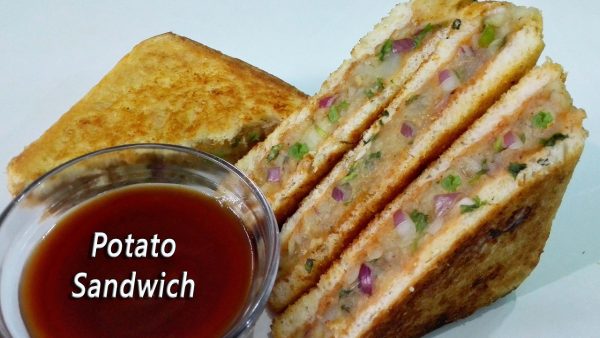 | | |
| --- | --- |
| | |
Combine in a bowl mashed boiled potatoes, onion, green chilies, coriander leaves, salt, roasted cumin powder, and chat masala.

Mix well. The mashed potato sandwich filling is ready.

To make the potato sandwich, take two slices of bread. Apply butter to both the slices.

On one bread slice, place the cheese and apply mayonnaise on the other slice.

Spread the mashed potato filling over the cheese slice.

Place 4 cucumber slices over the potato filling.

Pack the sandwich with the bread slice that has mayonnaise on it.

Apply butter over the sandwich.

Heat a pan or tawa. Place the sandwich buttered side down. Apply butter on the other side too.

Toast the sandwich until golden brown and crispy on both sides. Make the remaning sandwiches the same way.

Potato sandwich recipe with cheese is ready. Cut it up into pieces as you like. Serve hot with ketchup. Enjoy!