Sink Your Teeth Into Juicy Burgers Inspired By Global Flavours At Hard Rock Cafe
The transition month from summers to monsoon gets pretty tough to handle. The unpredictability of the weather may not be the best thing, but a promise of a good time is always a given at Hard Rock Cafe, rain or shine. This time, they're packing global flavours into drool-worthy burgers under the theme 'Globally Inspired Locally Crafted'. Plus, they've got some promising new cocktails to go along with the food. What better than booze, burgers and your favourite music right?

Get Ready To Rock

"Hard Rock Café has always been known to re-invent and experiment with their offerings to appease to evolving consumers. The idea of this menu is to transport your taste buds to different geographies without having you to physically globetrot. And all of this prepared by the 'local' culinary craftsmen who understand your preferences like no other!" said Chef Cyrus Irani, Culinary Director, Hard Rock Cafe India. "This menu boasts of some interesting additions like the southern flavours of USA with Southern BBQ Sliders and a twist to the typical tacos and burger with the Tex-Mex 'Taco' Burger. For vegetarians we have introduced options like The Quesadilla Burger to let them explore the essence of Mexican food right here in India. We, also understand that the joy of food is best attained when shared and so, sliders and burgers dominate our new limited-time menu," he added.

Bring On The Food

Apart from the burgers that Chef Irani mentioned, you can also choose from Tango Salsa Sliders (Three smokey chipotle cottage cheese sliders , with spicy bean mix, crispy green apple slice & tangy tomato salsa), Cheese Fries (French fries layered with melted cheddar cheese, green onion & ranch dip), All-American Sliders (Three burger sliders topped with coleslaw, American cheese & golden fried onion ring), Whiskey Bacon Jam Sliders (Three burger sliders topped with, cheese, bacon whiskey jam & golden fried onion ring), Buffalo-Style Sliders (Three burger sliders on a toasted bun with crispy onion rings, Classic Rock wing sauce and your choice of ranch or blue cheese dressing) and Katsu Chicken Sliders (Golden Panko crusted chicken slider, laced with tonkatsu sauce, sambal mayo, seven spiced slaw. Served with seasoned fries).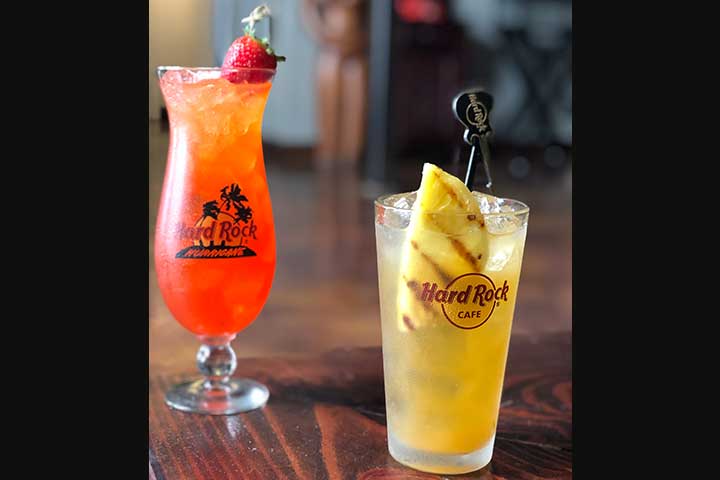 You can enjoy the refreshing Peach Paddy 'O Pounder with these burgers. This cocktail is an amalgamation of Whiskey, fresh brewed iced tea, and the flavors of bright white peach, fresh lemon & mint. They've also got some new drinks like Sparkling Blue Hawaiian, Strawberry Mojito, and Summer Peach Sangria among others. So get ready to rock at the Hard Rock Cafe with delish food, lovely cocktails and amazing music. The special burger menu is here to stay till the end of June. So try 'em all!