The Westin Mumbai Garden City To Organize Sixth 'Run To Give' Charity Run This September
The Westin Mumbai Garden City, part of Marriott International, will organizethe sixth annual 'Run to Give' charity run in Mumbai on September 22, 2019. The Westin Mumbai Garden City will join other Marriott International hotels across 23 countries and territories concurrently in Asia Pacific for this fund-raising initiative. Since the event inaugurated in 2014, 'Run to Give' has become an integral part of the company's tradition in cultivating a people-first environment that promotes associate well-being and drives its people to care for the communities where they do business.
"The annual charity run is a key activity of our company's TakeCare programme that empowers associates to live our culture. Through the programme, we encourage our associates to take care of their physical well-being, while providing them with the opportunity to be part of a community that respects, shares kindness and contributes to a more compassionate world." said Regan Taikitsadaporn, Chief Human Resources Officer, Marriott International Asia Pacific.
This year, JW Marriott Juhu, JW Marriot Sahar, Renaissance Mumbai Convention Centre Hotel and The St. Regis will come together in Goregaon to raise funds for Rising Star Outreach in support of rehabilitation of children affected with leprosy ; the run expects to gather more than 500 Marriott International associates, affiliates and athletes.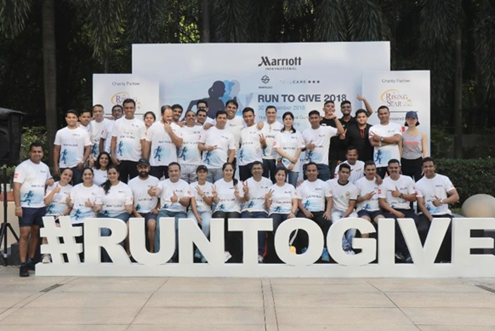 The 5km run held in Mumbai welcomes associates and families to be part of this meaningful cause. The route aims to offer participants different perspectives of the local community they live and work in.
Registration is priced at INR 750 per person. As part of the registration package, participants will receive Run To Give running T-shirt (T-shirt size availability will be based on first come first serve basis) and breakfast at The Westin Mumbai Garden City. Runners also stand a chance to win a complimentary 01 night stay at one the Marriott Hotels in Mumbai and other exciting offers. Interested participants can contact +91 9004661048 before 22nd September 2019
Last year, "Run to Give" took place in 109 locations across Asia Pacific, which involved more than 10,500 associates from 546 properties with nearly 36,700 runners participating, raising over US$400,000 supporting non-profit partners, selected local charities across Asia Pacific as well as contributed towards Marriott disaster relief efforts. With a growing hotel footprint underpinned by the strength of its associates, Marriott International aims to continue creating a lasting positive impact on the local communities it serves, guided by its social impact and sustainability platform,Serve 360: Doing Good in Every Direction.