Zomato Expands Food Delivery Business To 200+ Cities In India
Zomato today announced that it has expanded its online ordering and food delivery services to 200+ cities in India.
The platform has launched its services in 17 other cities, bringing the total to 213 cities in India. With this, it will be very easy to spot women and men in red t-shirts delivering food, across all four corners of the country.
The newly launched cities include Bulandshahr and Shahjahanpur in Uttar Pradesh, Solan in Himachal Pradesh, Palwal and Rewari in Haryana, Machilipatnam, Nandyal, Bhimavaram, Ongole, Srikakulam and Kadapa in Andhra Pradesh, Kottayam and Kollam in Kerala, Khanna and Gurdaspur in Punjab, Ambur in Tamil Nadu and Deoghar in Jharkhand. It currently lists over one lakh restaurants and has a last mile delivery fleet of 1.8 lakh partners.
Commenting on the new development, Deepinder Goyal, Founder and CEO, Zomato, said, "Emerging cities are a major growth avenue for us and we expect them to constitute more than 50% of our total order volume by the end of the year. As we grow, we are also trying to create value for everyone in the ecosystem. With 1.8 lakh delivery partners, we are creating jobs and skill-building opportunities for many in India. We are developing Zomato Kitchen hubs in smaller cities in India to drive growth for our restaurant partners. Through our partnership with Feeding India, we have started routing excess food from restaurants to undernourished segments of our society."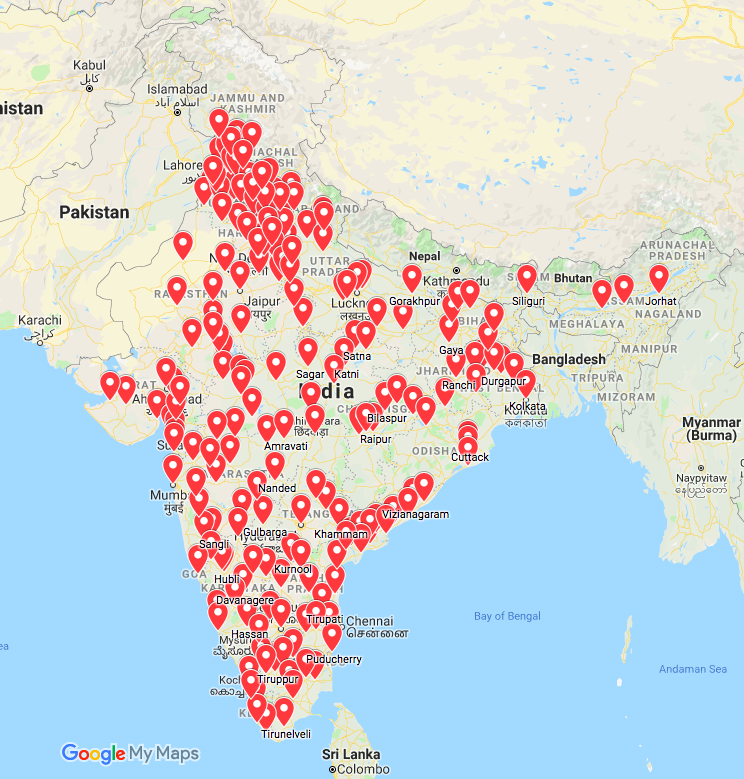 "The support we have garnered from both users and restaurants has exceeded our expectations. We are focused on serving every last customer and have been adding almost one city to our portfolio every day since December 2018. Our next target is to deliver food across 500 cities in India by the end of September 2019," added Mohit Gupta, CEO – Food Delivery, Zomato.
Some of the evident online ordering growth trends in the emerging cities are:
· Patiala with a population of 400,000+ does as many orders per unit population as Bangalore with a population of 12 million+
· Anand, a small city in Gujarat with a population of 200,000+, is already operating at three times orders per unit population as compared to Delhi NCR with a population of 22 million
· Abohar, Punjab, (population of 200,000+) is the first city to cross 1000 orders on the day of launch and is clocking 2000 orders a day a week after the launch
Recognised as one of the longest-running food-technology platforms in India, Zomato is committed to providing quality food and service to its users and guiding them to make the right food choices.