94 Year Old McDonald's Employee Honoured
The weekend is almost over, and I'm sure you think you've put in a lot of hours in at work already. If you're moping about how long you've been at your job, you need to get some perspective.
Loraine Maurer, is celebrating the fact that she's worked at McDonald's for 44 years! Loraine is 94 years old and has been working at McDonald's since – dramatic pause – 1973! Her friends and co-workers threw a party for her in order to honour her achievement.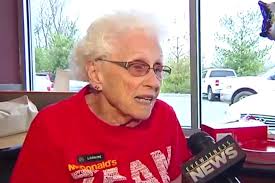 Maurer has been a fixture behind the counter in Evansville at several locations during her extensive tenure – now that's commendable. I honestly have a hard time committing to a television series.
Maurer works the breakfast shift on Friday and Saturday mornings. Franchise owner Katie Kenworthy told the newspaper that people "come from all over town to see her and make sure they get their coffee or oatmeal made the Loraine way."
Lorraine loved her party & we had a blast honoring her 44 years working @ McD's!

Pictured: Loraine & Owner/Operators Chip & Katie Kenworthy pic.twitter.com/uMjIdx2W2s

— Evansville McDonalds (@McD_Evansville) March 23, 2017
When asked about retiring Maurer told ABC News that she has thought about retirement, but "would miss it too much."
The relationships she has with her customers are particularly important since they helped her get through a very tough period in her life — the loss of her husband, Kenneth, in 1980. Loraine has four children, six grandchildren, and seven great-grandchildren. Kudos to her! She's definitely made the most of life