You'll Want To Hop On A Plane After You Read About McDonald's Canada Holiday Menu
McDonald's has ben keeping its customers on the edge of their seats with their latest menu additions and out-of-the-box thinking. This time aweing its' customers is McDonald's Canada. Just in time for the holiday season at that. According to a source, McDonald's restaurants in Canada have added waffle-cut fries to their holiday lineup. And if that's not enticing enough, they're going to be layering their cheeseburgers with delicious new toppings.
McDonald's Canada's menu this winter will also offer an extensive range of new burgers, fries and sweet treats. The menu additions include a Potato Rosti & Bacon burger which features a beef patty, bacon pieces, a hash brown patty, processed cheddar cheese, and cheese sauce on a toasted, rolled-oat-topped bun.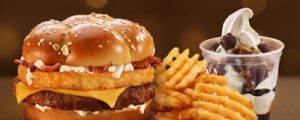 Their waffle cut fries feature lightly battered waffle-cut French fries. And we saved the best news for the end, their new menu features a range of new desserts including a Turtles Sundae with Pecans which consists of their popular vanilla soft serve with hot fudge sauce topped with mini caramel Turtles candies and a chocolate and caramel drizzle.
And if that's not enough they're also serving a Peppermint Mocha served with crushed candy cane, Double Chocolate Pies, and new Salted Caramel Latte for the holidays. Thinking of hopping on a plane and spending the holiday season in Canada?