The Biggest Naan in the World
British firefighters have got together and made a 26-kg naan bread! Oh yes and it is to eat.
This humongous bread has now been confirmed as the biggest the world has ever seen surpassing the 2008 world record in Canada. [pullquote]The team created a giant bread that weighs 26 kg and measures 3.79 meters by 1.4 meters. [/pullquote]The team was led by fire officer Dave Curry (we can't get over his last name!). This astonishing feat was carried out by 'Eastleigh Mela' on July 6 and confirmed by the Guinness world records on Tuesday.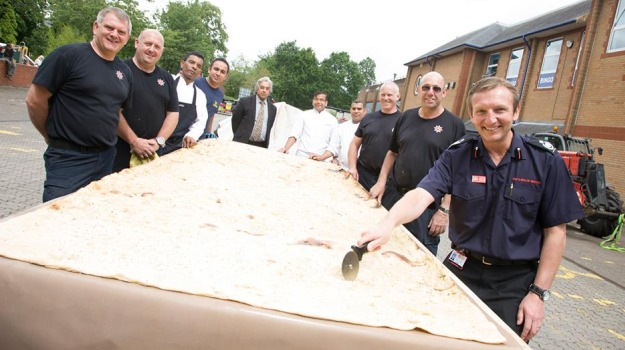 The Hampshire firefighter's enormous bread was sold in parts with curry by Curry and his team for 3 pounds a portion. The money was raised for the Fire Fighters Charity, Water Wells Project and Hampshire Hurricanes. The record-breaking naan was created with the help of two Indian restaurants – Badi Mirchi and Sanjha.