Taiwanese Waffle Chain, WaWa Waffles, Is Now In New Delhi
The love for waffles and all of its variants like flavoured waffles and bubble waffles are on the rise, and there could not be a better time to innovate and feed the waffle-hungry crowd to their heart's desire. And to cash in on the growing popularity of this breakfast staple in India, waffle chain WaWa Waffles is stepping foot in the Capital's waffle market.
WaWa Wow!
A Taiwanese multi-location food chain, WaWa Waffles is currently present in countries like Malaysia, China, Indonesia, and Australia among others and will. The chain specializes in made-to-order waffles with an exquisite gesture and guaranteed deliciousness.
Among others, Taipei Economic and Cultural Centre (TECC) in New Delhi Deputy Representative Richard Y S Chiu, Economic Division Executive Director Yang Hung, Deputy Director Oliver Harn and First Secretary Michael HC Tao attended the opening last week.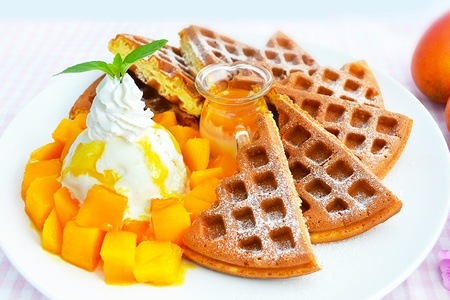 Image Source
"This is the first-ever franchisee in food sector given by a Taiwanese company to any Indian company. I hope this initiative will help to bring more Taiwanese companies in this sector to this country", Chiu said in a statement to Taiwan News.
WaWa is opening its 37th outlet here in Punjabi Bagh, West Delhi, which will be followed up by two more stores in Delhi soon. Meanwhile, internationally, the waffle chain is also eyeing the Chile and Dubai markets, hoping to be present by next year.