Cadbury Just Made A Woolly Christmas Jumper Out Of Chocolate
It sure feels like Christmas is around the corner! To celebrate, stores are offering special discounts, restaurants are putting together special Christmas lunches and families are gathering together. For its part, Cadbury has created the world's first chocolate jumper.
A Chocolate Wool Jumper
The jumper stems from the popularity of Christmas Jumper and the Christmas Jumper Day initiative from Save The Children. Celebrated on December 16th, Christmas Jumper Day invites people in the UK to wear special Christmas jumpers and donate two pounds to the Save The Children cause.
Inspired by the Christmas Jumper trend, food artist Jacqui Kelly created the 'Cadvent Chocolate jumper'.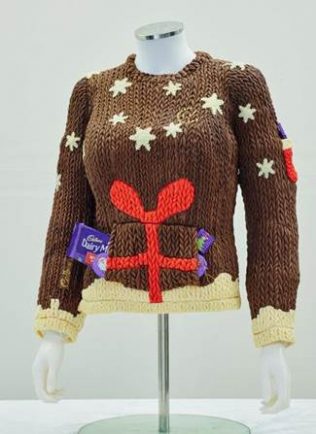 The jumper is made with 320 metres of chocolate 'wool' and took a team of three over 80 hours to craft. The jumper is in Cadbury chocolate's distinctive chocolate brown and has a winter wonderland scene on the back with a dairy milk mousse snowman.
The jumper will be on view at the Cadbury World in the UK all through December.
Mondelez is also inviting customers to buy special Cadbury Christmas jumpers in the brand's iconic deep purple on the Cadvent UK website.
Steve Rich, Christmas marketing manager at Mondelez said: "With everyone getting ready to celebrate Christmas Jumper Day, we're excited to unveil a unique chocolate jumper as well as a wearable woolly version. "Equipped with surprise pockets, the jumper is perfect for storing your favourite festive treats and we hope it will bring everyone joy on Christmas Jumper Day," he added.