Giada's Chocolate Tiramisu Recipe
It looks complicated, but all the steps are actually easy, and it will be such a hit. I like to make tiramisù the day before so that the cookies have enough time to absorb all the flavors and the tiramisù has time to set. Tiramisù means "pick-me-up," and boy oh boy will it pick you up.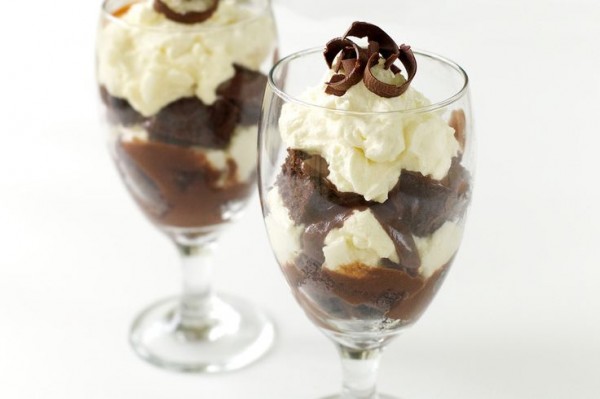 | | |
| --- | --- |
| | |
In A Large Bowl, stir the mascarpone cheese two times or just until smooth (do not overmix or the mascarpone will become stiff). In a medium bowl, beat the cream and ⅓ cup of the sugar with an electric mixer until soft peaks form. Fold the sweetened whipped cream into the mascarpone, then fold in the chocolate zabaglione. Cover and refrigerate.

Line a 9¼x5x2¾-inch metal loaf pan with plastic wrap, allowing the plastic to extend over the sides. In another medium bowl, whisk the espresso and the remaining ⅓ cup of sugar to blend.

Working with one cookie at a time, dip 8 cookies into the espresso, and arrange in a single layer side by side over the bottom of the prepared pan. Spoon one third of the mascarpone mixture over the cookies to cover. Repeat the dipping and layering of the cookies and remaining mascarpone mixture two more times. Dip the remaining 8 cookies in the espresso and arrange side by side atop the tiramisù. Press lightly to compact slightly (the last layer will extend above the pan sides). Cover the tiramisù with plastic and refrigerate for at least 2 hours and up to 1 day.

Unwrap the plastic from atop the tiramisù. Invert the tiramisù onto a platter and remove the plastic. Sift the cocoa over the tiramisù and serve.