Celebrate Christmas In Fresc Co Style
Christmas is here, the magical time of the year that brings family and friends together to enjoy the spirit of the festival. Therefore, Fresc Co has come up with Christmas special heartwarming brunch and dinner buffet. One can enjoy a lavish spread of soups, salads, starters, grills counters, with mouthwatering thin crust crunchy pizzas and cheesy live pasta station. Apart from the roasted turkey and turkey roulade, paired perfectly with sparkling wine, end your meal with scrumptious desserts like Plum cake, fresh fruit tart, rum balls, assorted cookies and a lot more.
Incredible food, wonderful drinks, live music and vibrant ambience, Fresc Co is surely a perfect destination for your Christmas celebrations.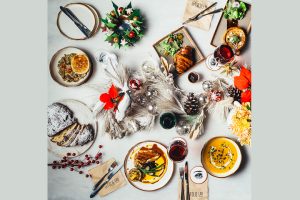 Where: Fresc Co
Outlets: Connaught Place and Ambience Mall (Gurgaon)
When: 24th and 25th December 2018
Cost- 24th December
Xmas eve dinner buffet with unlimited soft beverages: 1295 plus taxes
Xmas eve dinner buffet with unlimited imfl drinks: 1495 plus taxes
Xmas eve dinner buffet with unlimited imported drinks and sparkling wine: 2495 plus taxes
Cost- 25th December
Xmas brunch with unlimited soft beverages: 1295 plus taxes
Xmas brunch with unlimited IMFL drinks: 1495 plus taxes
Xmas brunch with unlimited imported drinks and sparkling wine: 2495 plus taxes