Did You Hear About KFC's Secret Burger? If Not, Get The Deets Here.
If you weren't living under a rock, you would have heard all about KFC's secret burger. Even if you don't know, we have absolutely nothing to tell you about it! The well-kept secret is going to be launched in 11 cities throughout the country on 15 of this month. Till then, it is hush-hush!
WHAT'S COOKING
Now that we have your attention, here is how to get your hands on them. We will tell you exactly how to get yourself invited to the pre-launch tasting where the KFC "Secret" Burger will be launched. Do note that this tasting is for only for those with the invites, and before you drown yourself in sorrow, we will tell you exactly how to get yourself the invites for this finger licking good launch! It will be held in cities like Gurgaon, Delhi, Noida, Bangalore, Chennai, Mumbai, Kolkata, Pune, Hyderabad, Chandigarh, Kochi and Guwahati.
Now, here's what you have to do. Click here and go the official site KFC's "Secret" Burger. Register with your name, mobile and email address to win the invite. You are good to go. You can spend your Sunday in absolute bliss, devouring the delicious burger from KFC.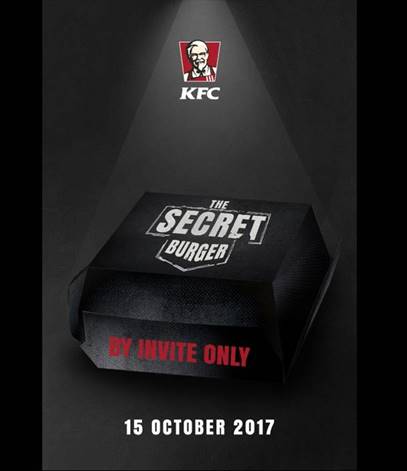 Make sure that you do not waste your time drooling over the picture and get yourself registered as soon as possible. If you are done with your registrations, here is something else you can drool all over.
https://www.facebook.com/KFCIndia/videos/1041367902672624/
Do not forget to keep your Sunday free this week! Be there to be the very first people to taste KFC's new burger! Now that you have the perfect Sunday plan, we will see you there.