Gourmet Coffee Market Emerging In India With Flying Squirrel Leading The Charge
The Indian coffee market is booming with many international chains looking to expand its business to take a share of the ever growing market. With plethora of branded options available to the coffee drinkers of India, there is a distinct need for a personalised touch. The gourmet coffee makers of India, with their locally sourced products, are hoping to fill the void and Flying Squirrel, one of the up and coming players has been part of this emerging market for quite some time.
An exclusive coffee session with Ashish D'Abreo, founder of Flying Squirrel, gave us a behind the scenes look at the growing gourmet coffee market in India, as well as Flying Squirrel, the locally sourced artisanal coffee brand.
Coffee Over Conversation
Flying Squirrel came into existence during a decade long conversation between Ashish and his collegemate and close friend Tej Themmiah, a third-generation coffee farmer and owner of Nellikad Estate in Coorg. The combination of owning the estate where the coffee is sourced from and the necessary infrastructure and personnel already present to jump into a gourmet coffee venture gave Ashish the needed assurances to start Flying Squirrel. "When you have your own estates, such a thing is possible because one is in complete control over the cultivation, processing, roasting and grinding of one's coffee. Hence, our brand of artisan coffee."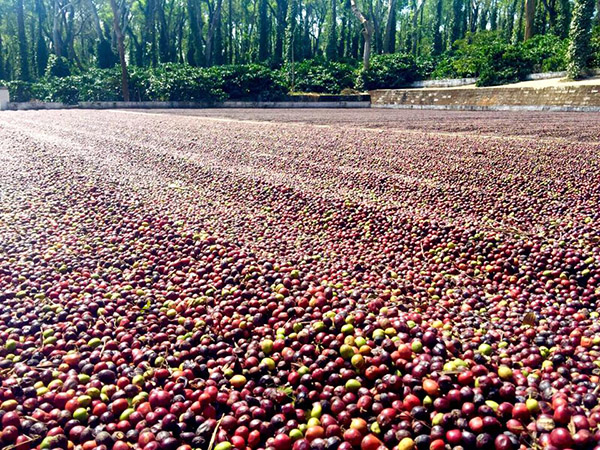 The inspiration behind the venture was solely to provide coffee drinkers the experience of enjoying a personalised and creatively cultivated brand of coffee. Innovative management techniques provides the basis for producing the coffee Flying Squirrel has come to be known for. "Most of our coffee is sourced from our farms in Coorg. Tej runs these farms, bringing in a complete new-age approach to estate and cultivation management. The way we grow, process, roast our coffee is based on artistic experiments conducted at the estate with the sole objective of bringing in new depth, dimension and versatility in the final tasting cup," added Ashish.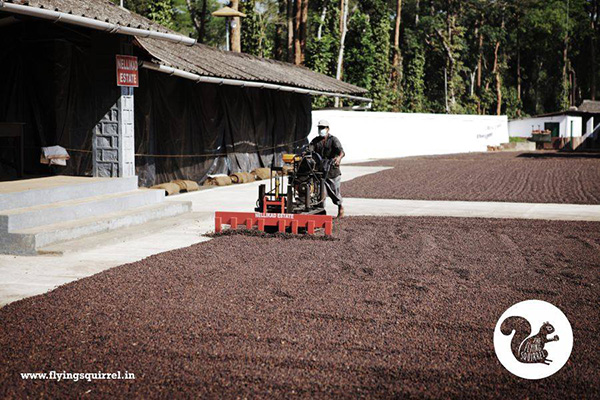 Flying Squirrel's Coffee
The innovative techniques behind producing coffee is what made Flying Squirrel well known among the coffee connoisseurs in Bengaluru. Currently, Flying Squirrel offers 7 different variants to suit anyone's palette, Parama, Sattva, Sunkissed, Aromatique, Cafe Chic, Deep Bliss and Clouds in my Coffee. Flying Squirrel also offers a taster pack of 6 flavours, so you can pick and choose which variation suits your taste buds.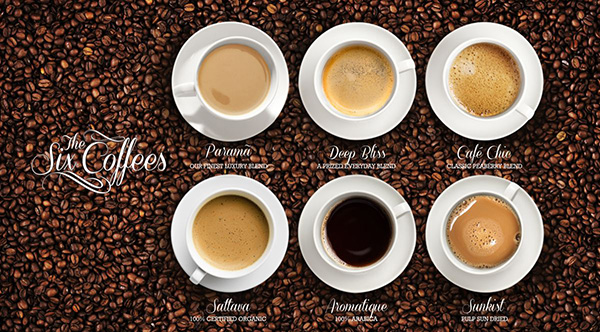 The production process behind each flavour is vast and Ashish explains the process behind a few of the variants.
Sunkissed – Sunkissed is a pulp sun dried / honey sun dried coffee. It is created by leaving a lot of the pulp on the bean after picking (when normally the pulp is washed off completely). We let the coffee ferment just a little bit, and the sun-dry it on brick yards and then husk, roast and grind. The brightness and fruitiness from the pulp gets into the bean and gives a lively buttery final cup.
Clouds in my Coffee – For 'Clouds in my coffee' our monsooned malabar variant we send the beans to the coastal town of Mangalore, where the beans are exposed to humid, salty ocean air in large containers for a few months. The result is bloated bean, slightly white in appearance that gives a deep beautiful flavour in the cup.
Aromatique – For our Aromatique variant, the coffee plants are grown in the midst of citrus patches, vanilla cultivations, spice patches etc.
Market For Artisanal Gourmet Coffee
Although there is an emerging market for artisanal coffee in India, the wealth of knowledge about the coffee produced in the country is still relatively unknown to the outside world. A distinct need to shed light on local production of coffee served as one of the major inspirations for Ashish in starting Flying Squirrel. "Indian coffee has not been marketed too well globally, and only now are the various governmental bodies realising the need for good marketing and therefore we are seeing some activity in that direction."
Majority of the coffee produced in India are exported to other countries, eliminating the options for Indian coffee drinkers to enjoy coffee which is locally sourced. Flying Squirrel expects to change that with their locally produced coffee made specifically for the Indian market. "India has some beautiful coffees and it's really sad that a huge mass of it gets exported without ever finding it's way to an Indian breakfast table. We're part of the movement that's looking to change that."
Online vs. Offline
While mass-produced coffee sold in retail outlets could provide a profitable avenue for gourmet coffee makers, Ashish believes that the exclusivity of freshly made coffee goes to waste when coffee products are stored in shelves for an extended period of time. Flying Squirrel, with its current online based model provides for a better coffee experience for its customers. "We don't like our coffee bags to be on supermarket shelves for a month or more. When one orders online, you are assured of a roasted batch of coffee that reaches your doorstep not more than 7 days after being roasted. A retail store can never offer that. The few retail 'outlets' we work with are the ones where we are allowed to keep a very low inventory level."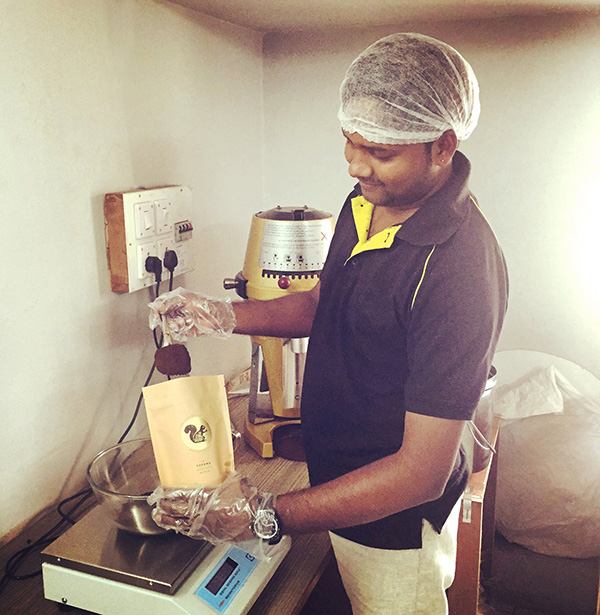 Rise Of The Local Coffee Makers
When Flying Squirrel came into existence, there was a significant lack of gourmet coffee producers in the market. On the existence of gourmet coffee makers in the market, Ashish elaborated, "When we began work on our coffee at the estate level (there were certain cultivation and processing methods being applied to get our coffees to be truly artisan, ready for the market) there wasn't a SINGLE player around. While we were working on the brand design etc., one other player entered the space. When we were ready to launch, there were two. Today it seems like a new brand launches almost every week."
Although the number is on the rise, the belief in the product is what keeps Ashish and the people behind Flying Squirrel going. "The fight gets tougher, but also exciting because it means the market will also eventually expand if each of these brands can do their bit in converting 'instant coffee' consumers into freshly roasted and ground coffee. As a brand, we will always believe we are far superior and hence will have consumers making their way to us eventually."
Competing With The Big Boys
Competition in the coffee market is significantly on the rise with a large number of international chains opening shop in India in the past few years. Recently, Howard Schultz, founder of Starbucks, during a visit to India, noted that the country has become one of the largest markets for coffee consumption, with a revenue of over Rs. 6400 crores last year. International and local players like Starbucks, Costa Coffee and Cafe Coffee Day are increasingly pumping money into the Indian market with hopes to grab a share of that revenue generating cup.
Although competing with the big players could prove to be futile, there is a distinct need to provide coffee drinkers with some innovation and personalisation in midst of all the big brands clogging the market. Gourmet artisanal coffee makers like Flying Squirrel aims to provide that different experience for coffee lovers. "We don't compete with the likes of Starbucks. We will always want to be that homegrown brand that works with smaller batches of artisan coffee, creating interesting flavour notes and profiles in the final cup, and constantly assisting the coffee connoisseur in his or her discovery of coffee," said Ashish.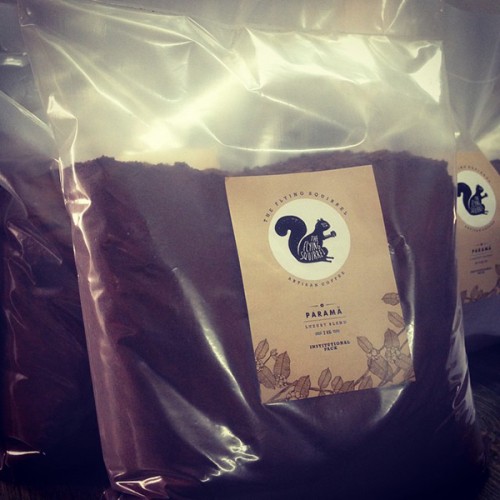 Flying Squirrel's Journey
The journey to a freshly roasted coffee had an humble beginning and it continues to grow exponentially for Flying Squirrel. "It's been a great journey so far. Every day has been a learning, and every day we look forward to exciting mails, text messages or calls from people all over the country either appreciating our coffee or looking for some collaboration or the other. There are months when things get tough – summers, long holiday spells etc, when people don't want to drink coffee or are too busy to go online and order, but for the most part, it's all good."
Flying Squirrel Coffee can be purchased through their online website with delivery all across India.