Nestle's Maggi woes continue: Uttrakhand to test samples
It isn't the end of Nestles's troubled road with their popular snack, Maggi. In a new development, the Uttrakhand Food Safety Department has collected samples of the 'two-minute' noodles from the company's Pantanagar plant and other places in the state.
Uttrakhand has made this move after their neighbouring state, Uttar Pradesh where the food regulator FSDA (Food Safety and Drug Administration) had found higher than permitted levels of monosodium glutamate and lead in Maggi samples tested by it.
The Uttarakhand state government officials have collected samples of the Maggi noodles from Nestle India's Pantnagar plant and other cities, including Dehradun, and have sent them to the state government laboratories for tests.
"A team comprises of state Food Safety Department officials visited the Nestle's plant at Pantnagar and collected the eight samples of Maggi noodles, which were sent to the state government laboratories," District Magistrate told reporters.
The UP government has already asked Nestle India to withdraw a batch of Maggi noodles that were manufactured in February 2014. Disputing the claim, Nestle India had said: "The company does not agree with the order and is filing the requisite representations with the authorities."
Yesterday, a case was filed in UP against the company. It doesn't end here. Actress Madhuri Dixit has also been slapped with a notice by Haridwar Food and Drug Administration to explain within 15 days claims made in the advertisement regarding the nutrition value of Maggi.
The Bollywood actress said yesterday she met officials of Nestle and they assured her that there would be no compromise on the quality of the popular snack.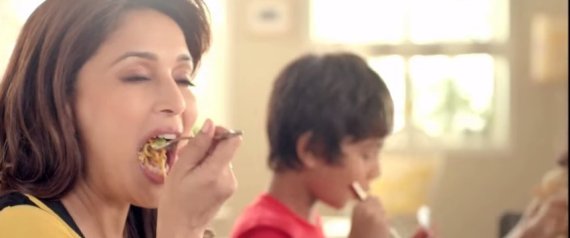 "Like most of India, I have enjoyed Maggi noodles for years. I was very concerned after recent reports and met with the Nestle team," she tweeted.