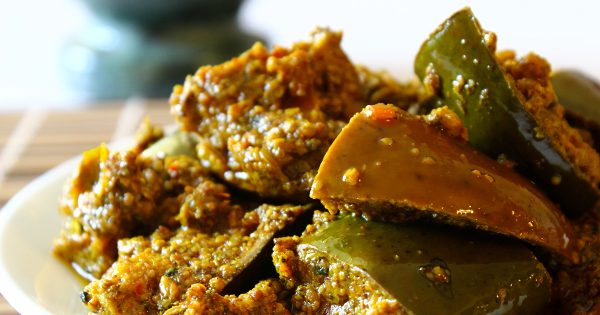 | | |
| --- | --- |
| | |
Rinse and wipe dry the mangoes.

Dice the mangoes and discard the seeds.

Mix all the spices, spice powders and salt with the diced mangoes.

Mix well so that the spices get evenly coated on the mangoes.

Keep this spiced mango mixture in sunlight for 3-4 days.

Cover with a thin muslin to protect from dust.

After 3-4 days, add the mangoes to a jar.

Pour mustard oil till it just about covers the rim of the mangoes up to ½ inch or 1 inch.

Store the pickle in a dry and cool place for 3-4 days.
You can make the mango pickle without sun also. Just mix everything and pour the mixed mango-spice powders in a jar. In this case you heat the mustard oil till it start smoking and then when it become cool, you add it to the spiced mango pieces. Cover with a 1 inch layer of mustard oil. Store mango pickle in a dry place for 2-3 days. But there will be moisture in the mango pieces as they are not dried in sun.