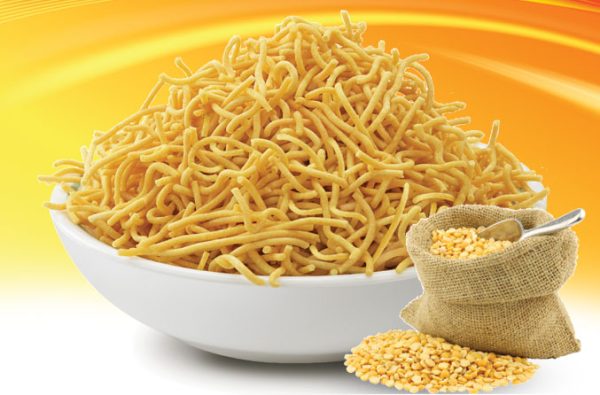 | | |
| --- | --- |
| | |
Dry grind or pulse the omam (ajwain) in a mixie jar to a coarse powder. Soak this in 1/8 cup hot water for 30 mins. Pass the mixture through a sieve and extract the decoction and keep aside.

Heat a pan with oil. While it heating, in a bowl mix together besan, rice flour, red chili powder, turmeric powder (if using) and salt.

Add the hot oil and mix well. Using the extracted omam decoction and more water, as needed, knead into a soft dough.

Grease the murukku (chakli) mould with oil and fit the idiyappam (multi fine holed) nozzle.

Fill the mould with the prepared dough. Check the temperature of the oil by putting a pea sized dough. If it rises to the top immediately, the temperature is correct.

Squeeze the dough in a circular motion directly into the hot oil and cook till golden brown.

Drain onto a kitchen paper and let it come to room temperature.

Break into pieces and store in an air tight container.

Eat them as plain or use in chaat recipes as you prefer.
I prefer using hot oil as the sev remains crisp. But use either ghee or softened butter.
Always start kneading the dough after you have put the oil for heating in a pan, this way the omapodi or sev will maintain the golden yellow color instead of darkening.
Make sure that the temperature of the oil in uniform and not over hot. Else the sev will darken.
Always store in an air tight container or preferably a zip lock bag to maintain the freshness and crispness.
I do not use turmeric powder for making omapodi, hence given it as optional.
If you do not have the flours in hand, you can also use the ready made bajji bonda mix from the shops for making, but since the addition of chili powder is high in them, the omapodi will be a bit dark orange or red in color instead of golden yellow.
Products we recommend with this Recipe: