Oriental Odyssey At China Bistro
China Bistro, coming from the stable of Food Link Restaurants, synonymous with good food down the years, offers a lavish lunch and dinner buffet apart from it's a la carte menu. It is one of the restaurants of the ever-resourceful Sanjay Vazirani whose goal is to generate great global culinary experiences for his discerning guests. Chinese cuisine is perhaps the most popular among all kinds of Asian cuisines and with minimum usage of oil and spices of any kind, it is also regarded as the healthier option. The Pan Asian restaurant China Bistro offers some truly authentic oriental fare including Thai, Indonesian, Vietnamese and Japanese sushi. The affable Restaurant Manager, Sijo Mathai, familiarized us with the various buffet sections before the starters were served on the table.
Mongol warriors stand sentinel at the  entrance. The décor inside of the expansive restaurant in Chembur is simple yet vibrant with plenty of elbow space. Framed prints adorn the walls while a Laughing Buddha sits smugly on top of a cabinet. We went with for a veg lunch buffet that took us on a sumptuous oriental gastronomic journey.
Oriental salads and Khao Suey contain many familiar ingredients like coconut, lemon juice with sprinklings of coriander, chillies and peanuts. They tickle the palate, boost the flavor and lend colour and appeal to the counter.
Kowloon spinach wrap was scrumptious to the bite with soft spinach and cottage cheese filling. Mocktail Coconut Lychee Mocker was a delight in every sip.
The translucent cover of the dumplings allowed chives and vegetables to be felt on the palate.
Other delicious starters included Potato salt & pepper, sautéed Veg Ginger Chilli.
We relished crispy Veg Konjeenaro with a flavoursome relish. Non-veg appetizers on the buffet were Chicken Suimai, Keong's chilli fish and Chicken wings Hong Kong.
Now for the mains, our favourite Sushi took precedence followed by corn potato Tshing hoi, Stir fry chinese green, Aubergine in chilli bean, Sweet & sour veg, Veg dumpling chilli soy with Chilli Butter Garlic Noodles and the Indonesian rice specialty Nasi Goreng.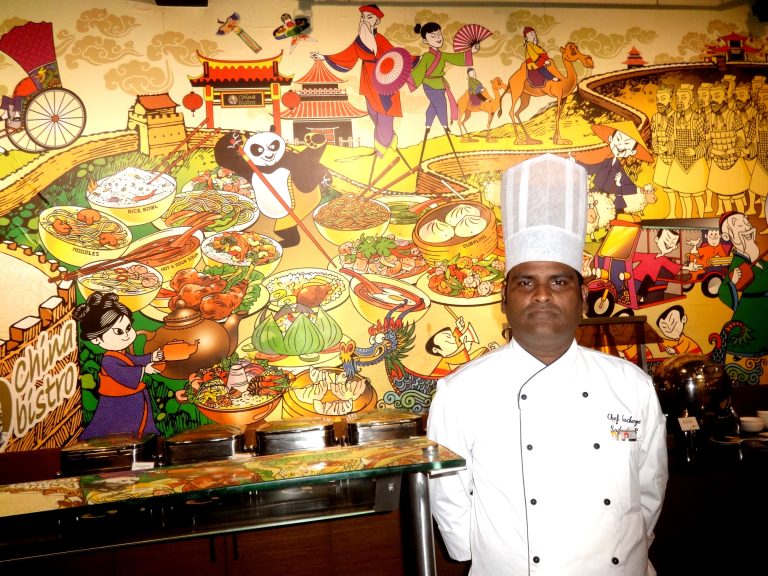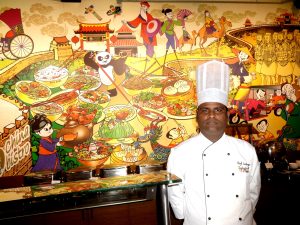 12 varieties of desserts in the buffet should suffice to entice any sweet lover to dine here. Darsaan, mousse, fresh fruits, ice creams, pastries and more… Excellent and authentic food, friendly service and a hearty meal was had by us. Finally, we came out fully sated yet ready for another visit to dig into their a la carte menu!