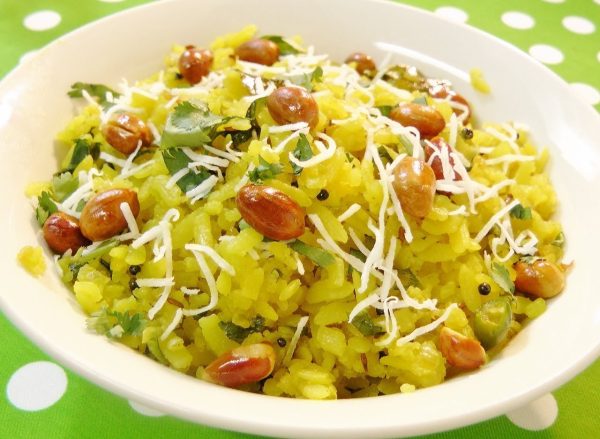 | | |
| --- | --- |
| | |
heat up a pan and add 2 tbsp peanuts.

roast the peanuts till they become crunchy and keep aside.

pick 1.5 cups poha. rinse the poha in clean running water twice or thrice. use a strainer to rinse the poha. keep the poha in the strainer and rinse it in running water. make sure that you do not rinse it too much or else it breaks and gets mushy. while rinsing, the poha absorbs enough water and it becomes soft. the poha must become soft but remain intact, whole and separate. If the poha does not become soft, sprinkle few drops of water on the poha in the strainer.

sprinkle ½ tsp turmeric powder, 1 tsp sugar and salt (as required) in the poha. gently mix with your hands.

heat 2 tbsp oil in a pan or kadai. add to the pan, 1 large potato which has been chopped in small cubes.

saute the potatoes till light golden and crisp.

remove them with a slotted spoon and keep aside.

in the same pan or kadai, add 1 tsp mustard seeds to the hot oil. when they splutter, add 1 tsp cumin seeds. allow the cumin seeds to change the color and crackle.

then add about ½ cup finely chopped onions.

saute the onions till they become translucent and soften.

now add the 7 to 8 curry leaves, 1 tsp chopped green chilies. saute for half a minute.

add the roasted peanuts and stir well.

add the poha. stir gently but very well till everything is mixed evenly.

then add the sauteed potatoes. again mix gently with the rest of the mixture.

cover the pan tightly with a lid and steam poha for a minute or two on a low flame. this method softens the poha. switch off the flame and keep the lid covered on the pan for a further 4 to 5 minutes.

remove the lid and garnish the poha with chopped coriander/cilantro leaves and grated fresh coconut.