Blackberry-Plum Lattice Recipe
You know what they say, pie fixes everything. And with the pie season on, how could you not make some pies, right? This classic never fades to entice the taste buds.
You could try making this with a combination of different juicy fruits too! Here's a simple berrylicious recipe that you have to try!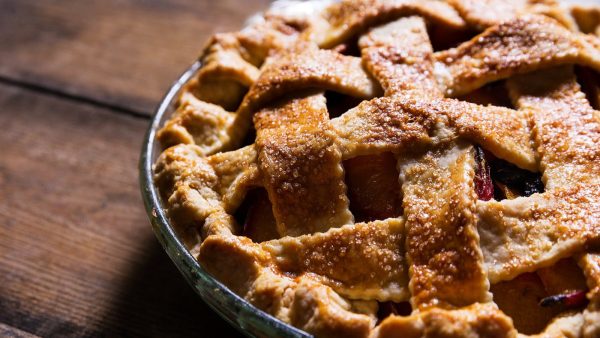 | | |
| --- | --- |
| | |
For making the crust, in a large bowl, mix together the flour, salt and sugar. Add the butter to the bowl and using a pastry cutter, cut through the mixture working your way through it. It should resemble the texture of sand after a little while.

Add water to the bowl and knead till the dough comes together.

Flatten the dough to a ½ inch disc. Fold it over itself several times and flatten to form layers. Divide it into 2 equal pieces. Shape them into discs and cover in a plastic film. Refrigerate for a good 6 hours.

In a large bowl, combine berries, sugar, salt, plums and vanilla and set aside. Drain all the extra liquid, sprinkle with cornstarch and mix well.

Pre-heat the oven to 400 degrees, grease an 8-inch pie plate. Rest the dough for 15 minutes before you roll them out. Roll the first half into a 15-inch disc. Lift the crust carefully and set t into the pie plate. Pour the fruit mixture and gently event it out.

Roll the second half of the dough into a rectangle and cut ½ inch wide strips. Place the strips on top of the pie working your way through the whole surface. Weave the remaining strips of dough forming a lattice. Trim the edges and crimp the edges using your thumb creating a rim. Chill the pie for 15 minutes.

Bake for 20 minutes in the pre-heated oven. Lower the temperature to 350 degrees and bake for another 1 hour 15 minutes. Remove the golden, bubbly pie out of the oven and let the pie cool completely before serving!