Carrot Cake Whoopie Pies Recipe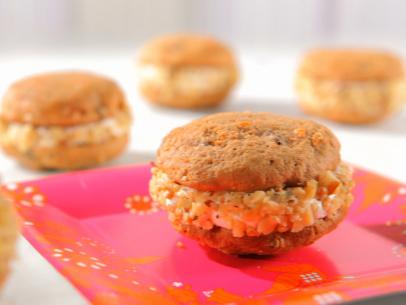 | | |
| --- | --- |
| | |
For the whoopie pies: Preheat the oven to 375 degrees F. Line cookie sheets with parchment paper. In a large bowl, beat the carrot cake mix, butter and eggs until incorporated. Stir in the raisins

and carrots. Refrigerate for at least 30 minutes or up to 2 hours.

Using a small ice cream scoop, drop the batter by 2-tablespoon mounds onto the prepared cookie sheets. Bake until golden brown, 10 to 12 minutes, rotating the sheets halfway through. Remove and cool 5 minutes on the sheets before moving to a wire rack and cooling completely.

For the filling: In a mixing bowl, beat together the cream cheese, butter, confectioners' sugar and vanilla with a hand mixer until well combined and light and fluffy.

To assemble: Put the filling into a resealable bag and snip the corner to make a 1/2-inch opening. Put the walnuts into a shallow dish or pie plate. Flip over one carrot cake cookie and pipe a dollop of filling onto the center. Top with another cookie and press gently to spread the filling to the edges. Roll the edges of the whoopie pie in the chopped walnuts and set aside. Repeat

with the remaining cookies and filling. Arrange the pies on a serving platter and serve.

From Food Network Kitchens; after further testing and to ensure the best results this recipe has been altered from what was in the actual episode.
Recipe courtesy of Sandra Lee