FRIENDS Rachel's Traditional English Trifle Recipe
Friendship Day is just around the corner and we thought, why not celebrate the six friends who are so close to our hearts. So today we'll share a recipe from FRIENDS when Rachel is in charge of the dessert and adds beef sauteed with peas and onion as a layer in her traditional English trifle. But don't worry we won't add that step here and give the actual trifle recipe that does not taste like feet.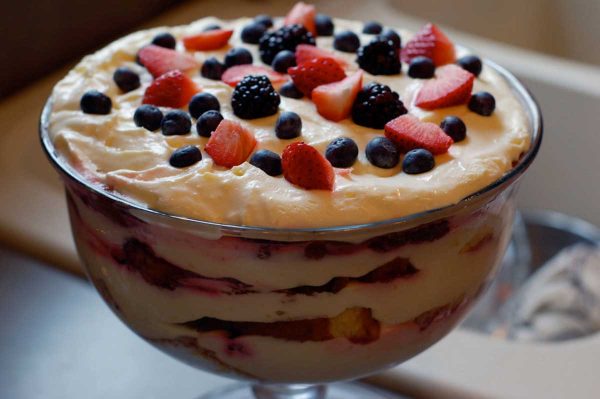 | | |
| --- | --- |
| | |
Spread the raspberry jam on the cake pieces.

In a trifle bowl, add the raspberry jam soaked cake pieces as the bottom layer and put fresh raspberries on top of it.

To make the custard take 10 ounces of the cream and heat it in a saucepan over medium flame.

Meanwhile, beat egg yolks and sugar in another bowl till the mixture is pale yellow.

Strain the yolk mix into a mixing bowl, pour hot cream on top and stir well.

Put the mix back on the heat using the same pan and keep stirring till its thick.

Cool the custard completely.

Whip 10 ounces of cream till soft and fluffy.

Toast almonds on a baking sheet in a 300°C oven till golden.

Spread the custard on the cake and top with whipped cream and almonds.

Chill in the refrigerator for 2 hours and serve.

Alternatively, you can also add fresh raspberries or any other season fruit instead of toasted almonds on top.