Greek Easter Bread Recipe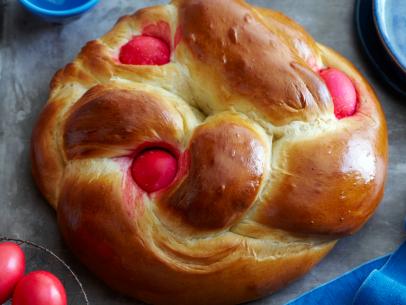 | | |
| --- | --- |
| | |
Pour 1/3 cup water that is hot to the touch (about 110 degrees F) into the bowl of a stand mixer. Gently whisk in the yeast, 1 tablespoon of the flour and 1 tablespoon of the sugar. Cover with a towel and set aside until bubbly, 5 to 10 minutes (depending on the temperature of the room).

Meanwhile, heat the milk in small saucepan over medium heat until bubbles start to form around the edges, about 6 minutes. Remove from the heat and stir in the butter, remaining sugar and salt. Set aside to cool, about 5 minutes.

Using the paddle attachment, stir the milk mixture into the yeast mixture. Stir in the 2 beaten eggs. Gradually mix in the remaining flour, fennel seed and almond extract, and beat until a soft dough forms. Increase the speed to medium-high, and beat until the dough pulls away from the sides and forms a ball, about 5 minutes (the dough will be sticky).

Remove the dough from the bowl and place on a lightly floured surface. Knead, adding more flour as needed, until the dough is as smooth as a baby's bottom, about 5 minutes.

Put in a lightly buttered bowl, cover and place in a warm spot to rise until doubled in size, about 1 1/2 hours.

Punch down the dough. Cover and let rise until doubled in size, about1 hour.

Lightly flour a work surface. Place the dough on the surface and cut into three equal parts. Gently roll out each piece into a 16-inch-long rope. Line a wide-lipped cookie sheet with parchment paper. Transfer the ropes to the prepared sheet. Press the ropes together at one end and braid loosely. Arrange the braid in a circle. Press the ends of the dough together. Gently stretch the circle to make it 10 inches across and the hole in the middle 3 1/2 inches across.

Rub the eggs with a little vegetable oil, and then buff with a paper towel. Gently press the eggs into the dough, evenly spaced. Cover and set aside until doubled in size, about 1 hour.

Preheat the oven to 350 degrees F. Brush the bread with the remaining beaten egg. Bake until the loaf is dark golden brown and sounds hollow when tapped, about 45 minutes. Cool about 30 minutes before slicing.
The red eggs in this bread are for decorative purposes only. They should not be eaten.
To make this bread by hand, use a large mixing bowl. Stir in the ingredients as directed. Instead of beating in the bowl for 5 minutes, remove the dough (it will be sticky) to a floured work surface and knead (adding additional flour as needed to keep it from sticking to the surface and hands) until as smooth as a baby's bottom, about 10 minutes.