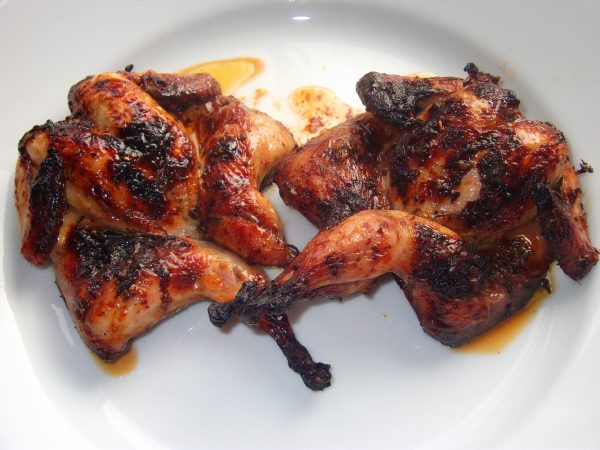 | | |
| --- | --- |
| | |
Make the sauce first. Heat the butter over medium heat, then add the onion and sauté until it turns translucent, about 3 or 4 minutes.

Add everything else, stir well and simmer slowly for 20 minutes or more. You can buzz it in a blender for a smooth sauce.

To flatten the quail, use kitchen shears to remove the backbones of the birds by cutting along either side. Put the quail breast side up on a cutting board and press to flatten.

If you want to be fancy, carefully snip out the ribs and the curved saber bones near the wishbone. Salt the quail and toss them in the vegetable oil.

Get your grill hot and lay your quail breast side up. Grill over high heat with the grill lid down for 5 minutes. As it cooks, paint the breast side with the sauce. Turn the quail over and paint the cooked side with sauce.

Grill the breast side with the grill cover up for 2 minutes, then turn over again and paint with the sauce one more time. Cover the grill and cook another 2 to 4 minutes.

Take off the grill and paint with sauce one more time.
Products we recommend with this Recipe: