Ice Cream Cake Roll Recipe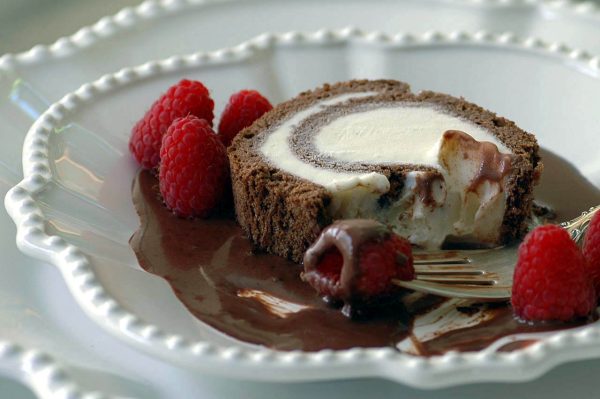 | | |
| --- | --- |
| | |
Heat oven to 375º. Spray a 15 1/2 x 10 1/2 x 1-inch jelly-roll pan with cooking spray, line with parchment or wax paper and spray paper with additional spray.

In a small bowl, combine cake flour, cocoa powder, baking powder, and salt.

Separate egg whites and yolks into 2 large bowls.

Beat whites on medium-high speed until foamy. Gradually beat in 1/2 cup of the sugar. Continue to beat on high speed just until stiff (but not dry) peaks form. (I used my KitchenAid to beat the whites and my hand mixer to beat the yolks.)

Beat yolks with the remaining 1/4-cup sugar and extracts until thickened, about 3 minutes. On low speed, beat in flour mixture until blended. Stir in 1/4 of beaten egg whites into mixture. Fold in remaining whites. Spread in prepared pan; smooth top.

Bake 12 – 14 minutes or until top springs back when gently pressed. Let cool 2 minutes on a wire rack.

Dust a clean towel with confectioners' sugar; loosen edges of the cake from the pan and invert cake onto towel. Remove pan; carefully peel off parchment. Starting from the short end, roll up cake in towel; place seam side down on wire rack; cool completely.
While cake is cooling put ice cream on the counter to soften. When ice cream is softened, unroll cooled cake and spread evenly with ice cream. Roll up cake. Wrap tightly in parchment, then in foil and freeze, seam side down, overnight until firm.
In a small saucepan, heat cream, chocolate, and corn syrup over low heat until chocolate is melted and glaze is shiny and smooth, 1 to 2 minutes. Stir in vanilla; cool to room temperature.

Unwrap cake; trim ends. Place cake on a wire rack over a tray or waxed paper. Pour glaze along top of cake roll, spreading with a spatula to cover sides. Freeze cake uncovered until glaze is firm about an hour.
I used King Arthur Flour Double-Dutch Dark Cocoa and Scharffen Berger Semisweet Chocolate Baking Bar. Great chocolate really makes a big difference in baking.