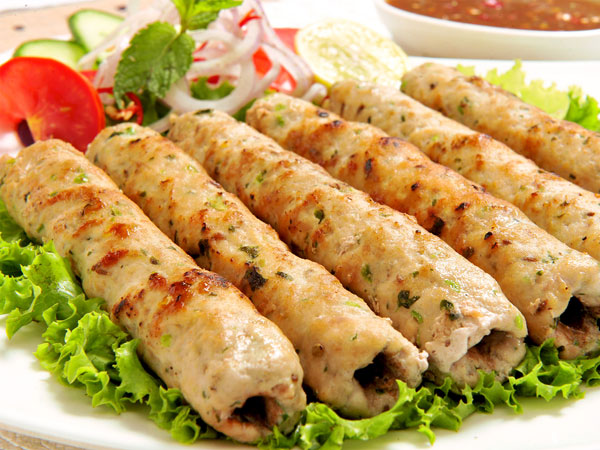 | | |
| --- | --- |
| | |
Let's begin with our spice preparation.

Assemble all the spices and add them to a grinder..

Grind them to a powdered form.

Strain them through a strainer and discard the skins.
Assemble all the ingredients for kebab. Wet some wooden skewers in water for 30 minutes.

Wash and clean chicken before mincing. Transfer the minced chicken to a bowl.

Add papaya paste, salt and grounded spices. Mix it well.

Add onion paste, ginger, nutmeg, garlic powder..

Red chili powder, white pepper,mawa, desiccated coconut..

Add cream, rose water, cashew paste, saffron and garam masala powder.

Mix till well blended. Take some mixture in your hands...

Apply some oil to your hands and give them a smooth finish.

All the kebabs are ready and shaped up.
There are two ways to grill the kebab. First one would be to heat some charcoal on fire..

Grill kebabs over them till brown and thoroughly cooked.

Second way wold be to heat oil in a kadhai and add kebabs to it.

Cover and cook for 15-20 minutes or until fully cooked and brown.

If you choose to give kebab some smoky taste...

Then place some hot charcoal in the hot kadhai..

Pour 1 teaspoon ghee on top of hot charcoal...

It will start to get smoky. Keep your kitchen exhaust ready..

Cover for 2-3 minutes and let the kebabs soak in all the smoky flavor.

Garnished with lemon wedges and onion rings and serve along with green chutney on the side.