To The Lighthouse Boeuf En Daube (Beef Stew) Recipe
While one doesn't traditionally look to Virginia Woolf for inspiration on what to make in the kitchen, there's a mouth-watering scene in 'To The Lighthouse' which revolves around boef en daube, a French beef stew:
"An exquisite scent of olives and oil and juice rose from the great brown dish as Marthe, with a little flourish took the cover off. The cook had spent three days over that dish and she must take great care, Mrs. Ramsay thought, diving into the soft mass to choose an especially tender piece for William Bankes.And she peered into the dish, with its shiny walls and its confusion of savory brown and yellow meats, and its bay leaves and its wine and thought, This will celebrate the occasion…"
Daube is a French dish made with beef, wine, vegetables and garlic. It's served with potatoes or on top of white rice.
Try your hand at this delicious stew and serve it for lunch or dinner.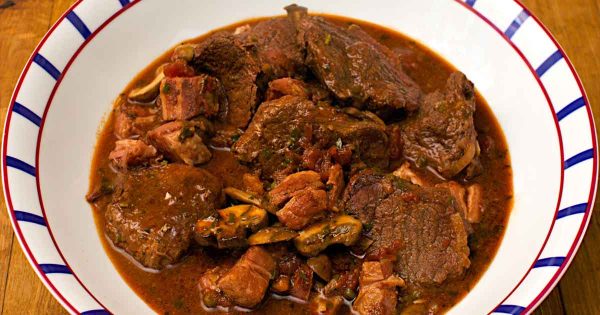 | | |
| --- | --- |
| | |
Combine the wine, carrots, thyme, garlic cloves, bay leaves, rosemary and orange peel.

Marinade the beef in this mixture for two hours.

Sauté the pancetta in a large pot over medium low heat until the fat is released.

Add the onion and chopped garlic and sauté for five minutes. Take this mixture out of the pot and reserve.

Heat oil in the same pot and sauté the beef in batches for five minutes per batch.

Add this to the earlier sautéed mixture.

Place the flour in the same pot and whisk until the flour browns.

Add the reserved marinade and then the beef and pancetta mixture.

Turn the heat down to simmer, and cover the pot.

Simmer for two hours until the meat is tender.

Uncover and continue simmering for 45 more minutes.

Scrape the fat off the surface and filter out the herbs and bay leaves.

Season with salt and pepper, sprinkle with parsley and then serve.