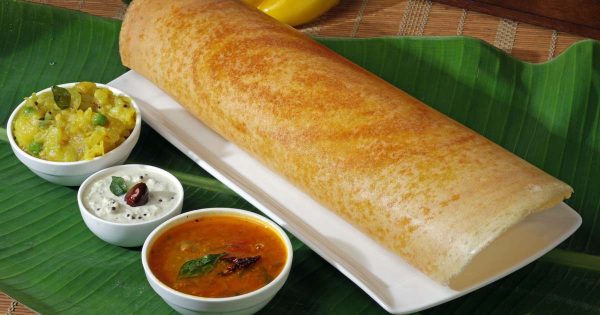 Ingredients for the Dosa Batter
Ingredients for the Masala - Potato filling
Ingredients for the Dosa Batter

Ingredients for the Masala - Potato filling
Preparing the Dosa Batter
Wash the urad dal and rice separately first.

Soak the parboiled rice, regular rice and poha in a bowl.

In another bowl soak the urad dal-methi with enough water to cover the dal and methi.

Grind the urad dal with methi to a fine and fluffy batter.

Grind the rice and poha to a smooth batter.

Mix both the rice and urad dal batter and add salt.

Cover and let the batter ferment for 8-9 hours.
Preparing the potato filling-sabzi
Soak the chana dal in hot water for 30 minutes.

Later drain the chana dal and keep aside.

Heat oil or ghee. Fry cashew nuts and keep aside.

Splutter the mustard seeds. add cumin seeds and drained chana dal.

Fry the chana dal well. Now add the onions and curry leaves.

Fry the onions till they become soft. Add the green chilies and ginger.

Add the turmeric powder and asafoetida. Mix well.

Now add the boiled chopped potatoes. Add the fried cashew nuts and salt

Cook for 2-3 minutes stirring well. Add chopped coriander leaves. Stir and keep aside.
Preparing the Masala Dosa
Heat a flat pan or a flat non-stick pan. Smear some oil if using an iron pan or griddle. don't smear oil on a non stick pan, as then you won't be able to spread the dosa batter.

Spread the dosa batter in a circular way on the pan. Add some oil on top

Flip and cook the other side. Flip again.

Spread the potato sabzi filling on one side of the dosa.

Cover with the other half and let the dosa cook for 15-30 seconds.

Serve masala dosa hot with coconut chutney and sambar
- If you are unable to spread the batter on the pan, then add some water to the dosa batter. this will help you in spreading the batter evenly on the pan.
- To get golden brown dosa, the pan should be hot. But the flip side is that if the pan is very hot, then you cannot spread the dosa batter nicely. Either sprinkle water on the pan and then wipe it. This brings down the temperature of the pan. Do this method on an iron pan. Don't do this on a non stick pan. It might affect the non stick coating.
- If using a non stick pan than as soon as one dosa is done, reduce the flame. Spread the dosa batter on the pan. now increase the flame and let the dosa cook.